Aaliyah (After Antigone) – Review – Impact Hub Bradford, Digital Exchange
By Eve Luddington, October 2021
Ever since I've been required to 'promote British values' as a college tutor, I've been asking myself what they are, and what it is to be a British citizen today. This bold new play, presented by Freedom Studios in partnership with digital experts CARBON: Imagineering, is written by Bradford's own Kamal Kaan. It addresses my questions head-on. I watched a streaming of a live performance and was agog.
It's set in a Bradford office lined with computers and one large video screen where British Bangladeshi sisters Aaliyah and Imani are cleaners. They're trying to work while waiting for news of their brother, Syeed who's under threat of deportation. They turn on the TV to watch the Home Secretary, Parveen Parvaiz who's sitting beneath a portrait of the Queen and beside two Union Jacks. She's talking about 'protecting borders' to save the UK from dangers greater than Covid, stating firmly: "Anyone who is seen as being not conducive to the public good will be deprived of their British citizenship." Any resemblance to current political realities is purely coincidental. Not.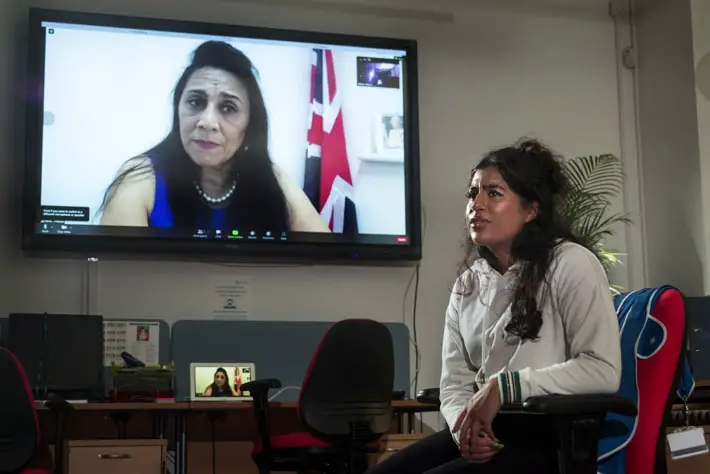 "Passionate beliefs"
And yes, Syeed is about to lose his citizenship, and his home. A plane's on the runway at Leeds Bradford airport ready to fly him to Bangladesh where he was born. Syeed is an international charity worker. His crimes? A few dodgy WhatsApp messages and a trip to Palestine where he planted olive trees.
Aaliyah determines to stop the deportation, dismissing her gentler sister's fears and her husband Hussain's objections.
In a rather contrived twist, forgivable because it personalises the political brilliantly and is the basis for the rest of the action, Hussain reveals that Parveen Parvaiz is the mother he never mentions, and that he's set up a video link in this office with her. The video conversations between Parveen, Aaliyah and Hussain are the meat of this drama. Parveen exploits her position as both Home Secretary and mother-in-law, using manipulation, bribery and the law to threaten Aaliyah's marriage, liberty, citizenship, and life itself. All in the name of the British State and its values. But are political affiliations and passionate beliefs as strong as family and religious bonds?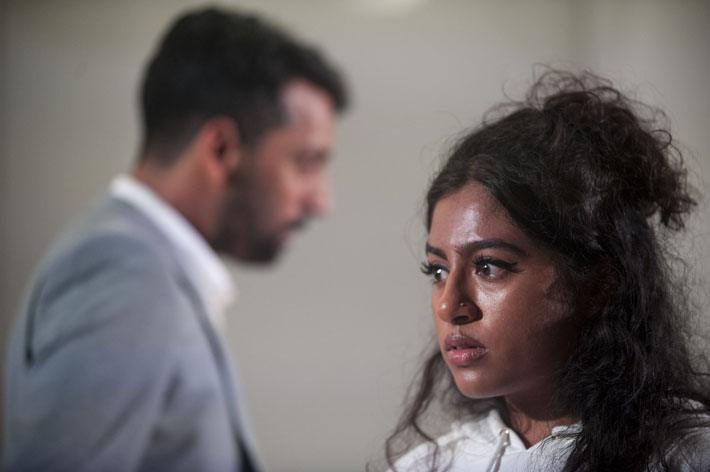 "Powerful"
Events happen at breakneck speed, each shining light on the hypocrisy, brutality and tragic effects of a Government policy designed to protect 'us' and 'our country'. If the benefits to 'our' society and economy are offered by people not considered 'us', it seems they are dismissed.
This is theatre of challenge and protest but, unlike many productions of that ilk, Aaliyah (After Antigone) is emotionally gripping because playwright Kamal Kaan and co-director/dramaturg Alex Chisholm give as much importance to entertainment and audience engagement as to the moral questions at the core of the piece.
Witty, angry, tender and passionate, all the characters are completely recognisable as human beings rather than mere functionaries. It's so powerful because, like the ancient Greek tragedy of Antigone on which it's based, each character is faced with conflicts of loyalty to state, family and those they love. And, like Antigone, it radiates with understandings of what it is to be human.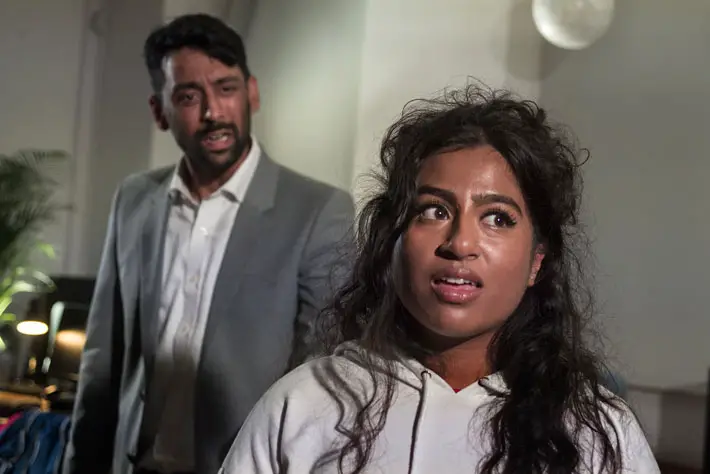 "All too plausible"
Halema Hussain, playing Aaliyah, is a ferocious talent who carries the emotional weight of the play brilliantly. She gives a fervent, heartfelt performance with surprising, tender moments which are at their most affecting in her highly convincing sisterly relationship with Lydia Hasoon as Imani. Hasoon is effective as the more delicate sister who, nevertheless, can be driven to passion. I love the way they soothe each other and themselves by quietly singing Bangladeshi songs.
Jag Sanghera plays Hussain as a hesitant character, appropriate for a conflicted husband, son and politician, but his love for his wife could have been more believable.
Siddiqua Akhtar's role as Parveen Parvaiz is excruciatingly difficult as the 'baddie' who has suppressed but not entirely crushed her humanity. Her official statements as Home Secretary are eerily resonant, her manipulative treatment of Aaliyah all too plausible. By the end, I wasn't sure whether events had altered this character's moral stance or not; that, I think, is an appropriate response.
The simple design of set and costume is generally very effective, allowing the play to speak for itself, but the strident floor pattern, which I suspect to be symbolic of the play's themes, spoke its message rather too loudly and was distracting.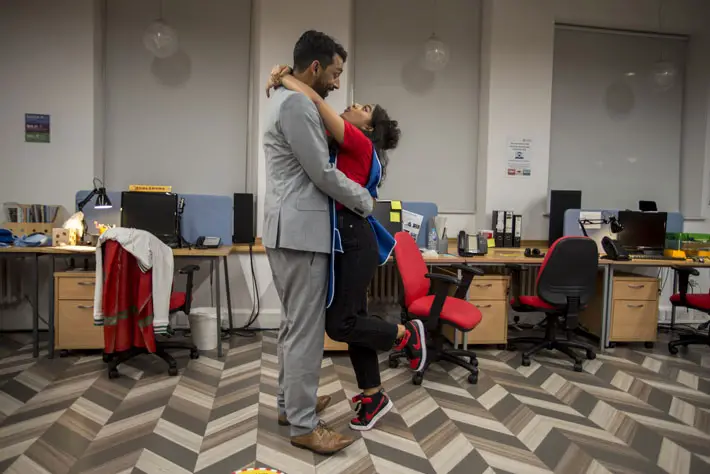 "Swept along"
Direction, by Alex Chisholm and Dermot Daly, was at a cracking pace. As I watched, I felt rather bombarded by the tide of events and would have liked more moments of stillness but, in hindsight, my involvement was probably increased by the sense that I was being swept along in a turbulent, dramatic storm.
At 80 minutes or so, Aaliyah (After Antigone) is a little gem. Now that street demonstration is under government threat, I hope sincerely that the stage will continue to platform theatre of challenge, theatre of protest. And, with the aid of digital technology and streaming, perhaps live theatre will reach a far bigger audience than it has before.
As to my questions about British citizenship and British values, they remain, of course, but I'm glad to report that this play has opened my eyes to the very serious human cost of failing to ask them.