Courtyard by Marriott Edinburgh West – Hotel Review
Leading on from a fantastic mini-break to Inverness, my partner and broke up a long journey home to Yorkshire with a couple of nights in Edinburgh.
We were back in the Courtyard by Marriott, this time in the Edinburgh West hotel. With lovely hot sunshine accompanying us, we had a nice drive down to Scotland's capital. The views when you're travelling through rural Scotland are something to behold, and you can see why people love this place.  But it was time for us to take a city break and spend some time in the Scottish capital.
And arriving at Courtyard by Marriott Edinburgh West and parking up was nice and easy. There's a large car park at the front and during our stay parking was free. This is always pleasing, sometimes you can get to a hotel and find a parking charge that can be anything between £10 and £25 per night – and that does make you squirm a bit!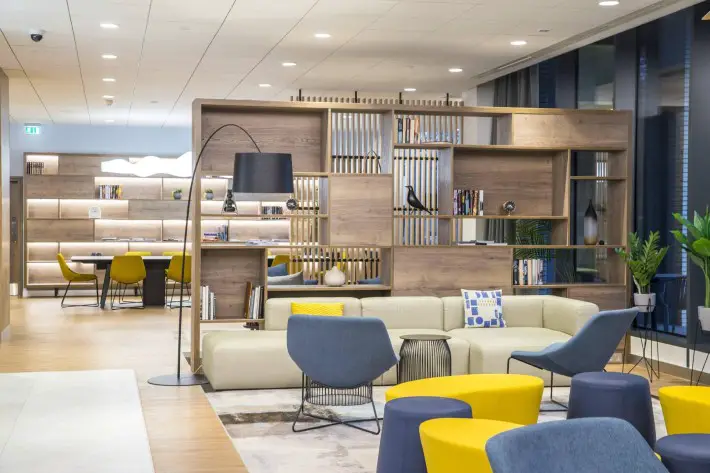 "Lovely and quiet"
Check-in was pleasant. We had a short wait as a few people were arriving at the same time as us.  There was a slightly corporate feel when we first walked in but the initial impressions of the place were good. Very clean, very modern and seemingly newly refurbished in the current Courtyard by Marriott style. A very spacious lobby area, with media pods and social zones; yellows, blues, greys and ash effects in the furnishings. Aesthetically, it was very nice.
We were handed the card to our Standard King guest room and took the lift. As per our last Courtyard by Marriott experience, the place was exceptionally clean from reception, to lift, to the corridor and to our room door.  That impression carried on when we walked in our room too.
Our room was clean, and we had plenty of room for a couple of cases and a couple of bags. They'd left us Tunnocks teacakes and Tunnocks Caramel Logs, along with a lovely welcome card.  Although this has no bearing on the room, the Caramel Logs are sensational! We don't seem to have them south of the border, and Tunnocks are either being very selfish with this by keeping this spectacular treat for themselves, or just missing a trick!  (Since returning home, we've got 32 bars on order from Amazon for £19.99 as a result of the hotel's kind gesture!).
We had a large TV opposite the bed, a large mirror, hairdryer, iron and tastefully designed hanging space.  Everything we could want really, and the bathroom is modern and very clean too.  I think it's probably designed for the business traveller more than the tourist, but any type of guest will be pleased with the standard of room in the Courtyard by Marriott Edinburgh West.
"A fairly remote area"
Our view from the room wasn't as spectacular as the Tunnocks treats.  Our large window was just a few feet away from a fence and a wall of trees. But then, location wise the hotel is about six miles out of the centre of Edinburgh. And around the hotel, there isn't much nearby for the tourist type traveller. You're in a fairly remote area, so cafes, shops and eateries aren't close by. But if you're here for a trip into the city the good news is that the number 25 bus stops directly outside the Courtyard by Marriott Edinburgh West. That takes you directly into Edinburgh and runs frequently. And a single fare into town is only £1.80 for the 35-minute journey.
So if you want a more peaceful sort of stay away from the hustle and bustle, this place could be an option for you. It's situated on the edge of a university campus and while we were there the students were still on leave. So for us, it was lovely and quiet. Perhaps term time is a little different.
We were booked in for dinner on our first night, and we headed down to the restaurant in the early evening.  As per the rest of the hotel, the restaurant was immensely clean, very spacious and tastefully furnished. Unfortunately, service levels in the hotel restaurant left a lot to be desired for us once we'd finished our meal, and I think we got quite unlucky on this one. I'm sad to say it did impact the enjoyment of our stay.
"Things got clunky"
We were delighted by the warmth and friendliness of Thomas who was fantastic. He was chatty and friendly, and very warm in welcoming us and taking our order. He picked up on the accent and gave us some great advice for places to visit in Edinburgh the following day. However, he finished his shift halfway through our meal and that's where things got clunky.
When my partner and I finished our food, we were presented with a bill that wasn't quite right. I raised this but the duty manager wasn't particularly helpful and told me that I'd need to sort that out with reception. I politely refused to sort it out with reception and asked him to double-check. He didn't, but returned to me with a chitty to sign and charge the incorrect bill onto my room. After further deliberation with him, he did return with the correct bill and no apology. Mistakes happen, but it was handled so badly and so dismissively. It was a customer service faux-pas and took the shine off a nice meal.
More restaurant service issues followed the next morning when we arrived for breakfast. Although we were initially told, very nicely, that we weren't booked in for breakfast, the waitress asked us to wait whilst she checked.  This was great, but we were waiting for ten minutes with no sign of her returning. Our next sighting of her was when she emerged from a door at the other side of the restaurant and began to collect plates from a table. So I wandered across and asked her if she'd clarified that we were booked in for breakfast, and she said we were. She was sorry, they hadn't been given the right information. She was also sorry for not coming to tell us we could get our breakfast, but she couldn't find us. Strange – as we hadn't moved.
"A very nice sleep"
I did complain at reception about these issues with the restaurant and they apologised for the confusion. I was concerned that we were booked in for breakfast again the following day, I just wanted to be able to arrive, be seated and eat. They assured me that things would be fine the following morning, and reception certainly had a nicer and more efficient way of dealing with customers.
Despite a frustrating start to the morning, we had a day in the centre of Edinburgh planned.  We'd had a very nice sleep in a very comfortable bed, and freshened up in a very nice shower. There were places we wanted to visit and things we wanted to see. We were excited to spend a full Sunday in Edinburgh and considered getting the bus from outside the hotel. But with the sun beating down and being keen walkers my other half and I headed to town on foot.  Our friend Google had predicted it'd take a couple of hours and we were happy with that.
The walk is very much a dual carriageway, with industrial units and undeveloped spots aplenty though. Not as pleasant as we'd hoped and we should have caught that bus!
After getting into the city, we did the lot. We stopped off for photos outside the home of Heart Of Midlothian. Then sat outside in Grassmere Square to have a spot of lunch and people watch. As you'd expect, the capital city was busy and finding a place to sit down wasn't easy! But we found a great spot, courtesy of The White Hart. We did the touristy thing of wandering up to the castle which, as always, looked lovely. And we took our time meandering around the Old Town which is a really nice part of the city.
The standout part of the day was the hour we spent on Calton Hill. This came firmly recommended by Thomas at the hotel. He said the views across the city from there were amazing, and he certainly wasn't wrong. We had a drink up there while surveying the miles and miles of Edinburgh and beyond. Absolutely stunning. If you're in Edinburgh and you've never been here, add it to your to-do list.
With dinner at The Dome, and cocktails at Tiger Lily, we'd crammed a lot into our day, and we'd had a blast. We were done, and we decided to head back to the hotel…via the number 25 bus!
"Nicely relaxed"
We returned to the hotel after a day in the capital and went for a drink in the bar. Our friend Thomas was on duty again, and we told him we'd taken his advice for places to see. My partner thanked him for the recommendation of Calton Hill especially.  The Sunday night was quieter in the hotel than it had been over the last couple of days and it was nicely relaxed in the bar. Having a final drink was a nice way to wind down our trip to Scotland.
Would I stay at the Courtyard by Marriott Edinburgh West hotel again? I'd choose Courtyard by Marriott as a place to stay, no question. But perhaps not this particular hotel. The obvious restaurant service issues, which I'm sure won't be a regular occurrence would put me off. I'd also like to be a bit closer to the City than the Courtyard by Marriott Edinburgh West is. Even with the bus service outside.
It's close to the airport, and if you're visiting relatives at Uni you couldn't get any closer. So there is plenty of reasons to book a room here.
After another fantastic nights sleep, we decided against taking our breakfast at the hotel on our final morning. Instead, we checked out early and drove into town to take some breakfast, enjoy our last few rays of sunshine and head back to Yorkshire.  Looking back, there were a lot of positives from our trip to Edinburgh – it's a fabulous place. And thanks to having a perfect nights sleep in a wonderful room, we had bundles of energy to enjoy the place.
2 Research Avenue South, Edinburgh  EH14 4BA
www.marriott.co.uk/hotels/travel/edihw-courtyard-edinburgh-west