Five Guys, York McArthurGlen Designer Outlet – Restaurant Review
By @Roger Crow
Now life has returned to some degree of normality, the joy of mall-walking is also back. I've missed clocking up steps at designer outlets, and going for the obligatory burger or coffee at assorted eateries.
For years McArthurGlen in York has boasted an impressive range of food outlets. As you might know, there's a new one on the block, so when invited to sample the goodies at Five Guys, I decided to pick the busiest day and time of the week: 1pm on a Saturday lunchtime.
How would the staff cope? And more to the point, how would they cope with my father-in-law?
I'll be honest, both he and myself are not the target audience. We're the wrong side of 40, okay 50, but we love a good burger as much as anyone half our age. And with him in a temporary wheelchair, I did wonder how accessible the restaurant would be for a person of limited mobility.
However, the good news is the staff could not do enough for us.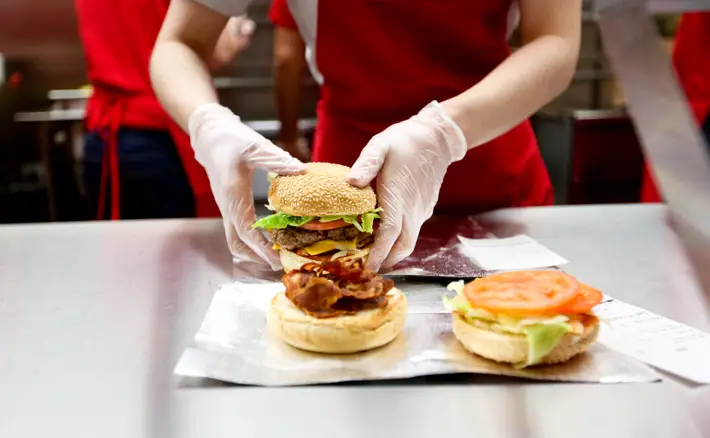 "Quality is not compromised"
Both Brendan, the Store Manager, and Thomas, the Shift Manager, were exceptional in ensuring we had everything we needed.
After a few minutes perusing the menu, we go for a good old cheeseburger; a bacon cheeseburger, and Rachel opts for a cheese veggie sandwich. With spicy fries, a Coke, and a couple of milk shakes (Salted Caramel, and Banana) we're all set.
And the good news is we don't have to wait long for our lunch. Yes, it's a proper fast food outlet, but quality is not compromised for the sake of speed.
I have grilled mushrooms and pickles with my cheeseburger, and can't fault the taste. I'd have preferred a good old Cheddar rather than that liquid yellow stuff, but it's not a deal breaker.
My burger is spot on. I don't spend ages picking out gristle, and there are plenty of nods of approval from my culinary co-pilots. A big thumbs up for the crispy bacon as well, which is prepared to perfection apparently.
If you just want the meat without the bun, which is often preferable as I try to watch the calories (because that's really going to help, right?), then you can get your burgers or hot dogs sans bread
The decor is vibrant; attention to cleanliness is excellent, and those guys frying and prepping in plain sight really earn their cash. I've worked a burger line back in the day and I know how thankless a task it is, especially at rush hour, so hats off to the team for an excellent job.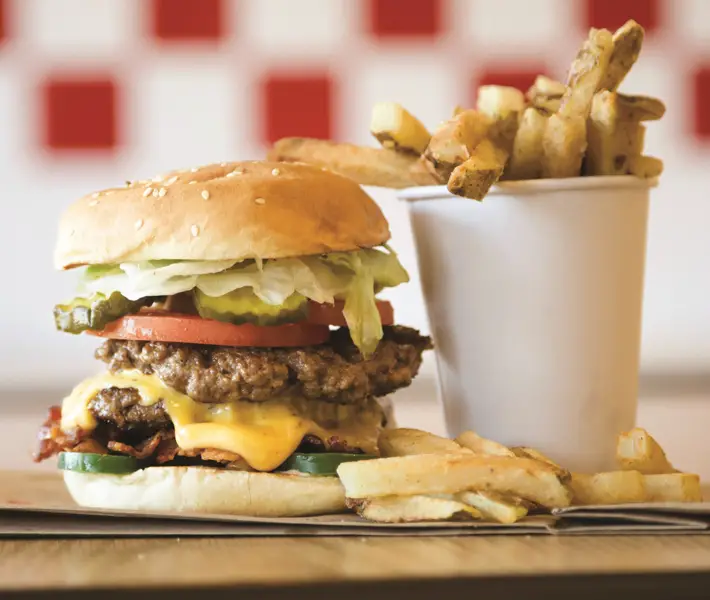 "So tasty"
All three of us polish off our respective meals with gusto, and the fries are so moreish I have to force myself from picking at them.
Apparently they are a 'boardwalk style' chip, which means they're hand-cut on site each day and cooked in peanut oil. That might be one reason they're so tasty, or it might be the Cajun spice which keeps us coming back for more.
The prices aren't bad either. My cheeseburger is £8.25; the bacon cheeseburger is £8.95; cheese veggie sandwich is £4.50, and the shakes are £5.25, the same price as a large fries, both of which are worth every penny.
In short: great food, excellent service, and a good price. I'm not surprised the place is heaving. I'm not saying you'll become a svelte supermodel after a trip to Five Guys, though it's obviously possible, but if you're a shopper or mall-walker in need of a recharge, then this will tick that box admirably.
Five Guys, Unit 203, St Nicholas Avenue, York YO19 4TA
Opening Times:
Mon-Sat 11am-8pm
Sun 11am-6pm
01904 672804
restaurants.fiveguys.co.uk