Tips for Renting Long-Stay Service Apartments in Barcelona
Rentals are the new in-thing for making vacations more fun. They provide access to furnished flats, houses, and rooms for your enjoyment. There are also apartments for students in Barcelona that need convenient accommodation plans.
Access to rentals in Barcelona is as easy as finding the right fit online. However, to avoid inconveniences, here are some tips to help you rent apartments in Barcelona.
5 Tips For Renting Long-Stay Service Apartments in Barcelona
When you're new to Barcelona, walking around trying to find a great house can be difficult. You'll have to incur extra costs on hotel bills, understand the local language or hire an interpreter and do a lot of moving around. With these tips, you can get a monthly rental in Barcelona hassle-free.
Look at Local District Prices
Real estate value is location-dependent everywhere. In Barcelona, real estate prices vary according to the district. If you're working on a tight budget, you can browse the estimated rent of apartments in the neighborhood you plan to live in or really close areas. If you can also get assistance from a real estate agent or agency, you will get access to a diverse portfolio.
Contact Reliable Realtors
If you're visiting for the first time, or you're a student, then you can get access to a range of apartments online. There are studio apartments, 2-bedroom apartments, and many others to select from. Realtors in Barcelona can also help you choose good apartment choices based on your budget.
For digital nomads, apartments with good internet connections or unlimited Wi-Fi are essential. So, to ensure that you get your money's worth without discomfort. Getting a realtor is recommended, especially for long-term stays. You can find real estate sites in Barcelona online and verify their reliability with online reviews and comments.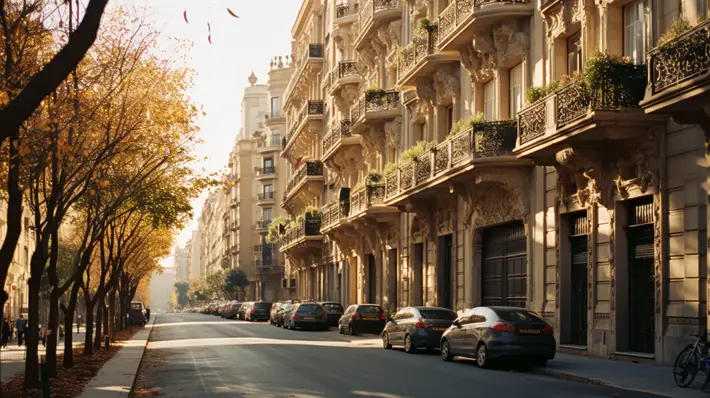 Verify The Property Ownership
When you're getting property online, you can find out if the owner is legitimate by checking Barcelona's land registry. Your realtor can do this for you. If you're renting before entering the country, it's safer to ensure that your accommodation is intact by yourself. You can request a Nota Simple. A Nota Simple is a document used to verify land ownership in Barcelona to confirm that your landowner is legitimate.
Read The Rent Contract
Before finalizing any pension deals, you need to read the contract thoroughly and ensure that the terms are suitable for you. The agreement states the rent duration, payment frequency, service charges, and an overview of the apartment's content. The contract also specifies who foots the cost for damages and malfunctioning electronics. You can ask a lawyer to review the real estate contract before signing it.
Check the State of the Apartment
You can check the state of the apartment through pictures, video calls, and walk-in visits. Some platforms offer virtual tours with 360° imaging of the furnished flats. Before making payments, you need to ensure that every component and furniture in the apartment is in peak condition.
Renting in Barcelona is easy as long as you have the correct guidelines. So, you can follow these tips to get the best value for your money. Whether it's monthly flats or long-term leases, research thoroughly before making your decision.