Sitges: The Sophisticated Spanish Escape You Need to Have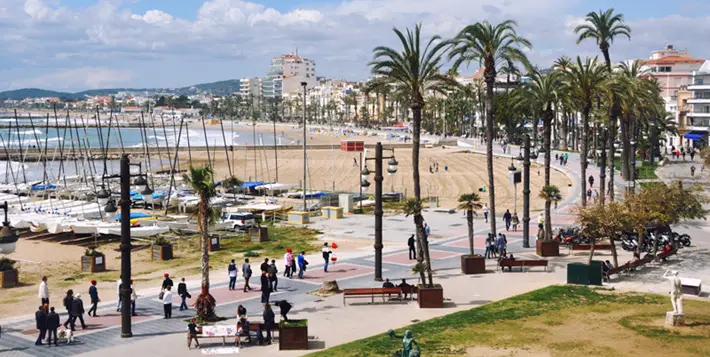 Sitges was once a quaint traditional fishing village located midway between Barcelona and Tarragona. In the 18th Century, Catalonia gained permission to trade with America, and many locals left to seek their fortunes in the New World. And when they returned, they spent their new wealth-building beautiful villas and refurbishing the historic mansions in the town. At the end of the 19th Century, the writer and artist Santiago Rusinol fell in love with the beautiful town and built the Maricel Palace, which is a landmark site today. In the 20th Century, it became a magnet for writers, artists, and the rich and famous.
By the 1970s, it was a rival for St Tropez and Portofino for its chic and dazzling nightlife. And this is still the case today. It attracts families for its beaches and relaxed lifestyle. And its carnival, gay pride, and many bars and nightclubs ensure it is a mecca for the gay community too. Sounds enticing? Then read on…
Beaches, Beaches
Sitges boasts 17 beautiful beaches, each with their own distinct style. San Sebastian is the quintessential town beach lined with bars and restaurants and great for families. Les Balmins is a gorgeous cove with a nice beach bar, and it is just a short stroll from town on the way to the marina. It is a nudist beach and is popular with the LBGT community, but it is very inclusive, and many wear costumes. On the other side of the beautiful golden church that is the town's most recognisable landmark, the many little beaches stretch for over a mile. Or a few miles out of town towards Barcelona is the beautiful Cala Morisca. Surrounded by the steep limestone cliffs, it is a stunning, secluded beach with a lovely clifftop restaurant with a plunge pool. A picturesque and glamorous day out.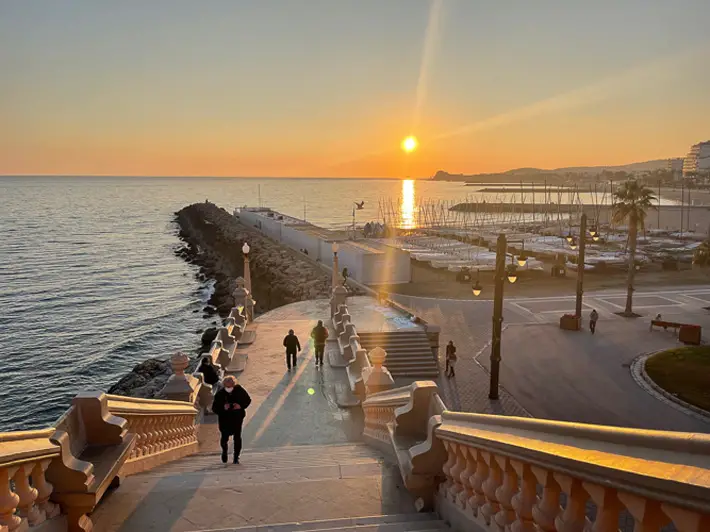 Choose your Outdoor Adventure
If lazing around in paradise is too relaxing for you, why not try a new activity while you're here? Hiking and mountain biking in the gorgeous Garraf (the natural park just behind Sitges) will undoubtedly help you build up an appetite! You can rent kayaks and stand-up paddleboards by the day from Nootka or rent a boat for the day from Eric Boats and explore the coastline in style.
Foodie heaven
When it comes to dining out, you have over 360 restaurants to choose from; one for every day of the year! There is something for every budget and for all tastes. Indulge in delicious fusion tapas at the wonderful Nem or try the fabulous fish restaurants at the buzzing marina. As mentioned previously, enjoy a sundowner at chi chi Vivero, which overlooks the San Sebastian beach and famous church. Round off the evening with late-night cocktails at Factor V. Or simply take a table at any of the bars that line "Sin Street" and watch the world go by while sipping a large globe of Gin and Tonic.
Catch a Spanish festival
Sitges is awash with cultural activity all year round, with an eyewatering number of festivals occurring throughout the year. A favourite of mine is the beautiful Corpus Christi in June, where the streets are decorated with works of art created from flower petals. Also in June is the fabulous Gay Pride Parade, and in February it is the world-famous and flamboyant Sitges Carnival. In August, everyone piles down to the beach for Fiesta Major. Bring a picnic and while away the evening until the night sky erupts with one of the most impressive fireworks displays you will ever see. Check out this list of events to decide on the perfect time for your Sitges holiday.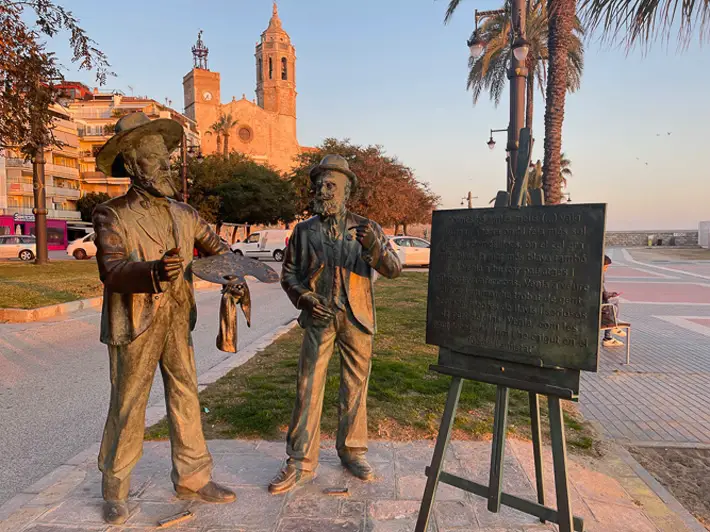 Designer Shops
If your euros are burning a hole in your pocket, Sitges has a great selection of independent shops and designer boutiques lining its pretty passageways. It's a great way to spend a morning or an early evening from high fashion to hippy summer dresses, leather goods to local foods. Don't forget they close for a siesta in the afternoon!
A Hop and Skip to the City Lights
Barcelona is only a 35-minute train ride from Sitges, so it is perfectly doable for a day trip or even a night out. Tarragona is also a hop, skip, and a jump down the coast, and Roman sites abound.
One of the reasons you may not have heard of Sitges is that it has never been on the package holiday trail. It is one of those rare Spanish coastal towns that was not spoilt by the explosion of high-rise hotels in the 60s and 70s. Instead, the upscale hotels are positioned on the outskirts of town on large low-rise sites, such as the recently beautifully refurbished ME Hotel or the Dolce with its views over the golf course. There are also plenty of boutique hotels, such as Hotel Casa Vilella, a converted Modernista villa on the Paseo.
If you are looking for some luxurious privacy, Utopia Villas have an incredible collection of stunning villas. From country masias just inland to modern seafront dream properties to `palatial historic mansions, you will surely find your dream destination here.