Hotels You Could Live In: 7 of the Best from Around the World
Let's face it. When it comes to hotels, we all want the elegance and luxury they afford but the warmth and comfort of home. There is no need to pay big bucks to stay in a place only to find out it is too clinical for you to let loose and enjoy yourself. Yes, you really want a place where you can but life's trials and tribulations to one side, forget about emails, passwords and your bitcoin circuit login, or whatever money spinning project you've got on the boil. Fortunately, there are hotels around the world that are pros at giving you what you need. These include:
The Ritz-Carlton, Indonesia
The Ritz-Carlton, located in Bali, Indonesia, prides itself in being a luxurious getaway. This beachfront resort showcases Balinese architecture with just the right mix of modernity. It has six restaurants, several swimming pools, a spa and a kids club. If you are looking for a place to stay as a family, this is the hotel for you.
Fogo Island Inn, Canada
Fogo Island Inn is one of those rare gems that combines luxury, seclusion and a personal touch. It has 29 picturesque rooms adorned with handcrafted quilts and crafts made by the local community. The rooms contain wood-burning stoves that allow you to enjoy a cozy fireplace. From your room, you can gaze at the unparalleled rocky coast through floor-to-ceiling windows and when you want to go out, you are free to enjoy good food and a variety of activities specifically made for guests.
Soneva Jani, Maldives
Not everyone can say they've stayed on an uninhabited five island cluster. But Soneva Jani, located on Medhufaru island, Maldives gives you that possibility. The hotel boasts of at least 20 water villas and a beach villa and a stretch of 5.6km lagoon that provides clear views of the Indian ocean. What's more, each villa comes equipped with a private pool and if you feel like stargazing at night, you can slide open the retractable roof and lie in bed as you watch the stars.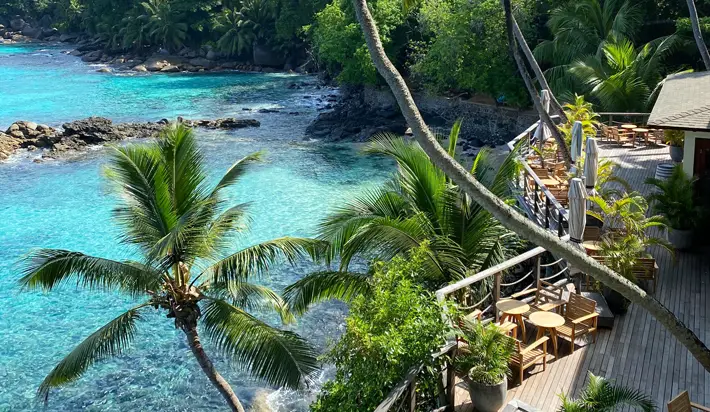 North Island, Seychelles
North Island is often referred to as one of the world's most exclusive hideaways for a good reason. It has hand-crafted villas leading to the beach and private gardens. Outdoor showers and plunge pools serve to protect your private sanctuary and when you want to enjoy other amenities, you are free to head to the gym, library, health spa and dive center opulently built into a gigantic outcrop.
Chiltern Firehouse, London
If you thought fire stations could not be transformed into world-class getaways, Chiltern Firehouse is there to prove you wrong. This former fire station is the go-to hotel for celebrities and those who have good taste in food. Its restaurant is often booked months in advance, but if you are a guest, you'll have a table waiting for you whenever you want a bite to eat.
Arctic Treehouse Hotel, Finland
Every year, thousands of people flock to Lapland, Finland to scout for Northern Lights and one of the best places they stay in is the Arctic Treehouse Hotel. Indeed, Lapland is the closest thing we have to the north pole, and you can watch the phenomenal Aurora borealis shining wherever the sky is clear at night. The Arctic Treehouse Hotel provides access to cozy cabins to those who want an elegant place to stay in as they witness nature at it's finest and while you are there, you can visit the Santa Claus Village located nearby to put the icing on your trip as it were.
Sabi Sabi Earth Lodge, South Africa
South Africa is known to host the Big 5 animals and other wild animals. The best place to view the lions, rhinos, buffalo, elephants, and leopards is the Sabie Game Reserve. The reserve has four 5-star hotels, including the Sabi Sabi Earth Lodge. Apart from going on daytime or nighttime safaris, you can enjoy the spa experience and impressive cuisine.
With travel about to open up in a big way, you'd do well to reserve your space at one or two of these luxurious getaways.