What is Flat Insurance Cover and is it Worth Having?
Buying or even renting out a flat is a big investment for renters and landlords alike. It involves plenty of legal repercussions and financial risks between you, the insurer, and the landlord or real estate broker. It's a strenuous task that needs a lot of planning, research, and savings. However, getting a flat insurance cover is something that most people neglect on the whole. Usually, people feel that it's a waste of money to invest for some uncertain cause.
In the United Kingdom, you are not legally obligated to apply for a block of flats building insurance, but it is worth having one to protect yourself from the financial ramifications of the frequently occurring extreme weather events. A little expense paid as a premium can help you avoid a major financial setback in the future.
Continue reading to build an understanding why flat insurance is essential for you.
What are blocks of flats insurance policies?
Block of flats insurance is a contract between you and the insurer. The insurance policy is something that helps you protect your property and belongings. There are three major flat insurance covers.
One is to insure the flat itself, the second is to insure the contents or belongings, and the third policy insures both. A block of flats insurance policy covers all the flats located within the block. If your freehold is shared amongst the residents or a selection of residents then you may need to consider shared freehold buildings insurance which recognises all the freeholders on the policy.
How do I insure a block of flats?
"To insure your flat, you need to consider both the flat and the assets' insurance. Or either of the two that you feel is essential. But who is responsible to pay for flat insurance depends on how you own it. If you are a leaseholder, then the freeholder/landlord of the building should take care of building insurance or flat insurance. We recommend you read the lease agreement carefully to ascertain the building insurance obligations," says the specialist insurer at Deacon.
If you are jointly own a flat with more leaseholders, then the building insurance must be done collectively.
For insurance, you need to search for a reputable flat insurance company to ensure you get the most benefit at the time of crisis.
What to consider before buying a flat insurance policy
Here are a few things we recommend you consider when buying a flat insurance policy:
1. Compare: Always compare the insurance policies offered by various companies. It will help you understand what exactly suits your needs.
2. Increase the Deductible: It is the amount you need to pay upfront before you claim flat insurance. The higher is the deductible, the more is the amount you need to pay yourself. And, the higher is your deductible, the higher amount you save on premium. But if you live in a disaster-prone area, you need a separate deductible.
3. Same Company: Some companies offer you different insurance policies, like flat insurance, car insurance, and more. If you take multiple insurances from the same company, there are chances to get good discounts on buying more than one policy from them. So, you may consider that.
4. Improve Flat Security: If your flat has a burglar alarm or smoke detector, it could let you enjoy some amazing discounts. However, there are some requirements that you have to opt for being eligible for such discounts. You have to take care of finding out the installed system helps you become eligible for a discount. You can find this as per your insurer's recommendation.
5. Look For Other Discounts: There are various kinds of discounts you can find in the market. For instance, there may be better retirement discounts. You can consider those if you are eligible.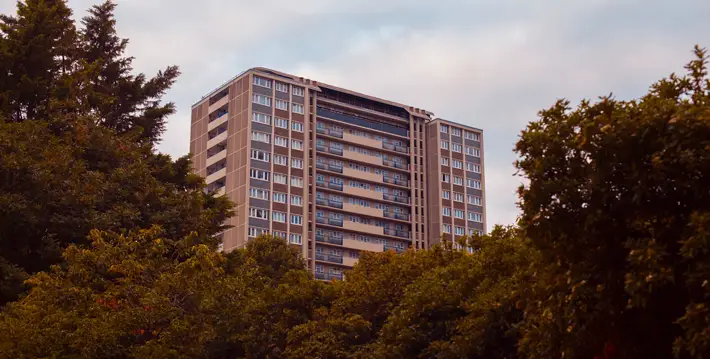 Who can get building insurance on a flat?
Usually, a freeholder of the flat or joint owners of the flat can get building insurance on a flat. Building insurance is not a requirement on a flat, but many mortgage providers demand that you have it before they lend you money.
So, consult with those from whom you buy a flat about its insurance. Even if you own a leasehold flat, you are required to pay for your building insurance, often as a service charge.
What is covered in building insurance on blocks or flats?
The flat insurance policy varies from company to company in terms of what's covered. The flat insurance covers the repairs or replacement costs of your flat in case of the damages. It may cover:
● Fire
● Water leaks
● Floods
● Landslides
● Subsidence
● Storm damages, including damage caused by fallen trees
● Subsidence
● Malicious damage during a theft
● Flat occupancy days
● Pets insurance
● Lightening
● Damage caused during vandalism, including vehicle collision
It must even cover the entire cost of renovating a flat in the worst-case scenario. Read the insurance contract carefully to know what your building insurance covers.
Is the leaseholder or freeholder responsible for buildings insurance of flats?
If the lease document mentions that the freeholder is responsible for building insurance of flats, then a freeholder has to arrange insurance.
But as per the Leasehold Advisory Service (LAS), a lease provides the freeholder to arrange for building insurance that's usually paid as a part of the service charge — not as a separate item. But if you jointly are a freeholder of a flat with more leaseholders, then the insurance can be done collectively.
Can I cancel my flat insurance?
While you can any time cancel your flat insurance, you are liable to pay for incurring penalties or fees. Many insurance firms charge you at the time of termination of the policy before the term ends. So, do consult the insurance company about the incurring penalties, if any.
Generally, if you keep the policy for the whole duration of the policy period, the monthly payments cover its cost. However, if you cancel it midway, you need to pay the difference.
What causes the blocks of flats insurance to become void?
Your blocks of flats building insurance may become void if:
● You have submitted inaccurate or misleading information in the contract.
● Breaching any terms or conditions of the contract.
Read the policy document and contract terms and conditions carefully to avoid the invalidation of the building insurance.