Why Your Business Must Be on Instagram – Here Is the Answer
Did you know that Instagram's potential advertisement reach is over 850 million users? If your business is not already on Instagram, you miss out on one of the most influential business marketing tools. It offers businesses an opportunity to use engaging visual content to reach their target market.
Your success and progress on ig are indicated by your number of followers, likes, and views generated by your posts. When you implement strategies to grow your Instagram likes count, it is an indication that your content is reaching more people. The following are ten reasons that will convince you of the benefits of Instagram for your business:
Make Use of Instagram's Stories and Highlights
Since its launch, Instagram Stories has become one of the most used features on the platform. The maximum time limit for a video posted on Stories is 15 seconds. This time is good enough for busy users who do not spend a lot of time on the platform.
You can use your Instagram Story to give your followers a peek into an upcoming product or service, give them a behind-the-scenes look at your operations, or advertise an event or offer. If you own a salon, you can show how one or two styles are done and their results.
Any Size of Business Can Flourish
There are millions of users on the platform that business owners can reach out to. With this kind of number, any business can aim for the moon and land somewhere among the stars. It goes for big organizations, small shops, and even individual companies. You can ensure that your business flourishes when you use LeoBoost's services to grow your social media.
The success does not come instantly, but a hardworking social media marketing team can increase sales and traffic within a short period. You will find big companies such as Coca-Cola, Gucci, Adidas, Nike, Sony, and that local bookstore in your area all using the platform to achieve the same thing.
Use Hashtags to Increase Your Visibility
Did you know that hashtags can easily distinguish you from the rest of your competitors? They are keywords that give a simple summary of what your post is trying to achieve. They make businesses popular by increasing visibility when properly used. When ig users search for a keyword in the search area, your posts where the keyword is in use are listed in the results with other posts using the same hashtag.
Effectively Engage Customers
It means a lot to customers when brands interact with them and address their issues and questions. Many people like airing out their opinions, and Instagram offers everyone that opportunity.
You can like, comment on, and share posts. Business owners should find time to go through the comments and DMs and respond to relevant information. The more likes and comments a post gets, the more visible it is.
Instagram is Linked to Facebook
Facebook is the parent to Instagram, but the two still operate as different platforms. However, users can always link the two to get access to your Facebook and Instagram audience. You can run a single ad on Facebook and also on Instagram.
You can also post new content to ig and automatically post the same on Facebook. Linking your two accounts saves you a lot of time. It also enables you to share content on both platforms consistently.
Partner With Influencers
An influencer is an online celebrity who can promote a brand to a broader audience. An influencer can help grow your business by giving it access to previously out of reach demographics. If you partner with an active influencer on the platform, they can get your account to an unimaginable number of followers and generate massive traffic for you with just a few posts.
Keep Tabs on Your Competitors
Your business or brand can keep a lookout for competitors and see how they engage and interact with their followers. You can observe and analyse the strategies that make them stand out and more successful. You can use this information in your plan for better results.
Analytics and Success
You can use Instagram Business to keep records and track your analytics. It allows you to know what is trending on your profile, view user engagement, new followers, and unfollowers. When you understand what is not working, you can tailor your content differently and implement new marketing strategies.
Make Use of Visual Content
Instagram is a visual-first type of platform. The majority of its users will not bother to take a second look at content with no appealing visual display. Instagram provides you with the opportunity to display your brand the way you want out to the world. It allows you to give a unique look to an image and use it to transfer a desired message or mood.
It is achieved through Instagram's wide range of filters, and other photo editing features available on the platform. When sharing videos, try to post behind-the-scenes clips or tutorials that will elicit peoples' views, generating engagement.
Mobility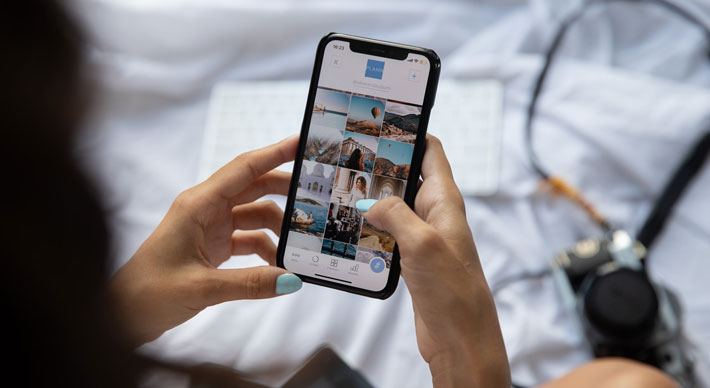 Smartphones have changed the way most people are shopping. It is advantageous to business owners since 80% of shoppers use their mobile phones to look for products, their reviews, and compare prices. They are small and compact, and most people cannot stay more than a few meters from theirs. They make it quick and convenient for people to shop online. Business owners should create a presence on this platform to stay up with the trends.
Instagram was launched as an app due to the increased use of smartphones. 90% of the time every individual spends on their phones is spent on various applications. It presents a clean style, unlike the view presented by Facebook and Twitter that were launched as browser-based websites.
For every brand or business struggling to gain recognition from the public, Instagram should be one of your consistent marketing strategies. It is effective and gives companies access to users from a wide range of demographics.