Types of Yellow Flowers and Their Meanings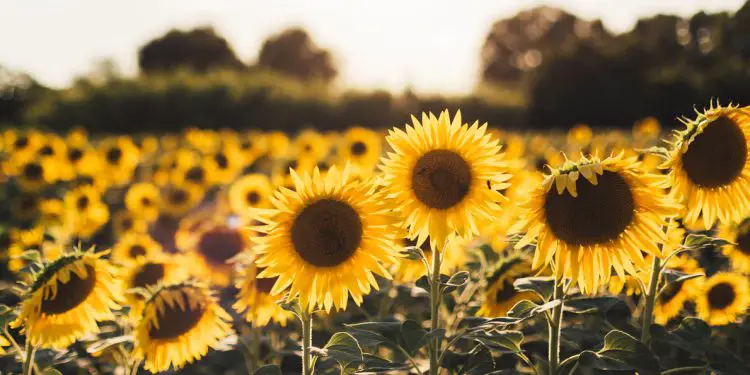 Yellow flowers have a wonderful effect on people, because the yellow colour of the flower outshines the sun and radiates a magical radiance. Yellow is uplifting, and each yellow bouquet attracts attention, because sunny yellow flowers are impossible not to notice. Make your loved ones shine and send a bouquet of yellow flowers from the Flowwow London catalog. When yellow flowers are delivered, many recipients start to smile just by looking at the flowers. Whether it's a birthday or an anniversary, whether it's a bouquet for Mother's Day or for a sister and aunt, yellow flowers have their own magic that no one can resist. A bouquet of yellow flowers has a fantastic appeal, giving happiness and joy.
Let's take a deeper look at the most beautiful types of yellow flowers.
1. Sunflowers
Speaking of flowers that remind us of August, isn't it a "sunflower" that blooms with beautiful yellow flowers? The name "Sunflower" comes from the fact that it represents flowers blooming towards the sun.
The flower language of the yellow sunflower is known for its meaning of love, such as "I only look at you" and "Tenderness". Depending on the number of yellow sunflowers you give, each number has a different romantic meaning. The bright yellow colour of sunflowers evokes positive emotions in people.
2. Chrysanthemums
Yellow chrysanthemums are a real classic in a bouquet, they symbolize happiness and eternity.
Chrysanthemums are flowers that like to group with other flowers, creating a beautiful bouquet. Thanks to the warm tones , they are in harmony with a wide variety of tones . Yellow chrysanthemums, for example, beautifully attract attention in a bouquet of roses, and orange chrysanthemums go very well with an autumn bouquet, for example, with rose hips or asters.
3. Black Eyed Susan
Rudbeckia, or as it is also called, "daisy with brown eyes" or Black Eyed Susan' – symbolizes encouragement and support. The history of the meaning of this flower is associated with the period of the Victorian era, when symbols were given more importance than words. In addition, rudbeckia, thanks to its colour combination, activates mental activity.
Chamomile is the most popular wildflower. Especially among girls, because with her help they guess at "likes-dislikes". And it is not surprising, because chamomile symbolizes peace, brings good luck and helps in the search for a betrothed. It also symbolizes love, but not mature, but romantic, naive, full of doubts and dreams.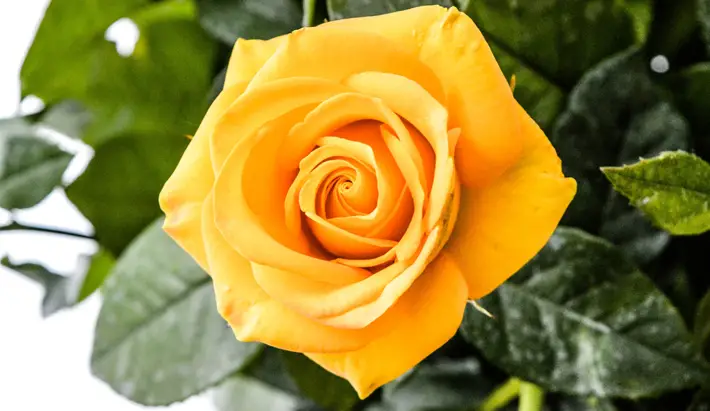 4. Yellow roses
The floral language of yellow roses is "friendship", "compassion", "happiness" and "warmth". Pale yellow roses have a floral language of "grace", "elegance" and "charm". It is recommended as a gift for a friend, not as a gift for a lover.
Although there are many bright and positive floral languages, there are also negative meanings, such as "jealousy".
One yellow rose can decorate a place and warm your heart. Yellow, reminiscent of bright sunlight, is a vitamin colour that gives energy to those who see it. Along with the floral language of friendship, it is perfect for a gift when you want to cheer up your friends or deepen friendship.
Yellow roses also have a floral language of "devotion". This is the perfect language of flowers to express gratitude to your father, who works hard for his family every day. White roses have long been a popular Father's Day gift, but in recent years yellow roses have also become a standard gift.
5. Yellow Dahlia
Do you want to say thank you? Choose a dahlia, the perfect flower to express a sense of gratitude.
FAQ:
What flowers are the colour yellow?
In family life, it is appropriate to give yellow roses in a situation when you need to apologize – this is a sign of reconciliation and recognition of your mistakes.
● Sunny tulips
Sunny tulips, despite prejudices– are positive flowers, meaning happiness that "hides" inside the bud. They are given by lovers, hinting at tender feelings or just to cheer up, wish good luck, or congratulate on a significant date.
● Gold Gerbera
Yellow gerberas are among the most beautiful yellow flowers because the intensity of their colour is mesmerizing. A large floral wreath of gerbera shines with a rich, saturated yellow colour and attracts everyone's attention. Yellow gerberas are great for saying, "Nice to meet you." A bouquet with gerberas is always a wonderful, colourful idea, because large flowers really cause a wow effect. Intensely coloured gerberas come in different colours, but yellow gerberas shine especially intensely and are presented in sunny yellow. Yellow flowers attract attention; they turn each bouquet into a beautiful piece of decor.
● Yellow chrysanthemums
The Japanese national flower is a symbol of happiness and eternity. A full-fledged relationship can be symbolized by yellow chrysanthemums, and since chrysanthemums charm with a lot of bright yellow flowers, they look great in every bouquet. They give the bouquets fullness and shine through numerous yellow flowers.
● Yellow lilies
The yellow lily not only impresses with its bright yellow flowers, but also tempts you to smell it with its sweet fragrance. Lilies have always been a symbol of femininity and seduction, and yellow lilies, in particular, symbolize vanity and are therefore ideal for saying thank you with these flowers after theatrical performances and concerts. Pompous events can be decorated with yellow lilies to create an extravagant decoration.
What do yellow flowers symbolize?
All over the world, yellow flowers mean happiness, wealth, optimism, friendship, pride and intelligence. Psychologically, yellow flowers awaken a sense of joy and love of life, for which they are considered an ideal birthday gift.
How many flowers should be in a bouquet?
Almost every number of buds symbolizes something.
1 flower is a sign of attention. Such a small bouquet will be more than appropriate, for example, on a first date. With this gesture, you will express your sympathy and will not put the lady in an awkward position (as it can happen if you give a huge bouquet).
3 flowers symbolize respect, and 5 — recognition. It is good to give such bouquets, for example, to teachers or superiors. 3-5 flowers — the optimal amount for a bouquet to the artist.
More elegant bouquets symbolize love, the highest point of adoration. These are 7-9 flowers. Or a large bouquet of 25 or 29 flowers — a symbol of eternal love to the grave. The meaning of "you are my only one" can be expressed by handing a gorgeous bouquet of 101 flowers.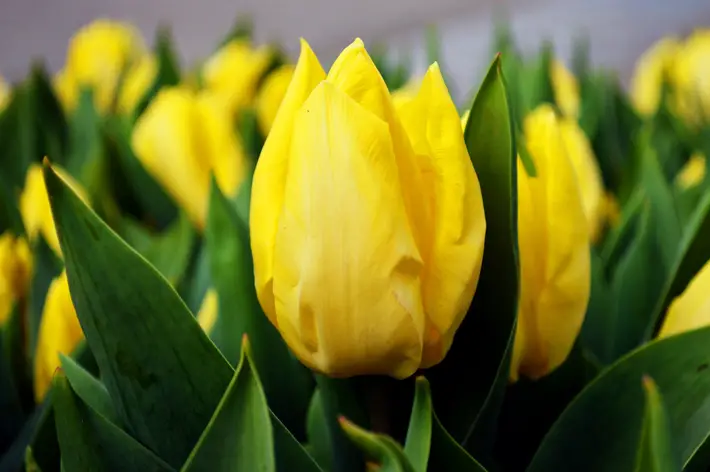 What are the 5 basic types of flower arrangement?
• Classic bouquet of round shape;
Classical compositions are assembled using a spiral technique. The uppermost flower is located in a strictly straight position, the buds tilt slightly to the left side, and the rear flowers tilt to the right side.
• Free bouquet with asymmetric shape;
The composition is composed either diagonally or only on one side. The triangular scheme of the flower arrangement looks like steps of flowers of different heights. No more than 5 plant varieties are used to make a bouquet. The main fullness of the bouquet is on the front side. Flowers with tall stems are placed back, and flowers with large buds are put in the foreground. To make asymmetric bouquets, roses, dahlias, irises, and gladioli are used.
• Bouquet of linear type with vertical arrangement;
When making vertical bouquets, a linear scheme is used, where the flowers turn only in one direction. You can also use a step-by-step scheme. To give the bouquet the effect of completeness, branches of great height are added to the composition, which smoothly descend down. To assemble vertical bouquets, do not use too many different colours.
• Cascading flower arrangements;
Cascade bouquet assembly technique is vertical with a triangular base. You can make compositions by the type of drop, where tall flowers are located in the lower part, and short ones in the upper part. In the waterfall cascade composition model, short flowers are located at the bottom, and in the upper part there are flowers with tall stems and large buds. For making cascade-type bouquets, any flowers that have tall stems are perfect.
• Frame compositions;
Artificial flowers are also used to create frame compositions along with fresh flowers. Ready-made bouquets are decorated with decorative elements from the standard set of the florist. Such bouquets look very impressive, any girl will be delighted.
Any form of a flower bouquet can be decorated with additional decorative elements. Thanks to these decorations, the bouquet will look more elegant and beautiful.