Halloween Face Paint Ideas for Newbies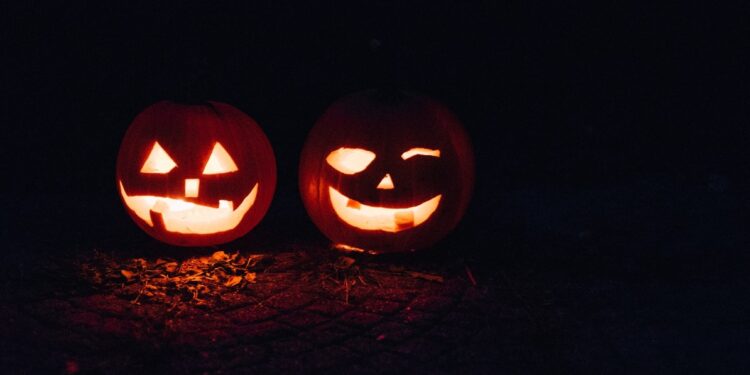 Halloween is all about the costumes, and even though it's super fun to go all out with wacky, elaborate DIY costumes, sometimes we just don't have the time or patience to pull something like that off. Luckily, facepaint is here to save the day.
Facepaint can transform you and your loved ones into the scary monster or fairytale princess of your dreams with minimal time and effort. Whether you're looking for kid-friendly designs or a style that's a little more mature, there's an idea on this list for you.
Let's take a look at some beginner Halloween face painting ideas.
Sugar Skull
The Sugar Skull is a classic face painting design for Halloween and is super easy to do and pull off, even for beginners. They are most commonly seen during Day of the Dead celebrations and are symbolic of life and death all at once.
The general shapes of the sugar skull are pretty easy to get down onto the face, and there are some meticulous details, especially around the eyes, that leave plenty of room for you to get creative. The great thing about this design is that it is limited to white and black face paint, though you can incorporate more vibrant colours to spice things up.
Fun, comfy and so colourful that it will bring a lot of positivity to your day. You can find different options for a perfect gift from this halloween collection of kigurumis starting from only $39.
Witch Face
Don't worry; we're not talking about elaborate witches like Elphaba – this design draws inspiration from the more modern interpretation of a witch, as seen in American Horror Story and other popular media. Like the Sugar Skull, the witch face paint can work for all ages.
Some dark lipstick, an exaggerated, blown-out smokey eye, and a drawn-on spider or spider web transform a basic costume into a thrilling one. Speaking of the costume, dressing up as a 21st-century witch isn't difficult at all – throw on a black cloak and an all-black outfit, and you'd look like you've just walked off of a Ryan Murphy set.
Take it a step further by putting on a classic pointed witch's hat, which you can find at any costume store for only a few dollars. The same can be said for a wand, too.
A Vampire
Vampires are classically spooky and wonderfully simple to pull off, especially for Halloween face paint. Create ghoulish dark circles under the eyes by blending a bit of pink or purple makeup over a little black, draw fangs beneath the bottom lip with eyeliner or some face paint, and fill them in with white.
To go a step further, you can add some deep red lines over the face to mimic scars, and you can add some fake blood to the mouth to make it look like you've just fed.
Vampires are an excellent choice for kids and adults alike, and dressing up as one is a piece of cake – throw on some black pants or a black skirt, a white shirt with some frill, and a red cloak, and you'll be your very own Dracula.
And there you have it – some of the best Halloween face painting ideas that you can try out in a few months when this spooky holiday rolls around!