Skullcandy Dime 3 True Wireless Earbuds – Review
Finding a decent pair of wireless Bluetooth earphones at a modest price can be something of a lottery.  Often the bass isn't great. The look doesn't mirror how they looked on the model online. And sometimes the technical aspects of them can be whimsical.
However, SkullCandy has nailed everything with their latest version of the Dime earbuds. I came across these a few weeks ago, and since they arrived, I've enjoyed putting them in my ears. Listen to what I've got to say…
What's in the box?
1x Pair of Skull Candy Dime 3 True Wireless Earbuds
1x Charging carry case
A selection of gummies to fit different-sized ears
1x USB-C cable
1x Instruction booklet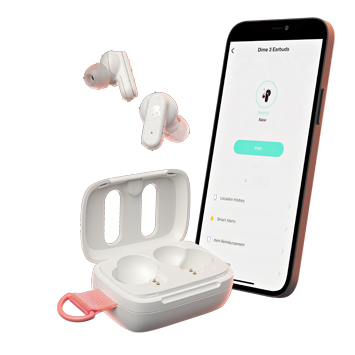 First impressions
It's amazing how, years ago, you got a pair of wired earphones, and had them come with a whirly carry case to wind them up with, but never, ever used.  Well, the case is important nowadays.
Firstly, this one resembles a keyfob. And, thanks to the loop at the top of the case, you can whack the earphones on your keyring and know where they are at all times.  Whether this is intentional, I don't know – but it's a small option that I really like.
Now, one of the things with Bluetooth is that pairing for the first time can be a faff. Press and hold this…for three seconds…you'll hear a bleep and the red light will turn red and blue, then flash blah blah blah.  Ok, I exaggerate, and pairing has got better over time – but these earphones come with the quickest pair-up I've experienced.
When you remove the earphones from the case, they go into pairing mode automatically. Go into your Bluetooth settings on your phone, and select pair new device – and within a second, they're there.  Tap the Dime 3 option and you're instantly connected. Simple.
All about the performance
But it's all about the performance, isn't it? Now, there are some Bluetooth earphones that underwhelm, and their top volume is too soft.  However, as someone who likes their music quite loud – so you can't hear anything else – the Skullcandy Dime 3's suit me down to the ground.
Some of the podcasts I listen to can be fairly quiet, and any external sound that gets through can stop me from enjoying what I'm listening to. Helped by the gummies on the earphones, I don't anything with these.
Turn on the music, and whether it's a disco track by Nile Rodgers, or a more guitar-laden song by Manic Street Preachers, the sound is really good.  Clean guitars, deep bass, and a nice balance of vocals to music.
These earbuds fall into the budget category, but I think the sound and performance puts the Dime 3's high up in the low-price list.  They certainly don't look, feel or sound budget – and if you're looking to spend no more than £30-£40, these need to be seriously considered.
What SkullCandy say…
"With each iteration, Dime becomes more advanced and Dime 3 represents a huge step forward with features you normally only find in the most premium earbuds. Consumers can enjoy worry-free listening on their next adventure with 20 hours of battery, Rapid Charge, an integrated lanyard loop, IPX4 waterproof rating, and with Tile technology you never have to worry about misplacing a bud."
So, what do you get for your money?
Well, in this incarnation of the Dime earphones, the battery life has been extended from 12 hours in the Dime 2 to 20 hours. You also get multipoint pairing, EQ presets of Music, Bass Boost and Podcast, and the Stay Aware mode is handy when you need to know what might be going on around you.
You can also track down your Dime 3's if you misplace them – just download the Tile app to your phone and give them a call.  They come with on-ear controls which let you change the volume levels, so if you're on a run, or having a workout you don't have to fumble around for your phone if the music's too loud (or too quiet).
Features:
20 Hours of Battery Life + Rapid Charge
IPX4 Sweat and Water Resistance
Multipoint Pairing
Skullcandy Supreme Sound
Stay-Aware Mode: Stay connected to your surroundings without removing an earbud.
Built-In Tile™ Finding Technology
Clear Voice Smart Mic
Preset EQ Modes
Full Suite of Media Controls
Noise-Isolating Fit: Ergonomically redesigned ear gels provide all-day comfort.
Microphones in Each Bud
I think it's fair to say that, for the price, the Dime 3 True Wireless Earbuds are a winner.  They cover every need, don't pinch you in the pocket, and have a look and feel that people are wanting from their earphones right now.
Skullcandy Dime 3 True Wireless Earbuds are £34.99, and available to buy from skullcandy.co.uk