Sades Locust Plus Gaming Headset – Review
Sades Locust Plus Gaming Headset
Gadget Review
by Ryan Madin
Price: £39.99
Overview: A stylish, customisable and comfortable gaming headset that features great audio at a reasonable price.
What Sades Say:
"With excellent sound effects, the Locust Plus from Sades delivers 7.1 surround sound with 40mm speakers, meaning you can immerse yourself in your game thanks to the enhanced sharpness and depth of sound. The soft leather earmuffs and elastic suspension headband mean a comfortable fit no matter how long you play for, and the flexible microphone is easy to adjust to the correct position."
Features:
The Locust Plus has been upgraded to deliver virtual 7.1 surround sound with the 40mm speakers which enables full immersion in your gaming, and the soft-leather earmuffs and elastic suspen-sion reduce the pressure on the head, meaning you hardly notice you are wearing the headset. It is equipped with customisable RGB lights on the ear cups, enhancing the entertainment atmosphere and allowing you to match your headset colour to that of your gaming set-up, with 8 indi-vidual colour options. The multifunctional in-line remote allows you to adjust volume, mute the microphone and change the lighting colour quickly and easily. The headset plugs in via USB, making it compatible with most systems.
My Experience:
Straight out of the box, the Locust Plus looks and feels great. The quality and design are very good, and once plugged in via the USB the lights automatically turn on. The Locust Plus really does look cool and will be a welcome accompaniment to anyone's gaming set-up. The headset is pretty straightforward to use – just plug in and play. You may have to switch to the headset for audio and mic via your control panel if you are using in-built ones currently, but this is straightforward.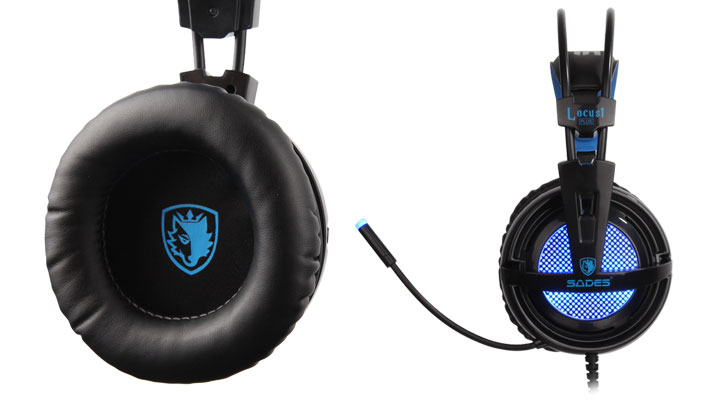 The audio quality is immersive and crisp and, although not noise-cancelling, the headphone's sound quality does allow you to block out most of any external sound to enjoy your gaming experience. The volume is simple to control via the in-built remote, and I've found the Locust Plus to be an excellent sounding, comfortable headset to wear for long periods. The microphone is adjustable for positioning, and the audio that you get through it is very good. I have played a number of hours online with friends and had no issues with sound quality, feedback or picking up external noises.
The Verdict:
A comfortable, great looking and customisable headset that won't make you break the bank. The Locust Plus headset is everything you could need for your online gaming needs. The sound is great, the mic is clear, and for the price you will be hard-pressed to beat it.
The Sades Locust Plus Gaming Headset is £39.60, available from
Amazon