An Interview with Jimmy Akingbola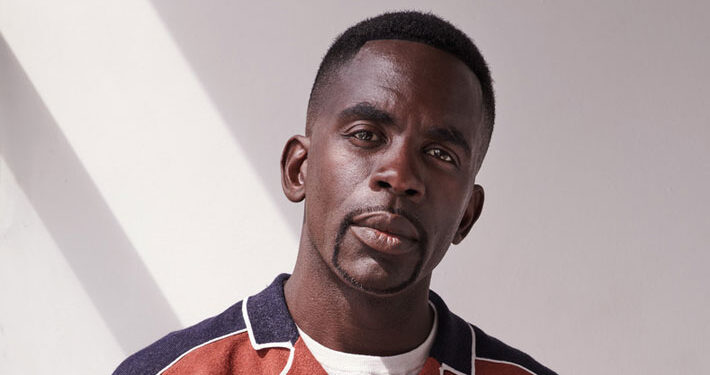 The star of In the Long Run, and Kate and Koji has turned question master for ITV quiz series Sorry, I Didn't Know. Jimmy Akingbola tells @RogerCrow how he got the show on air during the pandemic; working with Idris Elba, and plans for the future…
Congratulations on Sorry, I Didn't Know. I love the fact it's so intelligent for an ITV panel game.
Thank you. We thought that was so important; the intelligence being the main thread through it, as well as being entertaining. It can't just be: "Laugh, laugh laugh". It's not about that. 'Let's make sure the level of intelligence is there and make sure every game is providing education and information'.
It needs to tickle your brain.
Exactly. And it doesn't matter what race you are, age, gender, religion. There's something for everyone. And there's that thing where you might have your nephew with you and you might get some answers right. Your nephew might get some answers right. Everybody's got something that they can answer. Also that "Oh, I didn't know that" element. And you'd be surprised how many people just don't know stuff because it's just not out there.
Was there much executive interference with the production?
When we got the opportunity to make this, we wanted to make OUR show. We were left to make the show and tell the story we wanted to tell, and I have to take my hat off to ITV for that. The pilot was loved, but there was hardly any budget and it was for ITV2. We always knew this was a mainstream show for ITV1, but when an opportunity comes, you take it and make the best of it that you can.
"I was a little bit cautious about it"
I loved Kate and Koji – it's rare to see any prime time ITV sitcom, let alone one that felt so relevant to today.
Thank you. I booked that job last year and I remember reading the synopsis and thinking 'Ooh, ITV? Really? Talking about this stuff?' But (writers) Andy Hamilton and Guy Jenkin, they're geniuses. I didn't know Brenda (Blethyn) was the other lead at that time, but I thought 'This is a big deal; to have a lead title role; Koji, who is a doctor, upper middle class, and he's an asylum seeker. And I was just like: "I have to do this". Even though I was a little bit cautious about it. I read the script and thought: 'Ah, I see what Andy and Guy are doing'. And if you look at that show coming out this year, at the beginning of the pandemic, and before the BLM stuff happening, it's got even more significance."
A perfect time to re-pitch Sorry, I Didn't Know.
Yes. We're in a place where we have to have to have these difficult conversations about true representation; about systemic issues in our industry, and so that was the time where I thought 'I am placed where there's no guarantee what I can achieve, but I'm in a certain place where I have to do more', and that's why I went to ITV and said: "Look, I'm glad you've got a season two of Kate and Koji, but can you re-watch this pilot that we did for you four years ago? If we're truly in a world of change now, then you need to watch this; we need to have a conversation".
And once you got that green light, it was a fast shoot?
Yes. The turnover to get this show up and running was very quick. We filmed it during the pandemic. In under five weeks.
I'm guessing team captains Chizzy Akudolu and Judi Love are quite a handful. Did you have to rein them in a bit?
(Laughs). Oh yes! There's a lot of stuff on the cutting room floor. I'm an actor first and foremost, but hosting and trying to do all the bits; you've got people talking in your ear; I'm trying to keep Chizzy and Judi in line. Then you've got Paul Chowdhry doing his thing and Russell Kane doing his thing. It is a nightmare, but I loved it.
It's great that SIDK is providing opportunities for talent that might not get a mainstream break.
Yes. What it's doing is proving a platform for people like Chizzy and Judi. They should have their own show. Our dream is that if we can create more opportunities for talent via this game show, like we do with Monologue Slam, and the film festival, then that's an amazing thing.
"He's got very funny genes"
Was it a conscious decision not to have on-screen scoring?
Yes! You're the first person to bring that up. We do have the scores, but it's not about that. It's actually the sharing of the knowledge and the intelligence.
On the acting front, what was it like making The Most Dangerous Game with Liam Hemsworth and Christoph Waltz?
For me it was a dream come true. I live between LA and London, so after doing Arrow, NCIS, Scorpion and feature films in America, getting this… and when I heard about QUIBI (a short-form streaming platform) and you've got people like Spielberg doing stuff for them, I thought 'I want to be a part of that'. But I didn't realise the history of Most Dangerous Game, so when I read the script, the young nineties kid in me was like "This is like Running Man and Hard Target". So I had all those references, and when I heard it was with Liam Hemsworth, I thought: 'I've got to do this.'
Working with Idris Elba on In the Long Run must be a fascinating process.
Idris is very funny. He makes everybody corpse. He's got very funny genes. And he's very open. He doesn't walk on set like one of the most famous people on the planet (laughs). He walks onto the set like 'I'm just one of the guys'. The first couple of days on set I was being a very good boy, but then when Idris came on set he does what I like to do, which is 'honour the writing', but ad lib and play. He just really let myself create a character.
Finally, when can we see more Kate and Koji?
We're going to start filming that at the beginning of next year. So ideally we do that and season four of In the Long Run.
'Sorry, I Didn't Know' can be seen on ITV and ITV Hub. 'Kate and Koji' is on Britbox. 'In the Long Run' can be
seen on Sky