Can You Sell A House With No Boiler Certificate?
When selling a home, it is strongly advised to gather any warranties or certificates for your property. This could include certificates on your electrics, boiler, central heating system, and even fencing.
But, we often find that a lot of new home owners are unsure if they legally need such certificates and most commonly what certificates they might need for their boiler. We can tell you now that you don't legally have to provide an annual boiler service certificate or a gas safety certificate, unless you are becoming a landlord. You will have to provide a boiler installation certificate though.
Is it a legal requirement to provide a gas safety certificate when selling a house?
Everyone should get their gas appliances inspected regularly by a Gas Safe licensed engineer. Following the completion of the checks, a competent gas engineer can issue a certificate. This is known as a Gas Safety Record.
A homeowner is not legally required to have a Gas Safety Record. But If you are a landlord and rent out your property to tenants, you must have a gas safety certificate and have your appliances inspected every 12 months according to law. It keeps both you and your tenants safe.
In other words, you can sell your home even if you don't have a gas safety certificate because it's not required by law. But, If you are selling your home, the gas safety certificate can also be a good marketing tool. You can use the certificate to persuade potential buyers to make an offer on your home.
However, either way, we recommend that all of your gas appliances be tested and maintained by competent experts once a year, whether you are selling or keeping them. To preserve your boiler's guarantee, several manufacturers typically demand a service once a year.
Selling house with no boiler certificate?
As Jon Graham the founder of Dwell-Leeds (an estate agency in Leeds) told us, "'You cannot sell a house unless you have a Building Regulations Compliance Certificate or a boiler safety certificate". This certificate confirms you complied with all building codes when the boiler was installed. It is something they regularly check with landlords who come to Dwell looking to sell their property in the Leeds area.
If you no longer have a copy, you can apply for a new one from the Gas Safety Register's Register's records.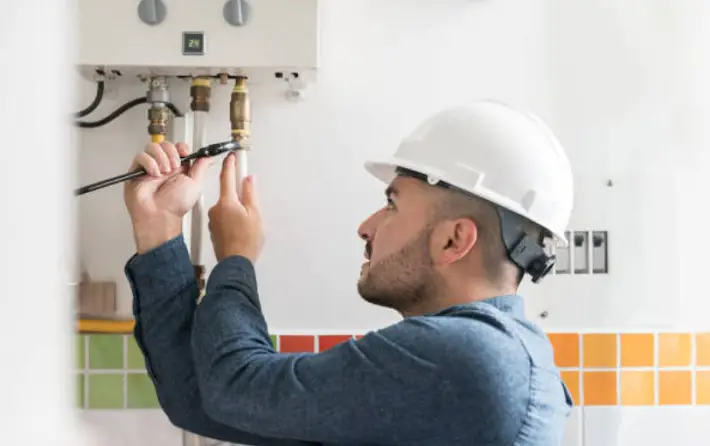 Do I need a boiler service certificate to sell my house?
There is no legal requirement to get your boiler serviced before selling your property. Although, presenting your customer with a boiler service certificate can reassure prospective buyers that they are purchasing a well-maintained home.
During the service, the engineer will conduct performance testing and take any corrective action that is required. In addition, the engineer will inspect the boiler, pipes, air, and vents for signs of wear and tear.
What happens if you don't get your boiler serviced?
Millions of gas boilers in UK households emit twice as much carbon as all of the country's gas-fired power plants combined. As a result, NO2 is an air contaminant connected to tens of thousands of premature deaths in the UK each year.
According to data, household gas heaters emit eight times as much nitrogen dioxide as power stations. So it is critical to ensure that your boilers are well maintained and safe to use. As a defective boiler can cause carbon monoxide poisoning.
Carbon monoxide is more dangerous because it cannot be seen, or smelt, hence its nickname "the silent killer". With this in mind, It may be necessary to test your pipes for Carbon Monoxide because you can't detect whether it's present in the air without a proper inspection by a gas engineer.
Can I sell my house without a boiler installation certificate?
Installing a boiler or a heating appliance in residence without a building regulations certificate is unlawful. Likewise, if you have a gas boiler installed on your property, it must come with a valid installation certificate.
We spoke to Lee, who is one of the main engineers at SP Boiler Services, which is a boiler installation company in London. He informed us that "The installation certificate issued by Gas Safety Register also acts as the Building Regulations Compliance Certificate. This means they can quickly notify the local authority if the installation complies with all construction standards."
Is It Worth Replacing Your Boiler Before Selling Your House?
Buying a new and more efficient boiler can be beneficial. Many prospective buyers are looking for energy-efficient homes. By ditching your old boiler and replacing it with an energy-efficient A-rated one, they can cut their carbon emissions and energy costs.
Window blinds from Affordable blinds can be a great way to improve energy efficiency in your home. By blocking out the sun's rays during the hottest hours of the day, they can help keep your home cooler and reduce your air conditioning costs.
According to Safe Store's research, a new boiler can boost your home's value by 1.9 percent. So this simple improvement could increase your home's value while providing an automatic return on investment and profit.