Here Are 7 Ways That You Can Make Your Home More Inviting to Guests This Winter
The winter season is fast approaching, and soon social gatherings will happen more regularly. You may find that you are going to be a host at some point and the thought of having guests over can be quite daunting. However, there are a few things that you can do to make your home more inviting.
Today, we are going to share with you some top tips so you can seek comfort knowing that your guests will feel relaxed in your home.
Create A Cosy Ambience
There is nothing more inviting than a room that has a cosy ambience. Luckily, there are plenty of ways that you can create a cosy feel in any space and candles are always a great place to start. Candles add warmth to a room and can also be pretty cost-effective. They are a piece of home décor which has certainly grown in popularity with many people using them in their homes.
Lighting is a great way to create a relaxed atmosphere. Harsh light can feel quite invasive, so opting for warmer lighting can be a lot more inviting. You can find out more about how to create a cosy ambience in your home through some online research of your own.
Add Soft Furnishings
Soft furnishings are a great way to make your home feel more comfortable. Pillows and blankets are enough to make any chair or sofa inviting and encourages your guests to get comfortable and feel relaxed. The great thing about throws and pillows is there are plenty of options. You can switch up colours, textures, shapes and sizes to help bring your space to life. There is no better feeling than being snuggled up under a cosy blanket and your guests are sure to feel right at home.
Soft furnishings are a great way to make your home feel more comfortable once you've chosen a comfortable chair or sofa. Pillows and blankets are enough to make them inviting and encourage your guests to get comfortable and feel relaxed. The great thing about throws and pillows is there are plenty of options.
Pick Inviting Colour Schemes
There is no denying that colour has the ability to influence your mood. It can be a good idea to incorporate warm colours into your home this winter. There is nothing better than stepping inside a room that feels warm and inviting. You can experiment with colour in many ways such as changing artwork and even painting walls and cabinets.
The kitchen is always a social place and there is no denying that the winter season is all about good food and hot drinks. You may not be aware that you can completely transform your kitchen by painting the cabinets, helping you to create a more social space.
Kesseler specialise in bespoke painted kitchens and can help you add warmth and brightness to your cabinets, helping to grab the attention of your guests. Go bold with colour and even experiment with a unique finish. It is sure to become a showstopper.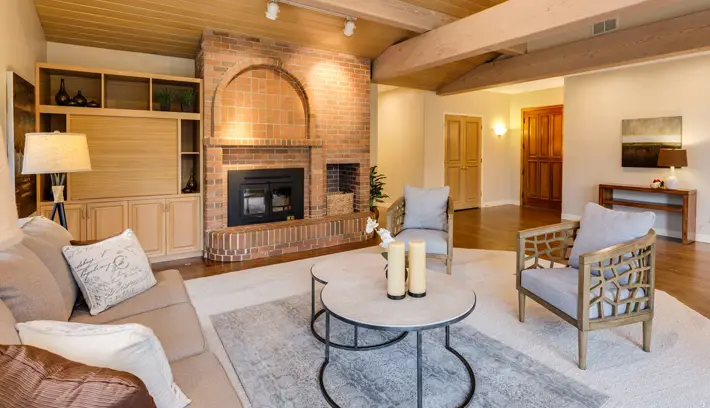 Ensure There Is Plenty of Seating
Many people fail to understand the importance of a good seating arrangement. If there is nowhere for your guests to sit down, this can lead to them feeling uncomfortable and suddenly your home is not as inviting as they may have first thought. Ideally, you want your seating to be easily accessible and fairly close together. Having your guests too far apart can make them feel uncomfortable and they may be hesitant to join in on conversations over fear of not being heard.
There is plenty of advice online which can help you arrange your seating. All it takes is some research and some practice. You may have to move your furniture around a couple of times until you find what works best for you.
Focus On Your Entryway
First impressions are made as soon as your guests enter your front door. So, you should focus on your entryway. Great lighting and a welcome mat are just some of the ways that you can make your home look more inviting upon arrival. Why not go bold and experiment with a statement piece that will really draw the attention of your guests? A dimly lit entryway that has little to no character can certainly be off-putting for your guests so don't get too lost in other areas of home décor as first impressions count!
Keep Bathroom Supplies Stocked Up
There is nothing worse than visiting someone's home, only to find out that they have run out of bathroom supplies. You should ensure that your toilet roll, and hand soap are always stocked up, so your guests don't find themselves in an awkward and uncomfortable situation. It is also important to stay on top of the cleanliness of your bathroom. Your guests want to experience a hygienic space so try not to overlook this room in the house. A dirty bathroom can make guests feel uncomfortable and it may force them to leave earlier than they had hoped.
There are plenty of bathroom cleaning tips online which can help you freshen up and re-vamp your space. The bathroom is a room that your guests are very likely to use so it should be on top of your list of priorities when you host.
Experiment With Scents
Different smells in your home can really help to make it feel more inviting. A home that smells great is bound to attract guests and instantly makes them feel comfortable. Scented candles are always a great place to start and now you can get them in a variety of different scents. You want your home to smell like freshly baked goods? There's a candle for that. You want your home to smell like fresh flowers? There's a candle for that too.
Fragrant room sprays and plug-in air fresheners are also two great ways to make your home smell fantastic. The options for this tip are endless and you won't have to travel far to find some incredible products that will make you the host with the most. With the help of these tips above your house will soon become the hub of social interaction. It's time to make our homes cosy and comfortable just in time for the winter season.