Dementer / Jug Face – Film Reviews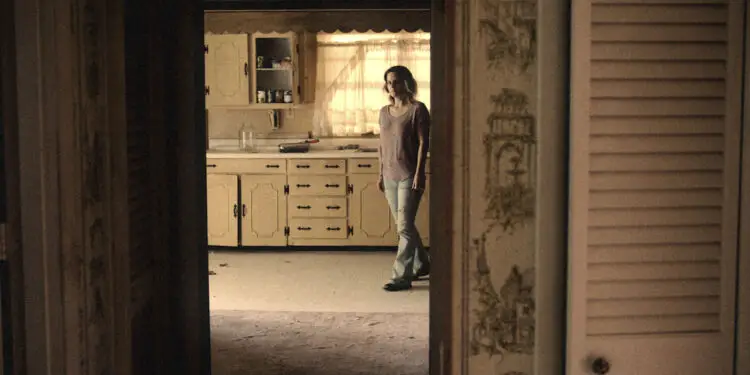 By Sarah Morgan
In years to come, horror fans may be mentioning the name Chad Crawford Kinkle in the same breath as John Carpenter or Wes Craven – if his first two feature-length projects are anything to go by, he is certainly the heir to their crown as Hollywood's horror movie titans.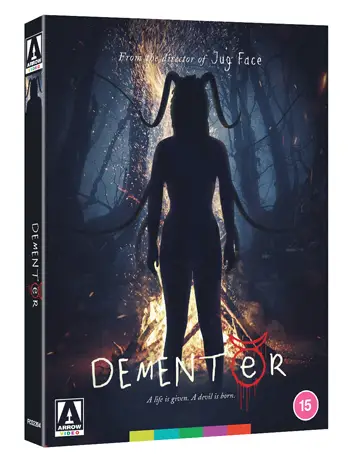 Both movies fall into the folk horror subgenre. Jug Face was made after Kinkle's script won the prestigious Slamdance Screenwriting Competition and takes place within a closed community living in some remote backwoods place.
"Regular sacrifices"
Lauren Ashley Carter takes the lead role of Ada, a teenager pregnant with her brother's child. Her family and their friends live close to a mysterious pit to which they must make regular sacrifices, chosen via the faces depicted on jugs made by local resident Dawai – he claims the pit 'speaks' to him.
When she discovers the pit has chosen her as its next victim, Ada tries to find a way to survive, but her efforts only seem to make matters worse for those around her.
Sean Young is impressive as her cruel, heavy-drinking mother, but it's Carter who delivers easily the film's strongest performance, making the troubled Ada sympathetic – something she might not have been in less skilled hands.
Dementer appears to have been a particularly personal project for Kinkle. One of its main stars is his sister Stephanie, who has Down's syndrome.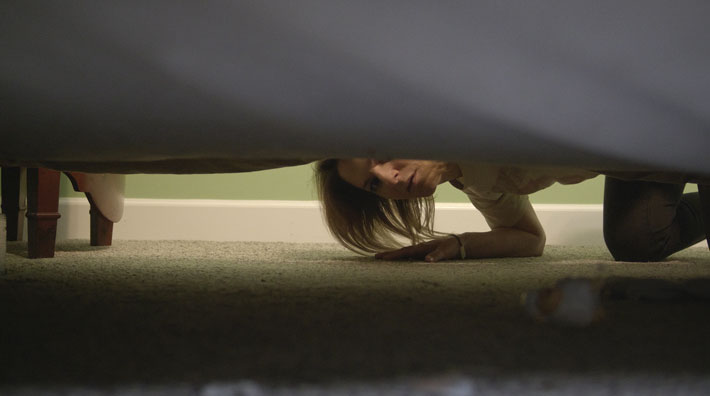 "Collision course"
Katie Groshong, who has a small role in Jug Face, takes the lead here as Katie (every character shares the same name with the person playing them), who lands a job as a carer at a home for adults with special needs. She's living in her car after fleeing from a backwoods cult, and although she's trying to put the past behind her, the group's teachings clearly still play an important part in her life.
As a result, she becomes convinced Stephanie is in danger from evil spirits, putting them on a collision course with disaster.
It was a brave move by Kinkle to use his sibling, her friends and their real-life home and day centre for the film – it could easily have gone so wrong on so many different levels. However, the finished result is truly terrifying and baffling in the best sense. Think Dogme film-making crossed with The Wicker Man, and you get the idea.
Frankly, I can't wait to see what Kinkle does next.
LIMITED EDITION CONTENTS:
• High-Definition Blu-ray (1080p) presentation
• Original DTS 5.1 MA and Stereo 2.1 audio
• Optional English subtitles for the deaf and hard of hearing
• Includes Chad Crawford Kinkle's debut feature Jug Face on Blu-ray for the first time in the UK
• Reversible sleeve with original and newly commissioned artwork by Coffee & Cigarettes
• Fully illustrated collector's booklet featuring new writing on the film by critic Chris Hallock
DISC ONE – DEMENTER:
• Director's Commentary, a brand new audio commentary with writer-director Chad Crawford Kinkle
• Cast & Crew Commentary, a brand new audio commentary with lead actress Katie Groshong, cinematographer Jeff Wedding and writer-director Chad Crawford Kinkle
• Critic Commentary, a brand new audio commentary with film critic Chris Hallock and writer-director Chad Crawford Kinkle in conversation
• The Making of Dementer, a brand new in-depth look behind the scenes of how and why the film was made, featuring interviews with writer-director Chad Crawford Kinkle, star Katie Groshong, and cinematographer Jeff Wedding
• In the Words of Larry, actor Larry Fessenden discusses his role in the film and why he was so eager to take it
• Outsider Art and Dementer, a brand new featurette with Chad Crawford Kinkle and fellow filmmakers Lucky McKee (May, The Woman) and Larry Fessenden (Habit, The Wendigo) in conversation as they explore the art of independent genre filmmaking
• Short Films, a collection of early short films by director Chad Crawford Kinkle with optional commentary showing his development from high school through college and into professional feature film making
• Trailer
• Still gallery
DISC TWO – JUG FACE aka THE PIT:
• Staring into the Pit, writer-director Chad Crawford Kinkle in discussion with critic Jon Towlson
• Back into the Woods, lead actor Lauren Ashley Carter in conversation with Celluloid Screams founder Robert Nevitt
• A Face Jug tour, writer-director Chad Crawford Kinkle invites you into his home to check out his enviable face collection
Dementer and Jug Face is released on limited edition Blu-ray by Arrow, £24.99