After Love (2020) – Film Review
Director: Aleem Khan
Cast: Joanna Scanlan, Nathalie Richard, Talid Ariss
Certificate: 15
By Sarah Morgan
Love, loss and betrayal are at the forefront of English-Pakistani writer-director Aleem Khan's debut feature. But there's a sense of hope too.
Joanna Scanlan is best known for her comedic roles, having delivered unforgettable performances in Getting On and The Thick of It; she was also the lead in Paul Abbott's cop series No Offence, which had laughs too, albeit via a healthy doses of gallows humour.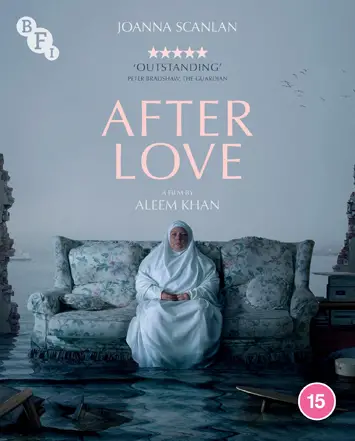 So if you're thinking of watching her latest project, the movie After Love, because you want gags galore, you're going to be disappointed. However, if fascinating character studies are more your line, then you're in for a treat.
"Great pain"
Scanlan dominates the screen throughout, despite having only a handful of lines. She seems to say so much without saying anything at all; instead, her body language and facial expressions convey the feeling of a woman in great pain.
Her character, Mary, has undergone a cataclysmic event, but it's the aftermath that leaves her feeling unmoored and uncertain of the path she's taken throughout her life.
When we first meet her, she's living in Dover and is married to ferry captain Ahmed, having converted to his Islamic faith many years earlier. We later learn they have been together since they were teenagers, and Mary had no reason to believe they weren't happy and content – until discovering that Ahmed had led a secret double life, involving a lover and teenage son in France.
Mary heads to their home, but rather than confronting the 'other woman' (a non-Muslim, stylish, slim and cultured figure, ie everything Mary is not) she manages, almost by osmosis, to become a part of their lives, a confidante for them both, but without saying who she really is.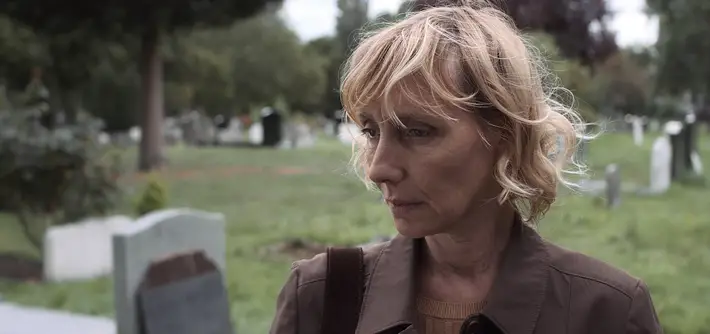 "Distinctly human"
What unfolds is a touching story of need and loss, of identity and grief. Khan clearly has empathy for all three central characters, revealing them as distinctly human with many different facets – and, like the absent Ahmed, all are hiding aspects of their character, showing only one particular face to the world.
Scanlan is the heart and soul of the film, but plaudits should also go to Nathalie Richard and Talid Ariss as Ahmed's alternative family. In less skilful hands both could have been unsympathetic – particularly the mother, who knew she was sleeping with another woman's husband all along – but manage to convey that, as much as Mary, they are victims too.
Without giving anything anyway, by the end credits, we're rooting for them all as they battle to find a way to embrace the future.
Special features:
· Presented in High Definition
· After Love Q&A (2021, 46 mins): director Aleem Khan and actors Joanna Scanlan and Nathalie Richard talk to film programmer Isra Al Kassi, curator and co-founder of T A P E Collective
· Three Brothers (2014, 17 mins): Aleem Khan's short allegorical drama about dealing with grief and responsibility for the first time
· Original theatrical trailer
· Teaser trailer
· Stills gallery
· First pressing only - Illustrated booklet with writing by Aleem Khan, Suhaiymah Manzoor-Khan and Isra Al Kassi; Producer's Notes by Matthieu de Braconier; an interview with Aleem Khan from Sight & Sound; notes on the extras and full credits
After Love is released on Blu-ray by BFI, £14.99