Small Changes That Will Make a Big Impact on Your Home
When it comes to making changes at home, whether to make it more energy efficient or to modernise the décor, we often imagine that the big changes will make the most difference. While in some cases this is true, there's no denying that a complete remodel will transform your home, or that solar panels and loft insulation will save you money and reduce energy wastage, that doesn't mean that smaller changes can't also be effective.
At the moment, most of us are looking for ways to save money. Any plans for a complete refurb or big changes to furniture and décor might have been shelved for now. But that doesn't mean that you have to live in a home that's tired, dated and that you don't love. There are plenty of much smaller changes that you can make that will have a big impact.
New Windows
If your windows are old and the frames damaged, they might be affecting your décor more than you think, as well as letting cold air in. Old windows might be murky and scratched, minimising the amount of natural light that gets into your rooms. The frames might be dated and tired, and if they are cracked, and the paint is peeling, they might be making your rooms look dirty.
If your budget allows, upgrading your windows can make your rooms brighter and lighter while keeping draughts out and reducing your energy bills. More natural light might even give you more access to vitamin D, improving your mood as well as your health.
Internal Doors
Internal doors are something that we take for granted. We barely notice them day to day, but our interior doors make up a big part of the interior décor of our home and replacing tired old doors can significantly affect the appearance of a room. Take a look at Online Door Store's website for some ideas of stylish and practical doors to modernise your rooms and refresh your décor.
Commit to a Declutter
Clutter is normal. Over time, even those of us with great cleaning habits and efficient storage start to collect clutter. You might have tables that are filled with books and letters, shelves that are overflowing, or other areas with plenty of clutter to sort through.
Decluttering can take time, but it's one of the most effective ways to give your home a refresh. Decluttering makes your home look clean and tidy, gives dust and bacteria fewer places to hide, improves the air quality in your house, and can even make your rooms appear larger.
Cupboard Doors and Handles
A full kitchen remodel is very expensive, but it's not the only way to create the appearance of a newer kitchen. Instead of replacing all of your cupboards, just change the doors. You could even remove, sand, and refinish your old doors if you want to make a big impression while saving money and creating a more unique home.
Whether you are refinishing doors or leaving them as they are, new handles or knobs are another great way to change the appearance significantly. You can also change knobs on things like bedside tables, chests of drawers, and desks. Antique stores have some fantastic options and give you a great way to add colour and pattern to dull furniture.
Light Switch Plates
You turn lights on every day, touching the light switch plates without ever really thinking about them. We don't notice them when they are white and plain, but that doesn't mean that they can't make an impression. You can buy inexpensive, but decorative stickers to add to your switch plates without having to worry about wiring or electrics.
Skirting Boards
Skirting boards are another thing that we take for granted. Cleaning and repainting yours can be a great way to refresh your home without having to make huge changes. If your budget allows, adding taller skirting boards can make a bigger impression.
Soft Furnishings
Soft furnishings like cushions, blankets and throws are a cheap and effective way to change the atmosphere of your room, creating a cosy vibe, and helping you to relax and stay warm. Things like cushion covers can be changed cheaply and make a big impact on both the appearance and atmosphere of your rooms.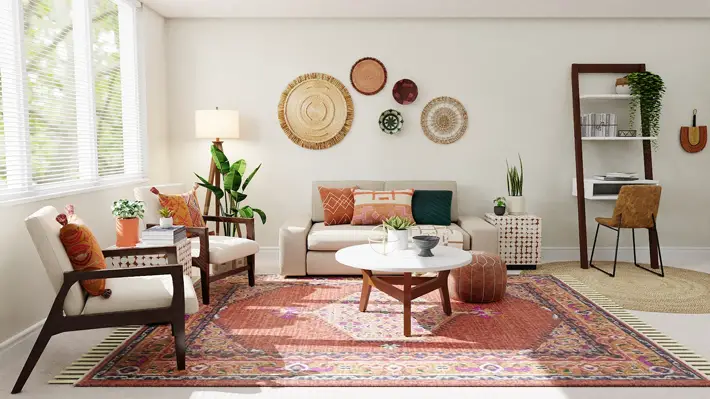 An Area Rug
If you are fed up with your carpet or flooring but can't afford to have new carpets or laminates laid, adding an area rug can be an effective alternative. If your carpets are plain, or you have wooden floors, use an area rug to add colour, or even a pattern to brighten up your décor.
A Fresh Coat of Paint
You might think that your walls are clean and bright. But walls become dull and stained over time. Adding a fresh coat of paint, even in the same colour, can make your rooms look much fresher and brighter, and you won't need to change any of the other décor, or your furniture to match.
Framed Wall Hangings
Posters, prints, and photos are a brilliant way to personalise your décor. If you can frame them, even with cheap frames, they'll look more stylish and sophisticated.
Lighting Options
Overhead lights are essential. The bulbs should be energy efficient and bright and the shades clean and dust free. But there are other options. Adding lamps, lanterns, candles, and fairy lights can give you ways to set the mood and change the atmosphere. Lamps can be used to highlight specific areas of your rooms or pieces of furniture, and other lights can help you to create softer décor.
Welcome Nature
Welcoming nature into your décor can improve your mood, freshen up your décor and modernise your home. Things like houseplants, fresh flowers and using natural materials like wood and stone in your décor can be very effective.
Add a Statement Mirror
A statement mirror can add some fun to a plain wall, but if placed well, it can also make a small room feel larger and lighter. Position the mirror at eye level on the wall opposite a window to reflect light and open up the space.
Rearrange Your Furniture
You don't have to buy anything new to completely change the appearance, atmosphere, and functionality of your rooms. Simply moving your furniture around can make a big impact.
When it comes to furniture position, think about what you are trying to achieve, and what your priorities are. If all of your seating faces the TV, for example, you are giving it all of the focus. Instead, point seating at each other, to create a more social space which encourages conversation.
Re-Upholster
A new sofa or dining chair might be on your wish list. But reupholstering, and even re-filling can be a much cheaper alternative. Adding fresh new material can improve the appearance of furniture, and adding new, or extra filling or pads can improve the support and comfort that your chairs offer.
In some cases, simply using a carpet cleaner to wash large pieces can have a big impact.
Making a few small changes to your home can update the décor, modernise features, add functionality and even help to reduce your bills. Whatever your budget, don't settle for a home that doesn't make you smile. Try some smaller changes to see what has the biggest impact.