Trending: Decorating Dried Flowers in Your Interior
It is totally fashionable to use natural and sustainable products at home and the dried flower trend fits in perfectly with this. Dried flowers are no longer dull and dusty afterthoughts, but can really become an essential part of your interior! So buy a nice bunch of letterbox gifts or mailbox flowers and make something beautiful for your home.
Drying flowers and choose your favourite flowers
Drying flowers is easy. Choose your favourite flowers and plants and select those with fun colours for a great effect. Remove the unnecessary leaves first. Then, tie the flowers and plants together with a rubber band and hang them upside down in a warm and dry place. To preserve the colours even better, it is best to hang them in a dark place. In addition to this method of drying, there are a number of other methods, such as placing the flowers between a book and even in the microwave. But of course you can also buy the dried flowers ready-made!
Styling of dried flowers
There are many ways to style dried flowers. The flowers and plants are of course beautiful by themselves, but you can make them look even better. For example, you can put the dried flowers in a bell jar, frame it, hang it up, put it in vases and in bottles. As can be seen in the picture above!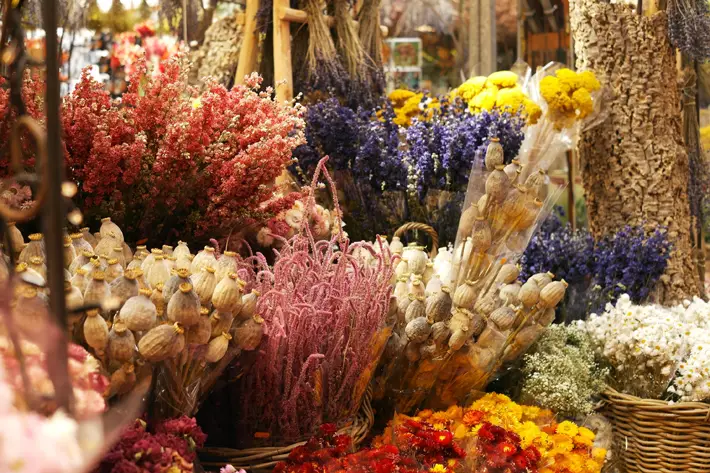 Maintaining dried flowers for your interior
Dried flowers can last a very long time. They are easy and sustainable to keep because you don't continually have to buy new bunches of flowers. Still, you have to maintain them a bit – for example, be careful not to bump them, because then the leaves can fall out. In addition, you should try to keep them out of the sun.
Decorate dried flowers in a vase
You can of course just put a bunch of dried flowers – or a few pieces or one larger flower or plume for a more minimalist touch – in a vase on a table, cupboard or side table. Or opt for an extra large specimen and put a few branches of pampas grass in it. Nice and simple, but very beautiful! Also nice: combine several vases in the same style or related colour tones and dried flowers. You can of course also opt for small vases to brighten up a party table. Or put dried flowers on your bedside table.
Framed dried flowers in your interior
Want to make real eye-catchers from your dried flowers? That's easier than you think. Frame your dried flowers in a photo frame! Press them very carefully between the glass and hang several frames together on a wall. Works against a brighter background as well as against a bright white wall. You can of course also let fresh flowers dry carefully in order to try this out. This way you can enjoy the flowers of a special day for a long time to come.