Curtain Trends Currently in 2023: What's In and What's Out
As we get stuck into the year 2023, interior design trends are evolving faster than ever before, including curtain styles. If you're looking to create a home environment that takes all the good bits of modernity, while leaving behind the failed trends of the past, then check out our list of what's in and what's out when it comes to curtain styling.
What's in?
Let's start on a positive note – what's in?
Natural colours and materials
One of the major curtain trends currently to look out for is the use of earthy, nature-inspired tones and natural curtain materials. Designers are leaning towards earthy colours such as terracotta and olive green for curtains – they add warmth to a room, making it feel more inviting to spend time in. Natural materials, including cotton, linen and bamboo are also gaining notice for their ability to inject a fresh and organic feel into any space.
Layered curtains
Next, both layered and textured curtains are currently in high demand – primarily because of how effective they are at lending a sense of depth to a space. Combining different fabrics (like sheer and velvet curtains), patterns, and textures in a series of layers creates a luxurious, opulent look. Different combinations can create different looks – one can be great for a kitchen while another might be perfect in a dining room.
Sustainable materials
With the growing general awareness surrounding the importance of environmental sustainability, it's no surprise that eco-friendly curtains are gaining popularity in 2023. Curtains made from natural materials like organic cotton, hemp, and bamboo are being favoured for their sustainability – not only that, but they also look and feel amazing.
In addition to materials, eco-friendly dyes that are free from harmful chemicals are also definitely in, both for their looks and their decreased negative impact on the planet.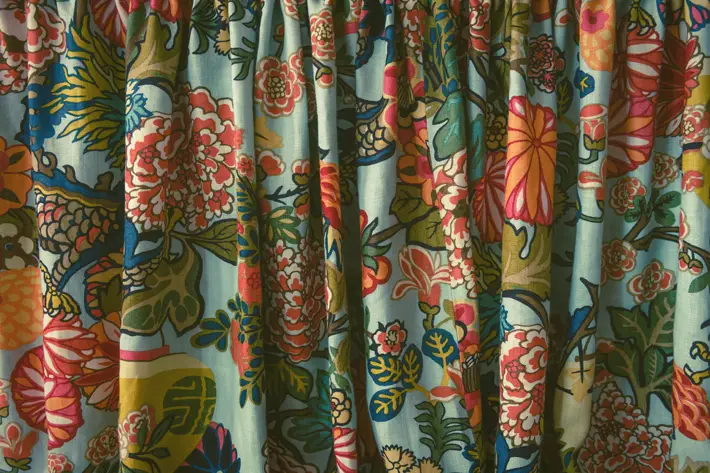 What's out?
Now, let's take a look at what people are steering away from.
Non-eco-friendly Curtains
Synthetic materials like polyester and other less sustainable and eco-friendly curtains are losing popularity in 2023, as most people trend towards sustainable, natural materials. Curtains made from synthetically derived materials typically have a higher environmental impact, as they will likely eventually end up breaking down into microplastics or being thrown into landfill.
Plain curtains
Gone are the days of plain, single layer curtains – at last! In 2023, minimalistic, plain curtains without any texture or layering are definitely becoming outdated. Most people are looking for more creative approaches to curtain design – something that can add a little bit of character and personality to their home.
Loud colours
Finally, loud, boldly coloured curtains, which were so popular in the not-too-distant past, are now taking a back seat as we get into 2023. Vibrant hues like neon pink, electric blue, and flashy orange are being replaced with more muted and sophisticated earthy tones, creating a calmer, more serene ambience in homes around the world.
Obviously, you should design your home based on your own personal styling preferences. However, with these trends in mind, hopefully, you'll now feel more inspired to take the leap towards something new and refreshing. From layered curtains to natural materials, there's a lot to look out for, especially from online retailers like Woodyatt Curtains – happy shopping!