How to Modernize Your Family Home in 6 Easy Steps
We all crave the comfort of a modernized home to enjoy that cozy feeling.
While there are numerous ways to achieve this, it's not easy for most of us who don't know where to start. Although you can simply hire someone to modernize your family home, it's wise to be informed so you get what you want.
If you are intrigued to know how to modernize your family home in easy steps, then this article is for you.
1. Add new lighting
Properly lit rooms bring your home to life. Poor lighting makes the room look cramped and small while a well-lit room appears airy and welcoming. You can easily brighten your home with floor lamps, table lamps and getting modern bright lamps for your home.
In addition, ensure you have enough natural lighting in your house. You can adjust the size of your windows or go for illumination to create that lighting effect. Just get plenty of modern bright lights and see how lively and wake your home will be.
2. Update your doors
Old-fashioned doors are out, and modern doors are in. For a modern family home, replace doors with glass ones to let light in and make your home brighter. It also gives your home a more contemporary feel.
If you want to modernize your home while keeping the wooden doors, you can add glass inserts to them. For a more modern and contemporary feel, you can paint the outside of the door white.
Oak veneer doors might be another option for you, if you love the look of wood but want an extra shine.
3. Update your window treatments
There is a huge difference between a bare window and a well-dressed window. When you leave your windows bare, you miss out on a crucial point on spectacular layer of modern decoration.
Your window doesn't have to expose beautiful ocean and mountain views to create a modern look. Though this may be an added advantage, you can still create a beautiful look with a stylish window.
Whether it's matching your curtain panels to your wall colors or getting geometric curtain panels, just make sure your windows are not bare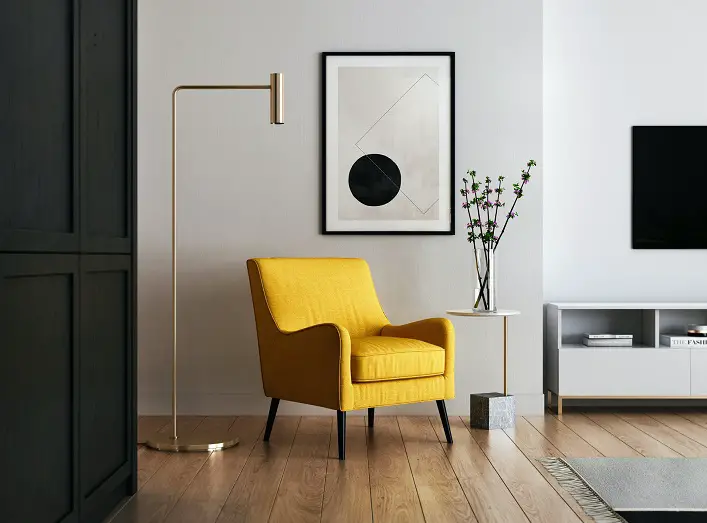 4. Create space
A well-spaced house looks refreshed and welcoming. Declutter your home and create extra space where you can and if you're looking for a professional help you can hire CleanArte Maid Service. You can create space by adding more storage area and taking advantage of high ceiling.
Adding mirrors to the room is also another way to brighten add create a spacing effect.
5. Add wallpaper
An easy to install wall paper can take the interior of your house to the next level. Just go for those with amazing patterns and graphics which make it look like you spent a fortune to hire an interior designer.
Another tip is not to overdo it. Simply cover one wall with a geometric patterned wallpaper to create that modern look. This will also give the room a nice feature wall.
6. Update your cabinetry
Nothing dates your house like old-fashioned cabinetry. There is no excuse for not updating your cabinetry when there are numerous ways to do so. A quiet and functional drawer slide will do the trick.
Besides, you can update your knobs and handle pulls to more stylish ones with great finishing to refresh your cabinets.
As you decide whether to go for shiny stainless, brushed nickel, bronze or aged copper, consider the theme of your house so everything blends perfectly.
Bottom line
A modern home is not only welcoming to visitors but also cozy and comfortable for the owners. Luckily, you can easily update your family home to enjoy the benefits of a modernized home without breaking the bank.
Simple adjustments like replacing your door or allowing more natural lighting will surprise you.