Choosing Furniture for Your Yorkshire Garden
To many people, the image that the mere mention of Yorkshire conjures up is that of the television series Last of the Summer Wine with the terraced houses, cobbled streets and of course the wonderful countryside with the hills. It is also an area that people think is prone to particularly bad weather. However, this is in fact a common misconception (perhaps they are confusing it with Manchester – the place where it rains all the time and that is definitely not in Yorkshire!).
Yorkshire is in fact in a rather unique position, geographically speaking, and to the west is protected from much of the prevailing weather by the Pennines. This means that it does actually enjoy a surprisingly low annual rainfall and the added bonus of more than the average amount of sunny days. Of course, in the winter, due to its hilly areas which are higher it does also get a good sprinkling of snow.
With houses spread out a little more in Yorkshire, there are plenty of small villages. This means lots of people have good sized gardens and thanks to the above average amount of warmer days that they get they certainly like to make use of them. Garden furniture, including that on offer at https://www.lazysusanfurniture.co.uk is a great way to ensure that you spend plenty of time in your garden enjoying the wonders of nature. Whether you want to soak up the sunshine, admire the views, stargaze at night or listen to the bird song around you, having somewhere to sit can make all the difference.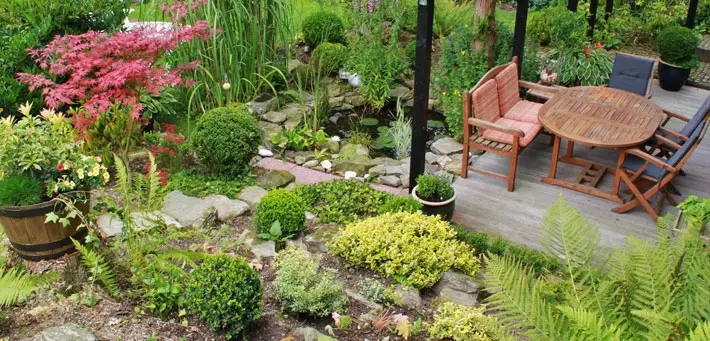 What to consider when buying garden furniture
When it comes to purchasing furniture for your garden there are a number of things that you will want to take into consideration, and this is the same regardless of where you live.
You should think about how you want to use your garden furniture. If you are simply planning to sit in your garden, enjoying your surroundings with a cup of tea in hand then a garden bench might be perfect for the job. However, if you are hoping to eat in your garden or even work out there then you will need something with a table and of course enough chairs for everyone you want to seat.
You should also think about the upkeep of your garden furniture, if left exposed to the elements, particularly during a damper winter, wooden furniture can begin to rot over time and iron chairs will start to rust. Both of these problems can be solved by treating your furniture on a regular basis, however if you just want to sit outside and enjoy your garden rather than dealing with this type of issue you may want to consider something that requires less maintenance.
If you have never heard of it before then it is well worth taking a look at cast aluminium garden furniture. This is different to the aluminium outdoor furniture that you might find in a shop stocking camping supplies, these are items that have hollow framework and are light; cast aluminium is much sturdier and heavy. It is a fantastic material for outdoor furniture, it is sturdy, versatile and requires much less maintenance – just a simple wash every once in a while, with hot soapy water.
Don't forget to think about where you will put your new garden furniture as well, an impressive table that will seat 10 people will unfortunately not work in every garden due to its size.
Whatever type of furniture you would like for your Yorkshire garden there are so many beautiful items available on the market, and at really good prices, that you are sure to find yourself spoilt for choice.