The Principal, York – Afternoon Tea Review
By Roger Crow
Other than a traditional cuppa, afternoon tea, is something of an alien concept to me. Finger sandwiches on multi-tiered stands are one of those indulgences usually reserved for ladies who lunch and the moneyed set who discuss the local gossip in period dramas. It's been around since 1840, thanks to Anna, the seventh Duchess of Bedford, so when the chance to try it out is on offer at The Principal York Hotel, I jump at the opportunity.
'New year, new experiences' is my 2017 motto, and the fact it also gives me a chance to nosy around inside a hotel I've spent 25 years passing after trips to and from the train station is an added bonus. Nothing eases January blues like tea and cake. So, after the grey first week back at work, and a mildly stressful drive into York on a Saturday lunchtime (something I usually try and avoid), my wife and I are shown to a picturesque window table where we watch the world go by.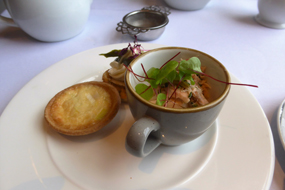 My love for Norah Jones is almost as strong as that of a good cup of Earl Grey, so within seconds, those stresses melt away as she wafts unobtrusively over the airwaves, and I enjoy the first of several cups. Sugar tongs and a pot of hot water would have been nice touches, but it scarcely matters.
"Starts with a high point"
Lily, our waitress, ensures every element of my first afternoon tea experience is a joy, starting with a high point: smoked salmon mousse topped with flaked herb roasted salmon.
I could spend this entire article waxing lyrical about its light, creamy texture; how the symphony of flavour plays out on my tastebuds like a maestro's magnum opus. But your eyes would glaze over.
Suffice to say it's good. It's very good.
As is the Harrogate blue cheese scone, chive cream cheese with pickled cucumber, and the Yorkshire ham and sautéed leek tart. I savour every mouthful, in-between more tea of course. The ambience, like the music, is a delight. My stresses melt, thanks to the Garden Room's fine selection of goodies.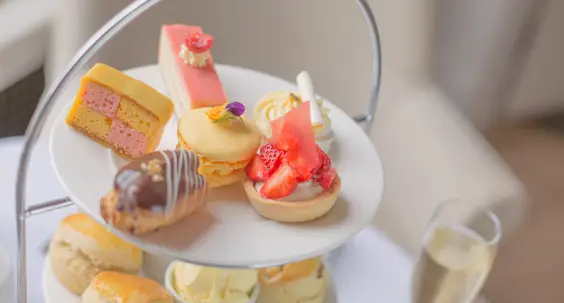 "We eat with our eyes first"
I've baked, and tried my fair share of scones over the years to know the difference between a good and a bad. Too much salt and sugar and it can be a disaster. Too heavy, and it turns into a bolus of stodge. These are so good, with jam and cream, we stare at the last couple, saving them until the end, almost willing them into a doggy bag by the power of our mind.
My feelings on cucumber are pretty strong. Pickling is fine, but fine slices can ruin a good salad or sandwich. Even their removal can leave an annoying echo which makes me cross.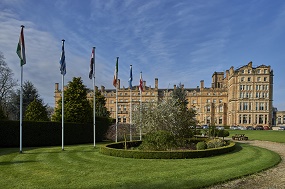 Little wonder I avoid the cucumber, mint and cream cheese finger sandwich, (as good as they are reports my better half), and savour the egg mayo (a veggie substitute) and Yorkshire ham and mustard.
We eat with our eyes first, and the picturesque sight of assorted sweet treats is testament to the fact.
The orange and white chocolate slice melts on my tongue, the flavour a reminder of one of York's best loved citrus-themed choc exports.
I leave the blackberry tart for my wife, opting for half the chocolate orange eclair, and a passion fruit pavlova, the meringue dissolving in a cloud of sugar. The lemon sherbet macaron is my favourite, the riot of flavour vying for my palate's affections. An edible flower may taste of nothing but the sight is a work of art. Mary Berry and Paul Hollywood would be impressed.
"A guilty pleasure worth every penny"
I manage half of the mini battenberg. It's good, but I have too many memories of rainy campsite birthdays in Wales as a kid. All those marzipan-theme Mondrian slabs reminding me of greyer times. That and the fact I'm pleasantly full.
Lily reads our mind and offers to box up the remaining two scones. We carry them off for an afternoon's pottering round the shops, guarding them like the treasured possessions they are.
At £22.95 per person, (or £29.50pp if you want an added glass of champagne), it's a guilty pleasure worth every penny.
Whether a stress reliever, a self indulgent treat or a cosy break with loved ones, like the snacks on our table, afternoon tea at The Principal York works on many levels.
As much as I love the idea, I can't see me creating a trend for blokes who lunch over cucumber sandwiches and fancy cakes. But I wouldn't need to think twice about repeating the experience.
Afternoon Tea at The Principal York is £22.95 per person or £29.50pp with a glass of Lanson Champagne
Afternoon tea serves at 11:30am – 6pm every day
For bookings visit phcompany.com/principal/York or call 44 (0)1904 653 681
Tea is sourced from the Rare Tea Company, who supply the world's best tea direct from farmers and their tea gardens. Known as the Tea-Lady, consultant Henrietta Lovell has handpicked a selection of fine teas to accompany the menu