The Old Bank, York – Restaurant Review
The Old Bank, York
Restaurant Review
by Roger Crow / @RogerCrow
I've no idea what The Old Bank used to be called the last time Mrs C and I popped in for lunch. I do remember being stressed one weekend lunchtime when the place was packed to the rafters and we struggled to get a table. The fact it's about five years since we returned says a lot about our experience.
But when invited to sample the same place's new array of goodies, it's so much better.
Obviously with social distancing, there's a lot less folks dining and drinking, which is fine by us. We feel a lot less stressed, and the place has obviously benefited from the £360,000-plus revamp.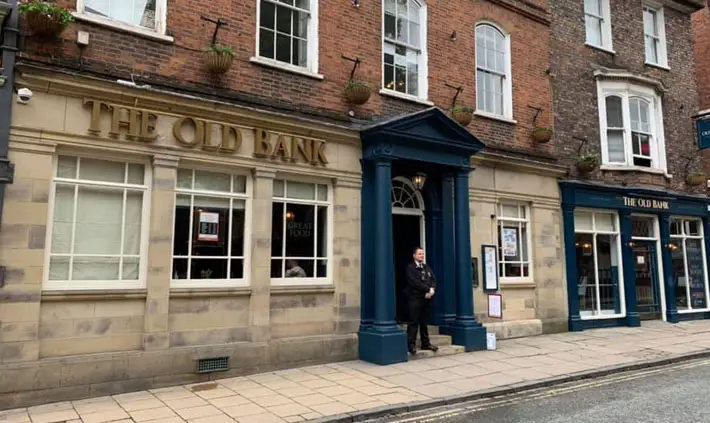 "No shortage of goodies"
When the place closed on March 8 for refurbishment, due to the COVID-19 lockdown the reopening was delayed. Thankfully it was well worth the wait.
Spanning two floors, the new-look Old Bank has been generating a lot of interest, pun intended. The Press blurb boasts it has "created a warm, inviting interior with 'Snugs' created to enjoy a more intimate dining experience."
I can't argue with that. The staff are excellent, and as we enjoy a window seat on an overcast day, there's no shortage of goodies on offer.
The new food and drinks menu is filled with pub-classics, including freshly battered fish and chips, which I would have defaulted to anyway. The fact a 50p donation goes to 'NHS Charities Together' from each sale is all the more reason. Pubs thrive and survive on the good old Sunday Lunch, and free top-ups of roasties, Yorkshire puddings and gravy gives us a good excuse to come back.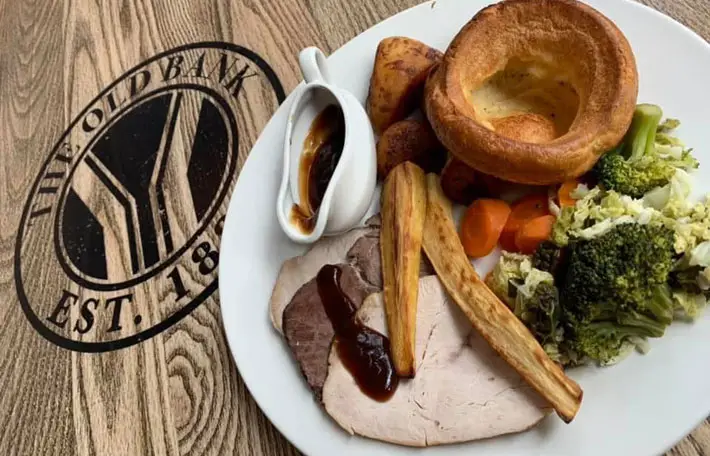 "Completely refurbished"
We didn't get to sample the beer garden (completely refurbished, with new furniture and an AstroTurfed lawn), but again, that's one for another trip.
Sport has never been my thing, but if it's yours, there's no shortage of viewing options with 25 TV-screens, and two projector-screens as well as a 70-inch outdoor screen. (Sports fans will be able to use the app to book a table at the Old Bank).
We have a terrific chat with General Manager Adam Johnson, who has exactly the right approach for ensuring customers get great value for money and stay safe during these extraordinary times. Yes, there's hand sanitiser to keep those germs at bay, and even without the Eat Out To Help Out scheme, customers should save a fair few quid in future.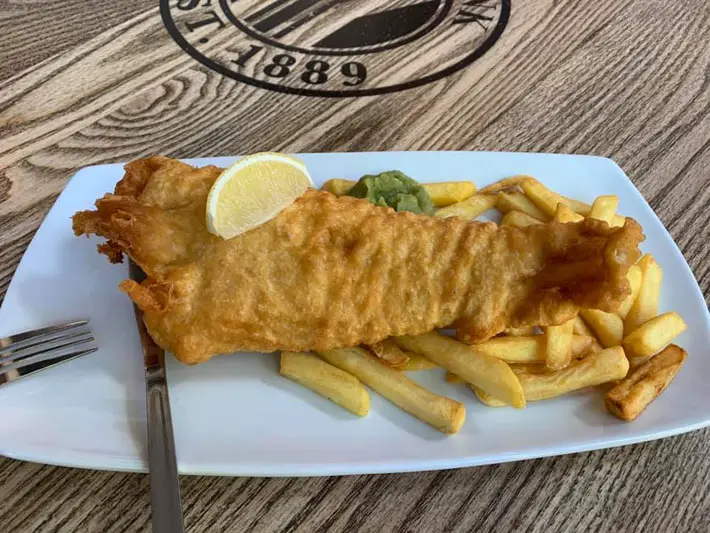 "Stress-free atmosphere"
We enjoyed very generous helpings of the aforementioned fish and chips; fake steak pie (perfect for vegetarians and vegans); quadruple vegan burger; katsu chicken curry (yum!), and hunter's chips (topped with chicken, cheese, bacon and BBQ sauce). They were all brilliantly prepared and very tasty, while the staff did a great job of keeping us well fed.
I enjoyed a terrific shandy and Rachel had a mango and raspberry cider, which also got a big thumbs up.
The acid test with any eatery review is would we return in future? At those prices, and with such stress-free atmosphere, not to mention great drinks and dishes, without a doubt.
In fact I'm already suffering from withdrawal symptoms. (Banks? Withdrawal? No? Please yourself).
The Old Bank, 6-12 Lendal, York, YO1 8AA
Opening Times:
Sun-Mon 10:00-22:00
Tue-Thu 10:00-23:00
Fri-Sat 10:00-00:00
01904 541284
greatukpubs.co.uk/the-old-bank-york