SORA, Malmaison York – Restaurant Review
By Lisa Byrne
SORA – the brand, spanking new rooftop bar and restaurant in York – is the epitome of 50s glamour, beautifully combined with a dash of contemporary elegant design. Dining there one summer's evening with my handsome companion, actor Mathew Bose, I felt like I could be sipping rosé at Le Club 55 in Saint Tropez or relaxing on a stylish striped white and grey cushioned sofa on the rooftop at Soho House New York.
But there's a big difference between the Big Apple and this ancient city. I've been there and the view of Lower Manhattan from the top of Soho House is simply mediocre compared to the mind-blowing scene from the seventh floor of SORA bar, perched on top of the new Malmaison Hotel in Rougier Street.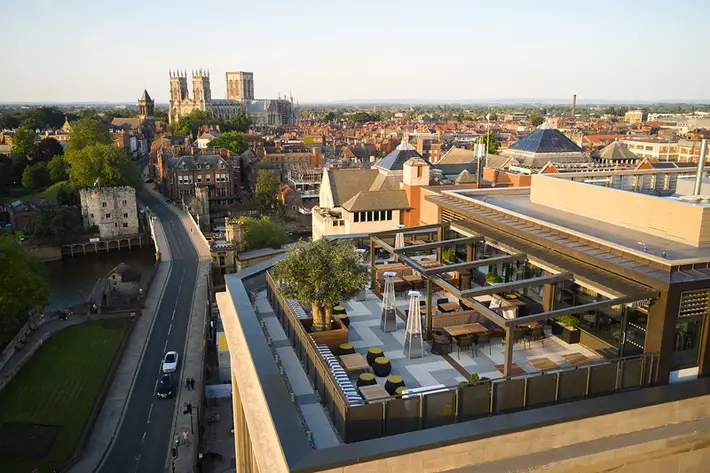 "Magical view"
Of course, there is the magnificence of York Minster standing out like a grand stately lady, slathered in caramel coloured sandstone and demanding the most attention. But then to the left is the glorious Museum Gardens with its mixture of Roman and Medieval walls while Georgian and Victorian town houses surround nearby Bootham. The general cityscape is a myriad of churches, the River Ouse and houses, some of which date back to the early Middle Ages, while in the distant is the glorious North Yorkshire countryside including the striking image of the White Horse at Kilburn.
It is a truly magical view and whichever genius from Malmaison came up with the concept of including a rooftop bar as part of the building's transformation from dreary former Avida insurance office to swanky hotel and bar, deserves an immediate promotion.
From its website, SORA promises to 'elevate the senses' with its Asian fusion tapas and cocktail menu, so it's with great excitement that myself and Mathew peruse the selection of cold plates, sushi and sashimi and crispy dishes. The dashing manager Johno patiently explains each dish before leaving us in the very capable hands of Gabriel, who must be one of the loveliest waiters of all time, such was his attentive, conscientious nature.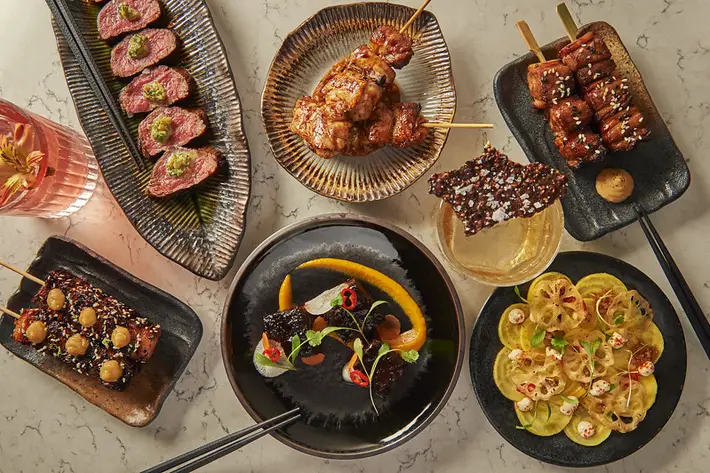 "Divine mixture"
While sipping a sublime peach and lychee spritz (crème de peche, feh lychee liqueur, lavender cordial, peach bitters, prosecco, and peach soda), as Mathew enjoys a glass of Mizuwari highball (single grain Japanese whiskey, sparkling water and grapefruit), both £10, we decided to order a mixture of dishes to get the true SORA experience.
The first plate we devoured was beef fillet tataki (£8.50), beef in pickled mooli, garlic, sesame and ponzu. The mixture of zingy taste sensations truly did 'elevate the senses'. We then moved onto a firm favourite Black Cod (£13) with miso glaze that melted in the mouth and glorious Aubergine (£5), which was perfectly cooked and complemented by miso caramel and whipped tofu.
Being a sushi and sashimi connoisseur, Mathew had ordered a divine mixture, including an ultra-fresh tasting California Roll of avocado, cucumber, and spring onion (£8) and a Dragon Roll (£10) of tempura tiger prawn, salmon, avocado, and spiced mayo.
Gabriel had advised that we simply must try KFC (£6) which was thankfully not the greasy fast-food joint but Korean fried cauliflower. I am a self-proclaimed addict for this cruciferous vegetable, but normally have it boiled and slathered in cheese, but KFC was the best cauliflower I have ever tasted in my life, both crunchy and utterly delicious. The Tempura Tiger Prawns (£7.50) with sweet chili sauce was glorious and we added Hand Cut Fries with rosemary and chilli (£4) as well as Flamed Edamame Beans (£4).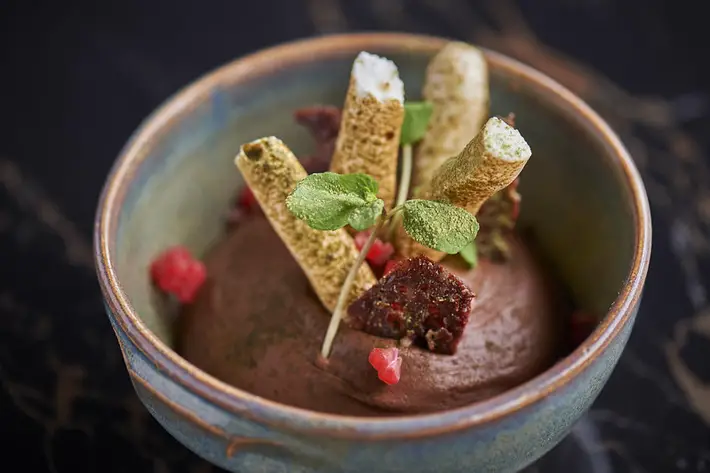 "Stylish"
Because we were talking too much, we didn't have time to try the sweet treats but as they include Valrhona Chocolate and Matcha Mousse (£6.50) and Stem Ginger Marshmallows with almond crumb and chocolate sauce (£6.50), we will definitely order them the next time.
The stunning SORA sky bar also hosts live music at the weekend where lucky partygoers can sip cocktails while watching the sun go down, listening to live jazz or disco. Residents can then fall into one of 150-beds in the stylish hotel which also has a huge indoor restaurant and bar on the seventh floor as well as Chez Mal Brasserie and Bar near the reception.
It's taken 2,000 years – when York was founded by the Ninth Legion – for a salubrious rooftop bar to be constructed. But judging by the scrumptious food and cocktails, incredible staff, hugely talented kitchen staff and extraordinary views, SORA was so worth waiting for. I just hope they start doing KFC take outs.
SORA, Malmaison York, 2 Rougier Street, York, YO90 1UU
01904 946060
To book visit: malmaison.com/locations/york/sora/