Dickie's Big Boozy Bangers – Review
By Karl Hornsey
The humble sausage. Where would the British diet have been without it all these years? It's certainly up there with fish and chips and a Full English as a quintessentially British thing. Ok, Germany might be famous for its bratwurst and America for its hot dogs, but there's something wonderfully British about the sausage. And, as a bit of a lifelong aficionado, I was delighted to be given the opportunity to try the latest offerings by a company called Dickie's Big Boozy Bangers.
Add lashings of alcohol into the sausage mix and you've got me hooked and salivating at the very thought. And Dickie's descriptions certainly lured me in, but would the real thing end up tickling the tastebuds? Or be a banger without any bang, as so many other so-called quality sausages have been?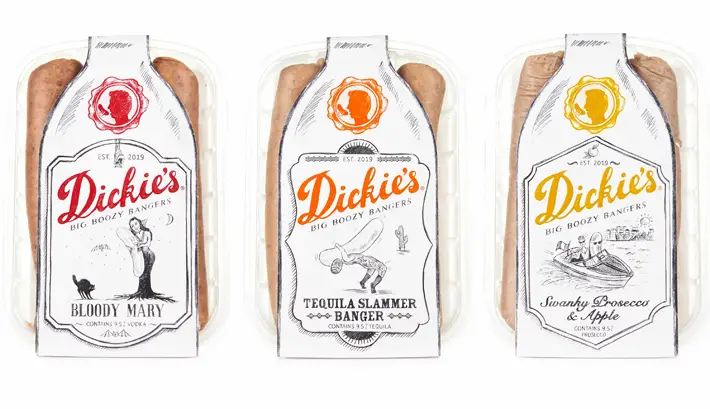 "Makes perfect sense"
First of all – the premise. Dickie himself has gone into the premium sausage market after years of disappointment in the other products out there, in what is already a pretty crowded market. In recent years, as with many staple and previously mundane food and drink products, sausages have gone a bit upmarket, 'posh' bangers being all the rage at festivals and novelty ideas to eat at weddings and the like, with more of an emphasis on quality and of provenance, and simply of making sure that the sausage on your fork and in your mouth is as good as can be. To elevate Dickie's bangers to a higher level than all others, the big idea is to sling in copious amounts of booze, and we taste tested the Swanky Prosecco and Apple, Bloody Mary, and Tequila Slammer Banger varieties, with other offerings including the Rum Banger and the Coq au Vin, all available in jumbo or chipolata size.
Not only do sausages and alcohol go well together generally, it also makes perfect sense from a recipe point of view, with the meat content being around 85% of pork shoulder there would be a danger of the sausage drying out, so adding in 9.5% alcohol means intensified taste, and keeps the banger moist. There was also hardly any of the water or fat content oozing out of them as they cooked, which is always off putting with other sausages.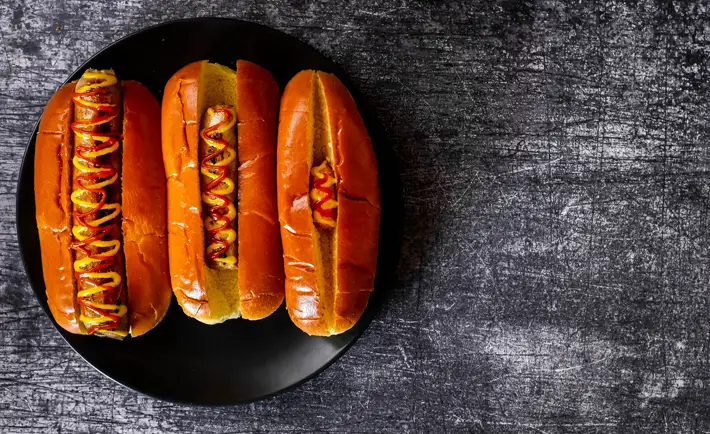 "Pack one hell of a punch"
So what was the verdict? Well, I know my sausages and, like Dickie have been let down by sausages that taste of nothing, or certainly nothing like advertised. Thankfully there's never any danger of these following suit, as they taste exactly as described and pack one hell of a punch, as well as being phenomenally substantial. Four of us split the nine sausages between us (three each of the flavours mentioned above), and the verdict ended up as a hung jury, with all three going down an absolute treat.
The kick of tequila in the Slammer Banger really does whack you around the chops and leave you hungry for more, while those who like a bit of hot stuff had the Bloody Mary as a favourite, with the heat of spicy tomato being probably the most dominant flavour of the three varieties. For me though, the prosecco and apple was the standout, with a sweet citrus tang coming through, juicy apple freshness and such a light texture that left me wanting more. All accompanied by lashings of creamy mash, these really did live up to expectations. It's also worth bearing in mind that coming up with delicious sausages is easier said than done. These are a real labour of love, and there'll no doubt be plenty of other great combinations experimented with in the future. I for one cannot wait.
3 jumbo or 12 chipolata Dickie's Boozy Bangers retail for £4.95 – from dickiesbangers.com