My Thai, Leeds – Restaurant Review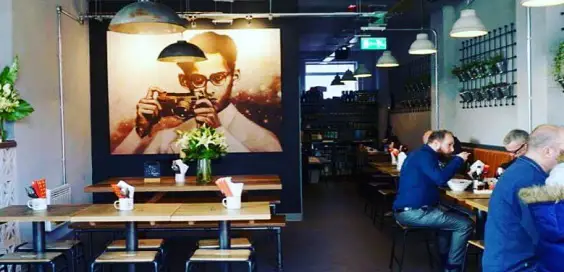 My Thai, Leeds
Restaurant Review
by Matt Callard
It's been four years since Leeds First Direct Arena opened. In its wake, the nearby Merrion Centre – once the ugly duckling of Leeds shopping centres – is clearly benefiting from the over-spill.
Around its periphery new restaurants and eateries are springing up (Sticky Sisters, Bulgogi Grill, Marco Pierre White's Italian) older ones are getting refurbished and empty premises are, seemingly, a thing of the past.
My Thai, a northern chain of restaurants (two in Leeds, two in Bradford, two in Manchester, one in York, one in Bury) that serve authentic Thai food – and serve it fast – opened on the outside of the Merrion Centre in 2014, next to the esteemed Fuji Hiro. At first, it was fairly bijou – cat swinging would have been out of the question. Recently (early 2017) it took over the premises next door, had a refurb and expanded.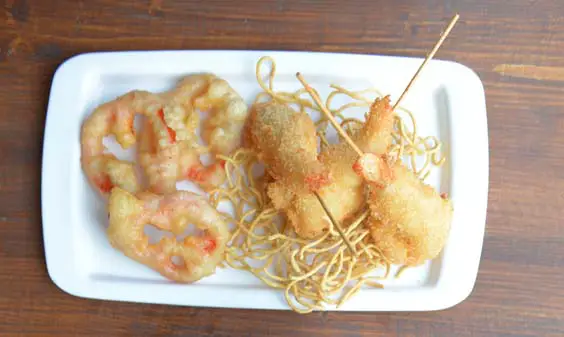 "Speed"
And my, it needed to. Our server tells us the restaurant did 250 tables the previous day – and this one Thursday late afternoon it's still fairly full and recovering from another hectic lunchtime serving.
There's a secret to its success – and it's something that, from a foodie point of view, is fraught with danger – and that secret is speed. Goodness, they turn the plates around quickly here. Eight minutes after entering My Thai we were served our starters – and the mains came about five minutes after. This is wonderful when you're on a lunch break (as long as the food is good), but is a bit of a whirlwind eating experience if a relaxed, no-rush catch-up is what you're looking for.
Not that you are ever made to feel rushed – service somehow manages to still exude the wonderful Thai calm and warmth that is the country's stock-in-trade, despite working their proverbial socks off.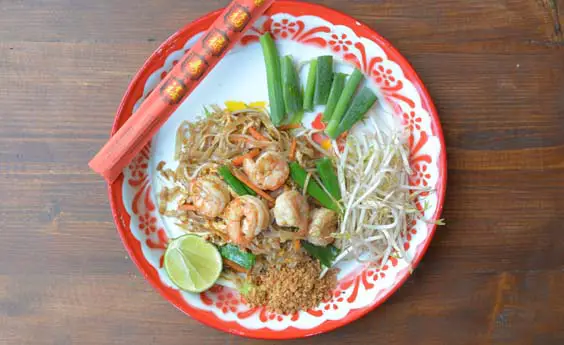 "Sticky"
And crucially, the food is good, sometimes great – and even manages to be well presented. It's a well-oiled machine alright, this My Thai.
Classic starters of Chicken Satay (£2.50), Steamed Pork Dumplings (£2.50) and Tod Mun Thai Fishcakes (£3) were shared and devoured almost as quickly as they arrived. The chicken was crispy on the outside, soft in the middle and accompanied with a good portion of peanut sauce. The dumplings were furiously hot, but chewy and sticky in all the right places and the fishcakes came plump and tender, with a just-right dose of chilli.
The soft drinks, too, were nicely presented in clear glass jars with a curly straw – and my partner's lychee juice was a real sweet-toothed delight.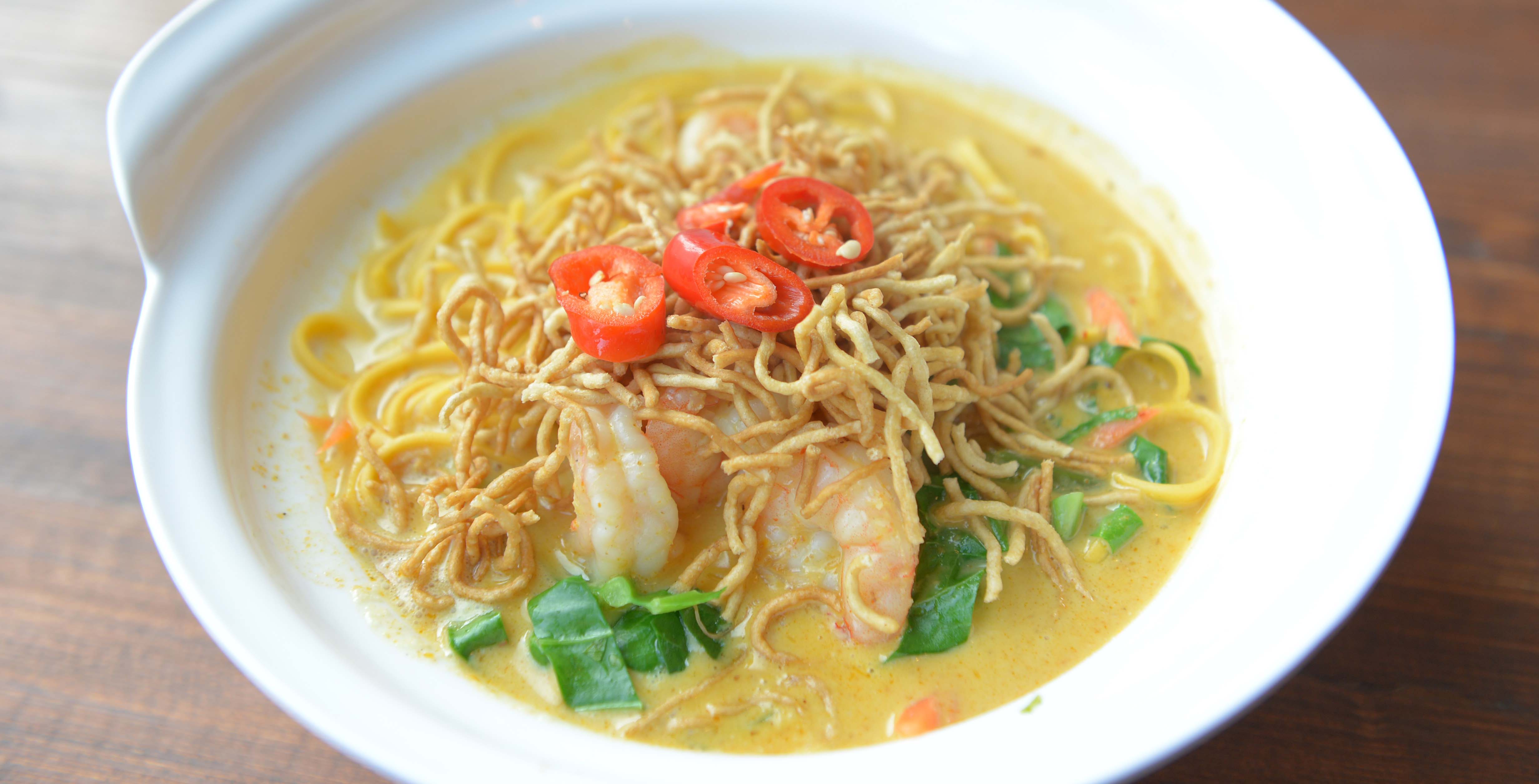 "Growing reputation"
For mains, a personal favourite. And the nicely spiced Yellow Chicken Curry (£5.50) with Sticky Rice (£2) was terrific. Nicely served in two square bowls, allowing you to conveniently spoon the broth over the sticky rice just as you require. All the vegetables were nicely soft and just giving to the bite – for this dish, its essential that the veggies are correctly done.
My partner's Prawn Tom Yum Soup (£6.50) was more of a fish broth, lacking some of the delicate lemongrass fragrance that makes it one of Thai cuisine's all-time classics. Perhaps this was the only example of speed over exceptional quality, but the dish still worked, even if it wasn't quite the Tom Yum we expected.
It's great to see this once-forgotten corner of Leeds thriving. In time, it may even become a foodie paradise. And if it does, that will be in no small part down to the excellent My Thai and their growing reputation for serving quality food at exceptional speed.
My Thai, Merrion Centre, 43 Wade Lane, Leeds, LS2 8NJ
Opening Hours:
Sun to Thu from 11:30am until 10:30pm
Fri to Sat from 11:30am until 11pm
0113 245 9245
leeds-merrioncentre.mythairestaurant.co.uk