Cobblestones, Sowerby Bridge – Restaurant Review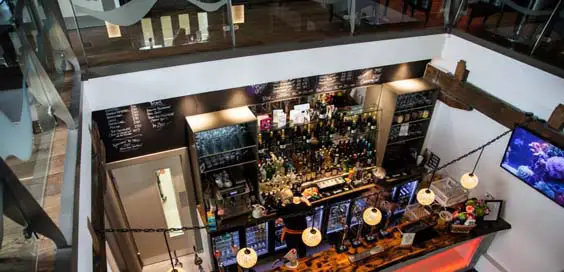 Cobblestones, Sowerby Bridge
Restaurant Review
by Steve Crabtree / @stevecrab
Sowerby Bridge is a social gem of a town, with some of the nicest bars and restaurants housed within old buildings and refurbished mills. It sits pretty next to the Rochdale Canal, and tonight, I'm lucky enough to be visiting Cobblestones; a bar and bistro peacefully tucked away right beside the water.
It's early evening as we arrive, and the subtly lit exterior looks warm and inviting, and as we head in the mood is the same. Jayne has given us a friendly welcome and takes us to the bar. Immediately you get a lovely vibe in this place; a traditional mill with a high ceiling allowing you to look up to the restaurant area, with exposed stone and modern touches throughout. The lighting is perfect; as is the background music and the interior of Cobblestones wouldn't be out of place in a busy city centre establishment.
Friendly bar manager James has a sound wine knowledge and he talks us through the options. A tough choice, but we decide to go for a large glass of the New Zealand Savignon Blanc, and a pint of the trusty old San Miguel.
We're taken upstairs to our table and although the restaurant isn't full, there are other couples and groups in, all relaxed in a lovely atmosphere. We overlook the bar area, which is a birds-eye view for people watching over those below. We both like that.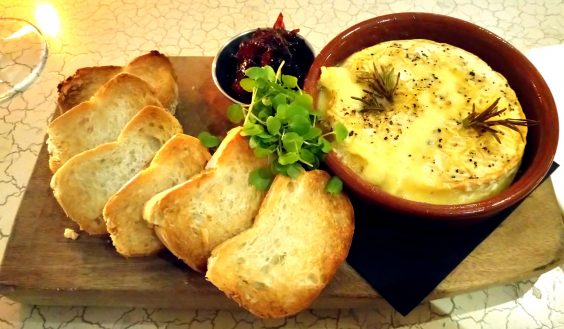 "Beautifully presented"
The friendly Liv brings menus to us, and explains that Cobblestones has some new dishes on the menu tonight, and the "2-for-£20" offer this evening is the Hanging Kebab dish. I've already clocked that a couple of people are already devouring these, and I must say, they look fantastic.
Liv told me that she tried the Stuffed Flat-Cap Mushroom, with Yorkshire Blue Cheese and Walnut Herb Crumb, Peppered Rocket Salad and Salsa Verde (£6) earlier in the week. It's one of the new starters on the menu and she highly recommended it, so I take her advice. My partner decides to try the Whole, Oven Baked Camembert served with Caramelised Onion Chutney and Toasted Bread (£7.50).
And we are far from disappointed with our starters. Beautifully presented, and absolutely delicious; my mushrooms have a nice balance of cheese and crumb topping and had a slightly salted taste. The Camembert was large and baked just to the right consistency. Its accompaniments rounded off the dish and we were both highly impressed with what we've been treated to in Cobblestones so far.
Now when it comes to the main course, for some reason my eyes are always drawn to the burger section of the menu. It could be an addiction, I don't know; but the sound of the Signature Burger, topped with Smoked Applewood Cheese, Red Onion and Thyme Marmalade, Smoked Streaky Bacon And Garlic Mayo (£15) stood out for me, in and amongst an array of other formidable sounding options. I had to order it, and my partner had already made her mind up to go for the Warm Halloumi and Mozzarella Salad, with Pesto, Tomato, Avocado and Truffle (£12).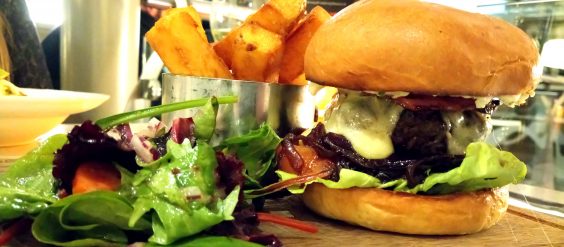 "Generous portions"
It's got a nice romantic feel in here this evening, the ambience setting the mood, helped by service that is only attentive when needed (and that makes a huge difference). Sowerby Bridge is quiet tonight, reflected in the restaurant not being full – but I've been here before when every seat in the place is taken and its testament to the staff at Cobblestones that it's an enjoyable experience here at quiet and busy times.
And as the main courses are brought over, head chef Lee and his assistant Colin have really done the business. Juicy and succulent, the right amount of 'burger mess' (as I like to call it) inside a brioche bun has produced a wonderful burger – and this is exactly the reason my eyes go to that part of the menu time and time again. The chunky chips are perfect, and I've made the right choice. I reluctantly share a small piece of it with my partner, in exchange for a fork full of her salad.
And the salad too is lovely, and she's glad she plumped for it. Four generous portions of halloumi cheese, grilled to perfection and seasoned lightly – the presentation and the size of it is perfect, it's light and just right for a main meal.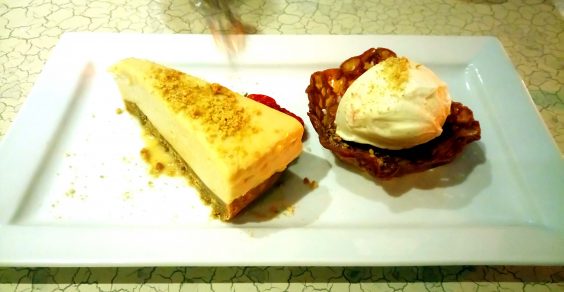 "Pleasant surroundings"
We're truly satisfied, and we're very full. But the food has been so good that we take a look at the dessert menu and want to sample something. Liv suggests Megan's homemade Bailey's Cheesecake with Ice-cream which is perfect as it's the dish that takes my fancy, so we order one that we decide to share.
Once again, we're far from disappointed. The fifth dish of the evening, and it's as tasty as the rest. The Baileys is there but not overpowering or heavy; and the vanilla ice-cream is the right flavour to go alongside it. A very nice sweet treat.
We've had a lovely evening at Cobblestones tonight, and as we finish our drinks we thank the staff for what's been a wonderful evening. The food has been lovely, the atmosphere perfect, and the service has been first class. Together with the pleasant surroundings, they've got the mix of everything you need for a delightful evening out just right.
There are lots of nice places to eat in Sowerby Bridge nowadays, but for me, Cobblestones has found its way to the top of that list.
Cobblestones Bar & Bistro, Canal basin, Sowerby Bridge Wharf, Sowerby Bridge, Halifax, HX6 2AG
Serving Times:
Tuesday – Thursday: 12pm – 3pm, 5pm – 9pm
Friday: 12pm – 9pm
Saturday: 11:30am – 9:30pm
Sunday: 11:30am – 7:30pm
01422 316879
cobblestonesbar.co.uk