Limeyard, White Rose, Leeds – Restaurant Review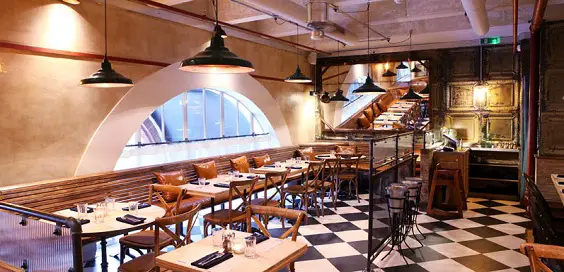 Limeyard, White Rose Shopping Centre, Leeds
Restaurant Review
by Steve Crabtree – @stevecrab
Limeyard is an American-themed diner that has fast become a hit in the south of England. And it's just opened up its first restaurant up north, at the White Rose's new Village complex in Leeds.
It's interesting to see what the place has to offer, and to find out if the good things those down south have been saying about the place is true. So my friend and I take advantage of the free parking at the White Rose Centre, and I walk through the shopping centre to see The Village for the very first time. I discover a really nice area, with outdoor eating areas which will be fantastic in good weather.
As we walk in to Limeyard, we're given a very friendly and chirpy welcome by the manager. She's all smiles and that gets us in to a great mood as she leads us to sit by the window. The lovely Amina is our waitress for the evening. Slightly thirsty, we order a couple of house beers, and Amina allows us to mull over the menu, before returning to tour us round her recommended dishes.
She suggests the Pulled Pork Nachos and the Portland Beach Crabcakes to start. They sound perfect so we take her advice and decide on both of them.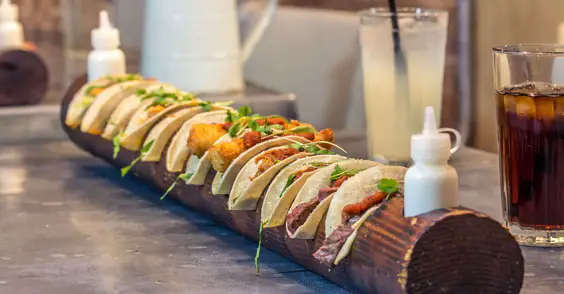 "Nice blend"
Limeyard hasn't been open for very long, but we have quite a few people in this early evening. People seem to be enjoying themselves, in what's likely to be their first experience of Limeyard too.
As my plate of nachos arrives I'm staggered by the size of it. Simply ginormous – of epic proportions. I'd recommend the dish for sharing rather than the start of a three-course meal. I'm staggered in a good way though. The pulled pork is fantastic. I've never had this on nachos before, and it works really well. The nachos themselves have that deep-fried crunch texture, instead of crispy which I find much preferable, and there's a good balance of melted cheese, chilli, spring onions and sour cream. It's a tasty way to begin the meal, even if my head rules my stomach for a change on this one, and tells me that I can't eat them all in case I have no room for anything else.
Meanwhile, my friend is raving about his Crabcakes, and after I have a fork-full, I can vouch for how good they are. Very flavoursome, yet very light. A perfect portion size for a starter, and the salsa is a nice touch, with a nice blend of coriander and lime.
We have a number of nice conversations with Amina and her manager throughout the evening, and they are a credit to the new branch. We enjoy being here. If they're opening more up in the north, they could do with cloning these two and having them everywhere.
"Delectable"
For our main courses, and after much deliberation; I order the Crispy Duck Leg, with grilled tender stem broccoli, crisp potato rosti with soft cheese and a shiitake mushroom sauce. My friend can't keep away from the abundant burger section of the menu and orders the Baja Burger, which includes pulled pork, Monterey Jack cheese, jalapeños, rocket, tomato, onion, spiced ketchup and aioli.
Whilst we wait for our mains to arrive, we glance round the room and notice that the interior is very natural. Sometimes you'll visit a restaurant at a shopping centre, and it feels like it's kitted out like the next joint, but with a different badge on it. Not here. It's very unique, semi industrial with mirrors on the wall and neon blue upholstery in the booths.
Amina brings our main courses and I can safely say that the duck leg, and all its accompaniments looks delectable. It's nicely presented, large, and when I tuck in the skin is perfectly crispy, and the meat is succulent it slips off the bone very easily. The rosti with the cheese and mushroom sauce has a lovely texture, and a slightly spiced flavour.

"Sweet way to end"
The Baja Burger is served as it should be, in a brioche bun. He's pleased. It looks delicious, and as he cuts in to it, it's cooked to perfection, just slightly under medium, and sweet. A little kick comes with the jalapeños, and the side of skin-on skinny fries come with soft and crispy textures and are seasoned well.
As Amina clears our plates, she asks if we'd like dessert. Although I pass, my friend tries the Oreo milkshake, which is a thick and rich – almost a meal in itself! And it's a sweet way to end a great experience.
We have one final conversation with our hostesses before we leave, and it's clear that they enjoy working at Limeyard, and that's rubbed off on us. It hasn't just been about the food tonight, it's been about how we've been taken care of too. I'd go back for the food, but I'd go back for the service too.
Here's to hoping we get many more Limeyards in the north of England really soon.
Limeyard Leeds, White Rose Shopping Centre, Dewsbury Road, Morley, Leeds, LS11 8LU
Open Monday – Sunday, 9am-10pm
0113 3223 178
limeyardrestaurants.com/leeds