Smoke Over Malibu by Tim Walker – Review
By Rachael Popow
Wonder Woman, Guardians of the Galaxy Vol 2, Spider-Man: Homecoming… there's been no shortage of superhero films in cinemas this year. And if that makes your heart sink rather than soar, you may find yourself in sympathy with the first-person narrator of the engaging, low-key mystery novel Smoke Over Malibu.
The Hon Lucius Kluge (Lucky to the friends he hasn't alienated) is an Englishman who moved to Hollywood to write screenplays, but grew disillusioned with the movie industry's love of comic-book adaptations. Now he works for an LA antiques business alongside aspiring stand-up comedian Raul, who is as enthusiastic as Lucky is jaded, and Raul's dog, Burgers.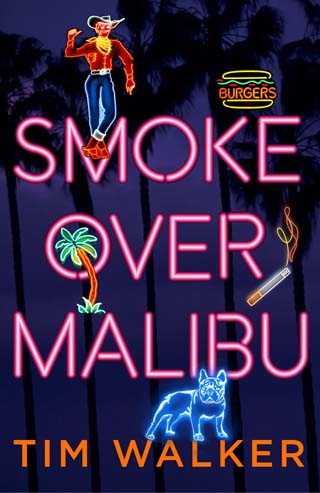 But when someone breaks into the store, assaults his elderly boss and steals a highly collectible Disney cookie jar, Lucky finds himself with a mystery on his hands. And there's another puzzling development when his former best friend and writing partner, the man who is now responsible for penning a successful series of comic-book movies, goes missing. Like Lovejoy before him, this antiques dealer is going to have to turn detective.
"Very readable mystery"
How much you sympathise with Lucky's distaste for modern cinema might depend on how much you think his pitch for his own project, the story of an army veteran who becomes a vigilante after discovering his hometown is overrun by drug dealers, sounds like the plot of a Jason Statham movie you might stumble across on Channel 5.
Lucky's longing for the past sometimes also seems to extend to the descriptions of the female characters, which appear to be aiming at an updated take on the hardboiled era of Raymond Chandler, but can comes across as slightly creepy.
But for the most part, author Tim Walker is clearly going for a more softboiled tone as Lucky tries to get to the bottom of his two 'cases', which may or may not be connected. And if sometimes the targets – as well as comic books, Lucky is also rather unimpressed by millionaire app developers and reality stars – also seem a little soft, Walker isn't afraid to wrong-foot both the readers and Lucky. This is a world where someone can find fame due to a sex tape, but still surprise Lucky with their literary references.
The result is a very readable mystery that picks up steam as it goes along, even as it keeps the stakes deliberately low, making for a diverting break in Malibu.
'Smoke Over Malibu' by Tim Walker, hardback/ebook £18.99