Guardians of the Galaxy 2 (2017) – Film Review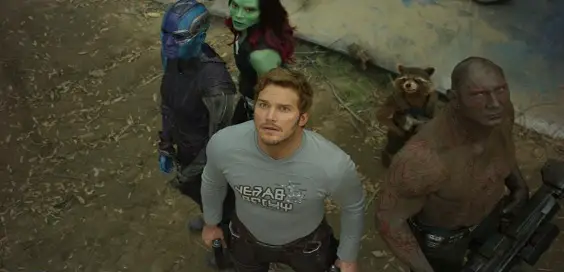 Director: James Gunn
Cast: Chris Pratt, Zoe Saldana, Kurt Russell
Certificate: 12A
by Roger Crow
Anything goes in the sequel to one of my favourite films of the decade. I'm reminded how much I love Guardians of the Galaxy during a double bill. The first is so beautifully crafted and cast, with a huge heart, I wonder whether it can be topped.
The follow-up boasts the most enjoyable first act of the year with opening titles so funny and thrilling, I rest easier as the team of eclectic aliens tackle a big, slavering monster while Baby Groot steals every scene he's in.
It looks stunning, and the arrival of The Night Manager's Elizabeth Debicki only adds to the appeal. Her royal alien, some pilfered batteries, Sylvester Stallone, David Hasselhoff and Kurt Russell are a tiny percentage of what follows.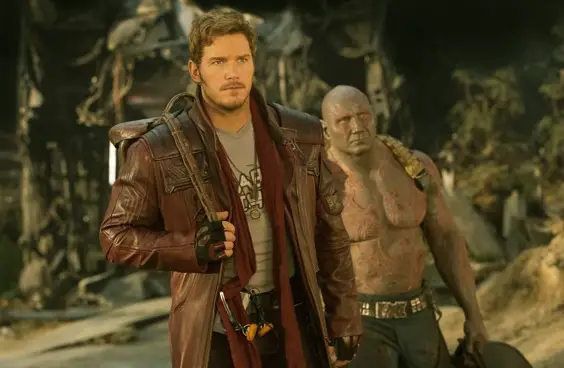 "So lavish and complex"
If film one was assembling Peter Quill's surrogate family after his mother died, film two is them falling apart and coming back together while dealing with his two dads. Chris Pratt is once more hugely appealing as Star Lord, a comic character I was weaned on but never thought he'd land his own movie. His quips could become tiresome rather fast but Pratt always manages to lend a degree of humility to his roles. Zoe Saldana is always stunning, and her green-skinned Gamora never fails to engage.
The problem is the second act. As our heroes arrive on a planet which seems plucked from a prog rock album cover, everything seems too good to be true and a little cheesy. The whiff of Cheddar is intentional. It pays homage to pulp sci-fi with a hint of Lord of the Rings' idyllic Elvish haven.
As Kurt Russell's Ego provides much needed exposition and Quill comes to terms with his possible parentage, Michael Rooker's blue-skinned bad guy Yondu returns and faces mutiny. My heart sinks a little as the film becomes bogged down with too much talk and cheese. But once a character's true intentions become clear and bombshells are dropped, director James Gunn unveils a third act so lavish and complex, it feels like three films in one.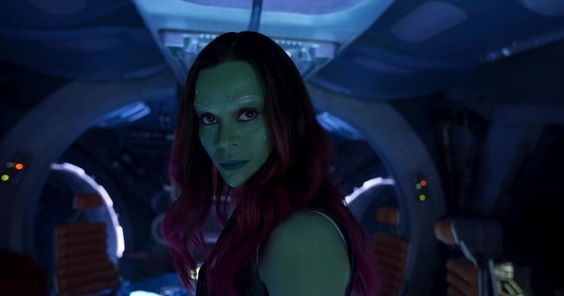 "Plot plates spinning"
There's no denying his vision, based on some terrific comics, is huge. While fans of the source material will be buzzing by assorted cameos, it's the belly laughs which provide the much needed thrust to make this soar once the tendrils of domestic mundanity threaten to choke the plot. Gunn keeps many plot plates spinning, including Gamora and Nebula's sisterly bickering.
Karen Gillan is a great comic foil as the cyborg antagonist whose attempts to kill her sibling. She gives the movie a North by Northwest feel halfway through. Pom Klementieff is also a delight as newcomer Mantis, Ego's sidekick and night nurse. As before, the soundtrack of retro classics is a delight, from ELO's glorious opener 'Mr Blue Sky' to Cat Stevens' 'Father and Son' (one of the most touching moments of the movie).
Some films throw everything but the kitchen sink at the audience. This is a universe-full of proverbial sinks: gleaming, polished and bouncing off one another as plot threads are tied up. I laughed repeatedly, and am reminded why Dave Bautista's Drax is one of the saga's greatest assets. I also wish certain characters had been given less screen time, and realise I'm going to have to watch this all again when I'm more awake.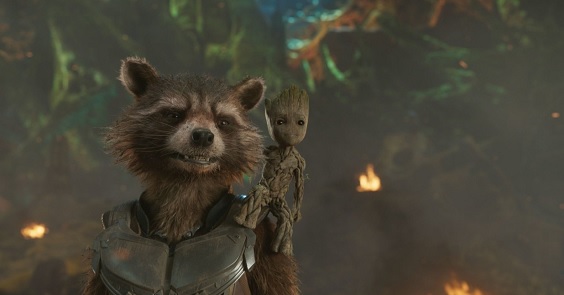 "Stunning piece of work"
It's 3am by the time I get to bed, but it was worth the sacrifice on a work night, not least for a credit cookie. That may confirm my theory about a beloved comics character from my youth and his potential role in the pending Avengers: Infinity War storyline.
Geekery aside, even if you only watch for the adorable Baby Groot and snarky Rocket, you're going to be thrilled. With a tighter second act, this could have been as good as the original, but that said it's still a stunning piece of work which deserves to be seen on a huge screen.
For me, Gunn's third volume cannot come soon enough.
8/10