Goldsborough Hall, Knaresborough – Restaurant Review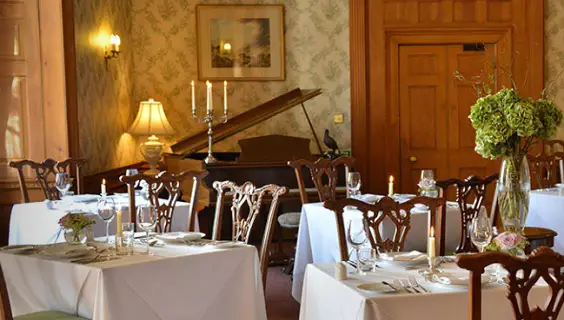 By Roger Crow
It's a bleak November night; the busiest time of the year at work, and weeks of dental problems have left my sprits low.
I need a pick me up, though trekking 48 miles to Knaresborough at rush hour in the dark is far from fun. Blinding lights or limited visibility only adds to the woes. And I'm not even driving.
Arriving at Goldsborough Hall with a tooth that feels like it's been tended to by dentist Laurence Olivier in Marathon Man, I'm suddenly transported to another world.
I've had many a fine Friday night dinner, but never in a 17th-century grade II listed Jacobean manor. It's difficult for my brain not to default to Eyes Wide Shut, and Tom Cruise turning up at a mystery mansion.
It has the PG feel of Stanley Kubrick's final movie (without the toe-curling awkwardness and stilted dialogue). To me, most stately piles do feel Kubrickian, even if Goldsborough is a couple of centuries older than Eyes Wide Shut's Mentmore Towers in Buckinghamshire.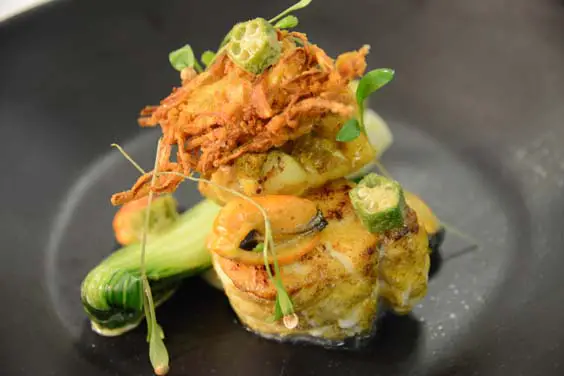 "Opulent"
The fact a glorious Christmas tree mirrors the stunning chandelier in Goldsborough's hallway makes me feel cosier than slippers in front of a roaring log fire. Naturally the opulent residence has one of those too, making my woes melt like the eponymous star of animated favourite The Snowman.
Great food in a fine setting with excellent service is medicine for the soul, and it's not long before I'm feeling better. Though maybe that's also the pear cider working its magic.
The more I eat at fine restaurants, the more I realise that great waiting staff are part comedian, part culinary experts. It's all in the delivery, in more ways than one. Sarah, one of our excellent waitresses, has that quick wit and like Will, Kate and the other staff we meet at Goldsborough Hall, ensures our few hours on site are a joy.
We begin with canapés by the fire, where an adorable cat keeps trying to warm his whiskers, having repeatedly wandered in with new arrivals (us included).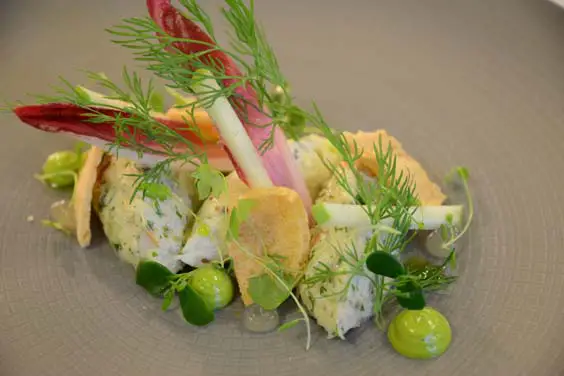 "Hugely impressive"
Back to the food, and my mini sausage roll served on a sliver of tree trunk is delicious. (The sausage roll not the wood in case there's any doubt). While soaking up that warmth, marvelling at the decor, and imagining Del and Rodney replacing a chandelier for cleaning, we choose from the impressive menu.
The dining room is hugely impressive with the sort of fireplace reminiscent of Game of Thrones. It might be weeks until Christmas Eve, but we have that festive magic feeling already.
For the starter, I opt for Whitby crab, apple, celery and pecan, all of which is terrific and the sort of dish where I savour every mouthful. This is one meal I don't want to rush. The freshly baked bread is excellent, especially the squid ink and apricot and pecan varieties.
My main is fillet of Yorkshire pork with roasted red pepper, Yorkshire chorizo and glazed new potatoes with a side of seasonal vegetables. The pork is beautifully tender and the cauliflower and other veg are cooked to perfection.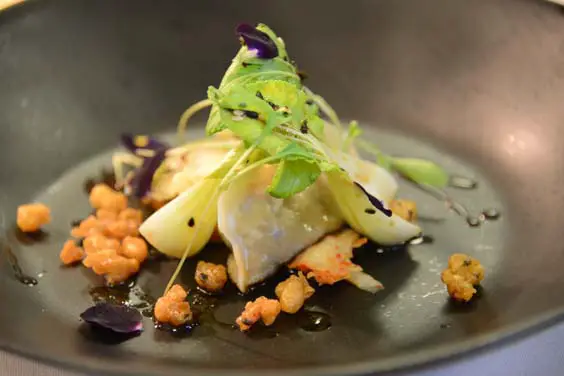 "A winner"
For each of the courses, a wine is recommended on the menu. Chardonnay with my main for example, and Muscat with dessert.
On the subject of which, my chocolate and walnut trifle almost leaps off the page. It's the perfect balancing act. The chocolate is spot-on without being too sweet. The crumble is beautifully crunchy and as someone who hates fruit, the rum-soaked raisins balance things beautifully. Just a shame I only manage two thirds due to my constant problem of eye-size to belly-mass ratio.
My partner Rachel has nothing but praise over her choices with phrases like "lost for words," and "never tasted anything like it" peppering our conversation. Her olive, mozzarella and sun-dried tomato canape goes down a treat, while her main, pumpkin tortellini (which isn't on the menu) is "absolutely delicious".
Rachel's dessert is also a winner: almond cream, confit pear, pastry shards and pear sorbet. It's like having a deconstructed pear tart", she enthuses.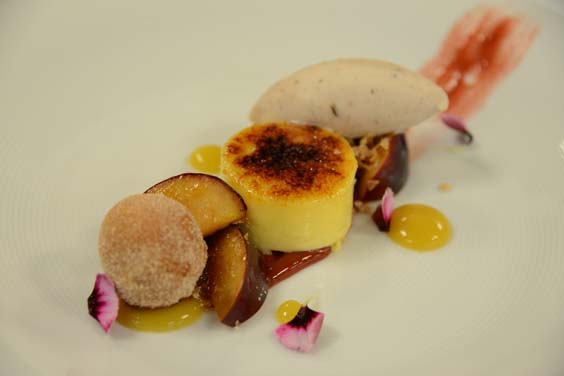 "Happy diners"
The brains behind our dishes is Hungarian-born and raised Adam Thur, the former Head Chef at York University. Having cooked for Royal guests and other VIPs, there's little wonder we feel like we're eating movie stars' dinners. Though there's something unmistakably Yorkshire about it all, and not just the setting.
Goldsborough's kitchen gardens ensure the produce couldn't be fresher, so little wonder we're happy diners.
As we reluctantly head off, gingerly navigating around a stunning Rolls-Royce, we promise to return when it's warmer and see what the place looks like in daylight.
Great food in a wonderful setting with fine company has a restorative power. I'd recommend Goldsborough to anyone, especially as they actually cater for vegetarians instead of just offering a lame alternative.
"You don't have to cook fancy or complicated masterpieces – just good food from fresh ingredients" as American culinary guru Julia Child once wrote.
I'm guessing she would have approved of Adam's excellent menu, not to mention the outstanding setting. Highly recommended.
Goldsborough Hall, Church Street, Goldsborough, North Yorkshire, HG5 8NR
Menus are available daily for both resident and non-resident guests. Table booking is required.
01423 867321
goldsboroughhall.com