Comptoir Libanais, Leeds – Restaurant Review
Instagram friendly locations are a big thing at the moment. And when my friend and I walked in to Comptoir Libanais in Leeds, we'd landed in a paradise for the snap-happy social media sharer.
Situated just inside the Everyman Cinema in Trinity, your eyes widen as you walk in the place and absorb the aesthetics. You're met with a barrage of colour and delight, with decor and accessories that for a split-second make you forget what you're here for.
But on this Monday evening, eating is what we'd come to Comptoir Libanais to do.  There are good things being said about this place, so I wanted to check it out.
"Friendly welcome"
When we walked in, Michael gave us a friendly welcome at the door and led us to our table. He handed us a menu and asked us how we were, and we ordered a couple of beers.
Neither of us had really tried Lebanese food before, so when Michael came back, we needed his knowledge. He was well versed on the menu, guiding us around it and explaining some of the options.  We decided to go for his recommendations for a starter; me going for the Lamb Kibbeh (£6.95) and the Cheese Samboussek (£5.75).
As my friend chatted and caught up, we noticed the relaxed vibe of Comptoir Libanais. It's a good place for a leisurely eat and seems to be a casual spot for friends to meet up. I dare say it's a popular pre-cinema spot too, with the vibrancy of the interior is balanced out with the cool, laid back feel.
And that vibrancy jumps on to the plate too. Out starters arrived, and the Lamb Kibbeh came dressed with a mint yogurt sauce and pomegranate seeds. It was a bright and contradistinctive eat. The minced lamb, with pine nuts and onion combined with the sauce perfectly too, and I enjoyed how fresh and light the dish tasted.
I also had a taste of my friend's Samboussek, filo pastry stuffed with halloumi and feta cheese.  Both recommendations had hit the spot and we'd started our meal off nicely.
"A good, fresh tasty feast"
Comptoir Libanais is a far cry from the standard shopping centre chain eatery too. There's something wildly different here, and that extends from the look of the place on the outside, to the interior and on to the menu.  My friend and I were really pleased with how our night was panning out, and it was about to get even better.
Our main courses came to our table, and looked delicious.  My friend (the indecisive one!) picked the mixed grill so he could get a bit of everything, and he did well. At £14.95 his plate came with lamb and chicken kofta, chicken taouk with vermicelli rice and comptoir salad.  The aromas from the dish were fragrant but far from overwhelming and the presentation was good.
I went for the smaller dish, the Chicken Taouk at £8.75. A smaller portion of this was on my friends plate, and it's specifically marinated grilled chicken breast with garlic sauce.  There's also pickled cucumber and tomato, alongside vermicelli rice.
Every piece of meat across the two plates were succulent and – a word I'm in danger of overusing here – fresh. The fact that the meal was filling, yet light left you comfortable and that's definitely a major factor in coming to eat here.  Subtle flavours throughout leave a very satisfying feeling in the mouth.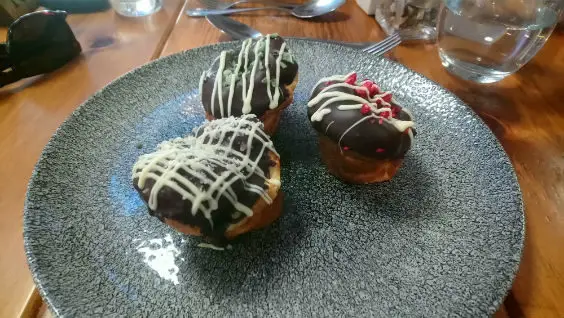 "Great food in a fantastic place"
Although we'd had a good light feast, we decided we had room for a third course.  There's a small selection of desserts here, each one being an inviting option.
It was the Mango and Vanilla cheesecake caught my eye (as ever with a cheesecake!). My friend going for the Baklawa selection, with both options priced at £5.95.
The Baklawa is a selection of savoury and pastry based deserts, of which you get six. The cheesecake, is as explained with the addition of pomegranate seeds and pistachios.  For me, it finished a nice meal off perfectly. The portion of cheesecake was huge, but I managed to finish it without a hitch. Another light dish (looks very deceiving on this one!) but with such a refreshing taste to go with it. My part of the meal came to less than £24 before my beer, and for three delightful and satisfying courses I was really pleased.  At just over £26 for his selection, my friend was pleased too.
Comptoir Libanais had given us great food, in a fantastic place, with a lovely laid-back atmosphere.  Service was brilliant too.  All just right for two long standing mates catching up and having a bit of quality time.
Comptoir Libanais is definitely one of the restaurants you need to try next you're in Trinity and wanting some nice food.  There's a host of places at your disposal, but if you need to come here. Try something a little bit different, and see your social media likes takes an upturn when you post the photos of your visit!
Comptoir Libanais, 4 Albion Street, Leeds, LS1 5AY
Opening hours:
Monday-Saturday 11am – 10pm
Sunday 11am – 9pm
0113 350 9751
comptoirlibanais.com