Chophaus, Leeds – Restaurant Review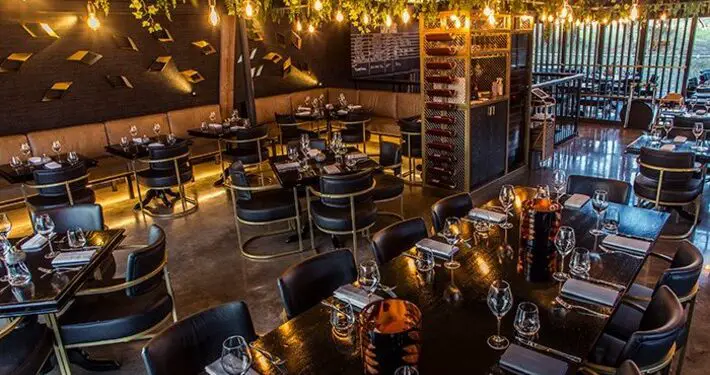 If you head up to Roundhay Park from Leeds, just as you turn off to go up Princes Avenue, there's this building on the left. It's kind of tucked back a little, but you can't take your eyes off it. You look twice. And inside you'll find Chophaus, the steak and meat restaurant that had built up quite the reputation before lockdown.
And on a warm, sunny Wednesday evening I paid it a visit and dined out for the first time since places began opening their doors again. So I was kind of excited for this one. I was also intrigued to see how adapting to the new rules and regs was going to be.  As we strolled in, we were welcomed by the people in masks at the door, sanitised our hands, and were shown upstairs to our table. 
As we wandered through the restaurant delicious aromas were hanging in the air – couple that with the the large windows being open and there was a lovely, summery feel to the place. What a welcome back for a foodie lover!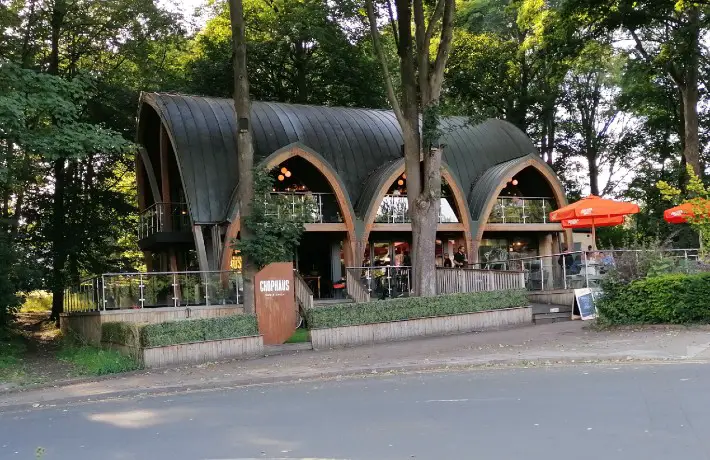 "Impressed"
We were handed a couple of menus and ordered a couple of drinks. It was a night that called for a glass of Esk Valley Savignon (£7) for me (I know – I'm meant to drink red with steak). My friend, always one to throw out a surprise, went for a Mojito at £7.50. We also took a jug of water for the table as well.
It was my first visit to Chophaus, and I was pretty impressed. You're wowed by this wooden structure as you approach the place, so there's a lot to live up to when you get in.  But when you are inside, you get this really classy feel. A dark, but sort of cosy place, twinned with a bit of stylish-modern. There are leafy greens, and not the sort your mother made you eat… and it's a nice place to be.
My friend and I were both mulling over the same two starters to kick off the meal. The Chicken Wings and the Jellied Ham Hock Terrine appealed at £6.50 each. So we chose both, and decided to share. 
For the main, I went for the 8oz Rib-Eye Steak, medium rare at £24. I chose the Chophaus Sauce (£3) alongside it, with the beef dripping chips at £4. And over the other side of the table, the Sirloin (£30) with Peppercorn sauce (£3) and Salad, Charred Apricot, Hazelnut & Parmesan (£4) was the order of the night. It promised to be good meat; all steaks comprising of 28 Days Dry Aged Beef.
We sat back, caught up and enjoyed the atmosphere building as a few more people started to safely filter in.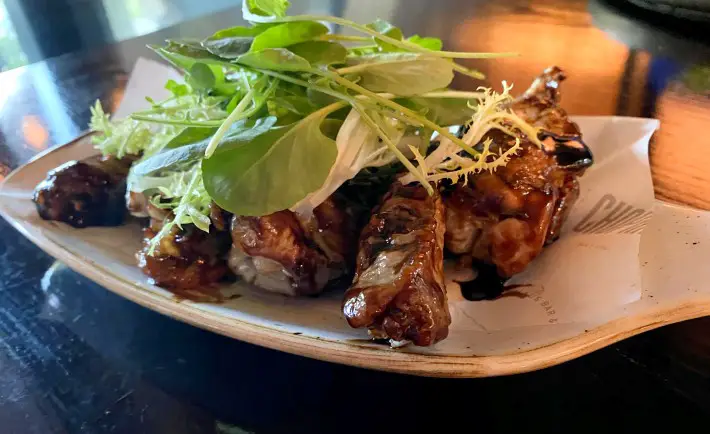 "Plentiful in portion"
It wasn't long before our entrée plates landed, and the Jellied Ham Hock & Parsley Terrine looked great. There was lots of it. Coming with Piccalilli, Sour Dough Bread & Pea Shoots, it formed a good combo. It had a nice light taste, with the tangy piccalilli hitting the spot.
The Chicken Wings were plentiful in portion – six of them! Which meant a nice number for both of us.  The wings were coated with Balsamic Glaze and Rosemary Salt, topped with a Herb Salad. We really enjoyed these. There was this light barbecue taste to them but something different was coming through. I asked our waitress about the glaze, and she revealed it contained a mix of BBQ sauce and lemon, and it was this flavour that was sailing out. The chicken was succulent, and parted from the bone without any effort. A really good start to the meal, and a dish we were very impressed with.
But the main table event going on at Chophaus tonight was always going to be the steaks.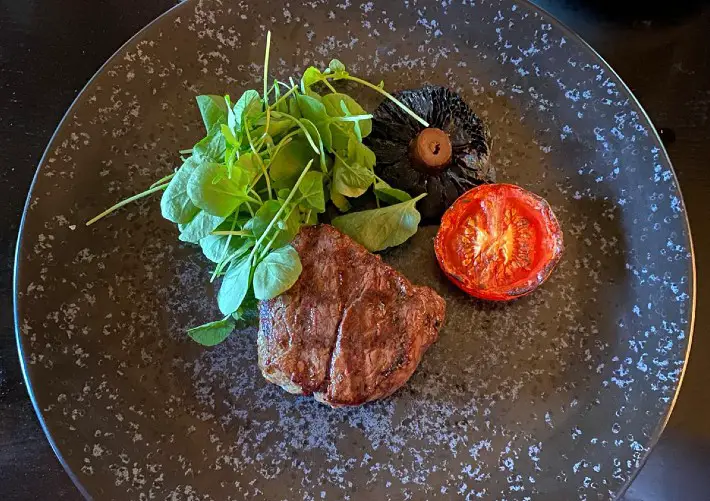 "On the medium-rare money"
Between courses we took in our first look at a socially distanced restaurant. The way Chophaus had laid things out worked and it didn't seem unnatural or sparse. We didn't arrive in the place and think "it's different". When you look for it though, you know you're safely distanced from anyone else.
And that wasn't the only thing we liked the look of. When the main courses arrived, they were tantalising. Presentation wasn't fussy, and they came with the right amount of watercress, sun-blushed tomato and mushroom. And tonight, it was all about the taste.
My rib-eye was right on the medium-rare money. All the way through. I was given a juicy slab of meat, and on the whole my knife pretty much sailed through it. Chophaus served a garlic butter alongside, and I'd received a delightfully tasty main course. The chips arrived separately (a huge serving) and the bowled salad was substantial. I'm not a big side salad fan as a rule, but I liked the hazelnut and apricot inclusion, giving a touch of sweetness.
The sirloin muncher at my table told me that his steak was perfect too. The peppercorn sauce nicely fragranced, and we both liked the truffle mac and cheese as well. It was soft and creamy, with subtle tastes coming through, but for me not a dish to go with steak. It was a large portion for a side order, and could potentially be made in to a main in its own right.
As the evening went on, all the tables upstairs filled up. And things felt normal. There was only a massive anti-bac sanitiser dispenser (and the staff masks) that would give the socially-distanced game away.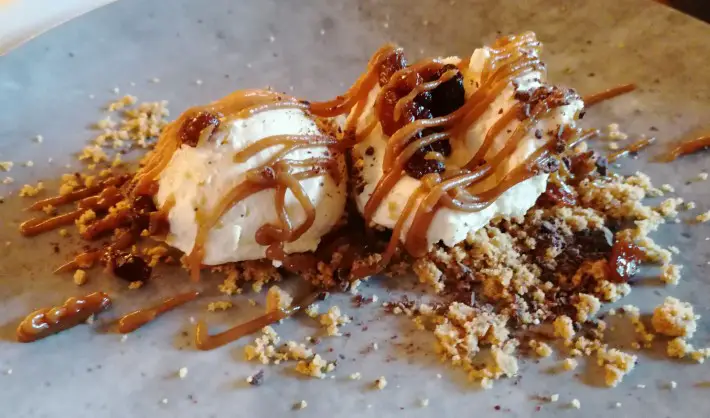 "Third good course of the night"
We were having a great night, and it was like we'd never been away from dining out. You forget that we're adjusting as customers, and restaurants are adjusting as hosts. By the time we were ready for dessert, the place was full and I imagine the kitchen was going at full pelt.  So the longer-than-usual wait for our Cheesecake and Eton Mess desserts wasn't a problem. And this is where presentation DID come in to it. We all know the reason why Eton Mess is called as such – but the way Chophaus had laid my friend's dessert out on his plate – we re-christened it 'Neaton Mess' (see what we did there).
And my caramel cheesecake was sumptuous. It was cool, it was fresh. The base had been crumbled around the dish, and the cheese element scooped on top. Lashings of caramel sauce was thickly drizzled over it and alongside the latte it was my third good course of the night. I polished mine off in good time, but my friend had bitten off more steak than he could chew. Although he enjoyed the sweetness of his third course, he was too full. But we both agreed we'd had a great end to the evening.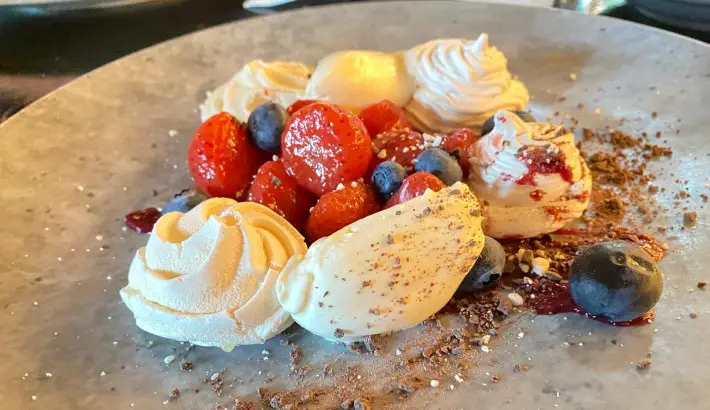 "Fantastic food and a visit you'll remember"
At the moment, people are understandably still wary about socialising in bars and restaurants. But out of every single place where social distancing has to take place, establishments like this take the most care. When you go, you notice the discipline taken by staff and by customers, and when you make that first visit you'll do so with a sense of happiness. And any worries will turn to relief.
You'll get that happiness and reassurance at Chophaus. There's a substantial menu, with twists on the usual steak offering. And there's a huge range of drinks to choose from too.  But what you'll get most from a trip here is fantastic food and a visit you'll remember.
Chophaus, Louis House, Princes Ave, Oakwood, Leeds LS8 2FA

Opening hours:
Wed & Thu: 6pm-10pm
Fri & Sat: 12pm-2:30pm & 6pm-10pm
Sun: 12pm-8pm
0113 226 0660
chophaus.co.uk