Rosemary and Bean Soup with Cheese Toasts – Recipe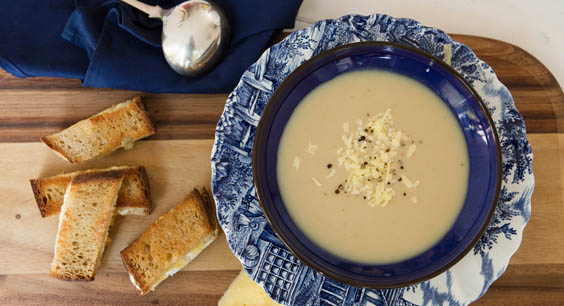 Recipe
Keep the chill of those long winter nights at bay with this warming recipe for Swedish soup and cheesy dipping sticks. The light, nutty flavour of cannellini beans along with aromatic rosemary is the perfect partner for those moreish cheese toasts, made with sourdough bread and Västerbottensost.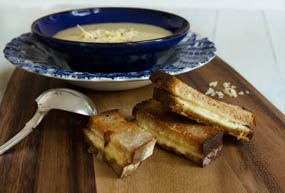 The complex flavour of Västerbottensost, which is aged for at least 14 months, provides richness to this hearty dish. Simple to prepare, spend less time in the kitchen this winter and more time snuggled up on the sofa with loved ones.
Known as the 'king of cheeses' in Sweden, Västerbottensost has been made using the same secret recipe since 1872.  It was made by accident one day when Ulrika Eleonora Lindström, a dairy maid, was distracted from her work by a romantic interlude which caused the cheese to develop its unique character. Västerbottensost is available to buy in Waitrose, Ocado and Selfridges.
Rosemary and Bean Soup:
Serves 4
Preparation time: 10 minutes
Cooking time: 30 minutes
For the soup:
1 tbsp olive oil
1 onion, roughly chopped
2 garlic cloves, crushed
400g can cannellini beans, drained
Leaves picked from 1 rosemary sprig
500ml vegetable broth
100ml white wine
Salt and freshly ground black pepper
½ lemon
30g Västerbottensost, grated
For the cheese toasts:
8 thin slices of sourdough bread
4 tbsp soured cream
120g Västerbottensost, grated
30g butter
Method
1. Heat the oil in a pan and add the onion. Turn the heat down low and cook for 5-10 minutes until starting to soften. Stir in the garlic, cannellini beans and rosemary leaves and continue to cook for a couple of minutes.
2. Pour in the stock and wine and bring to the boil. Season well then cover with a lid and simmer for 15-20 minutes. Allow the soup to cool a little and then use a stick blender to whizz until smooth. Season to taste again, adding a squeeze of lemon juice to balance the flavour. Keep warm.
"Simple to prepare"
3. Put half the sliced bread on a board and spread over the soured cream evenly. Top with the cheese and put the other half of the bread on top. Slice each piece into thick fingers.
4. Put the butter into a frying pan and allow to melt over a low to medium heat. Fry the fingers, in batches, in the pan until golden on each side. Ladle the soup among four bowls, top with the grated cheese and a little black pepper and serve with the toasts.
For more recipes visit vasterbottensost.com/en