How Loans Can Help You Live a Better Life
Requesting a loan is a two-way street: you get extra money for your extra needs, but you automatically get involved in debt when that money is not returned on time. Many people struggle if they should take a loan till the last minute, but here's an unexpected truth – a loan is a good decision and can help you live a better life.
Amid economic uncertainty, it's hard to build a solid plan for the future. Whether the loan is good or bad, depends on several factors such as interest and the time you have to return the money.
Bad debt is about taking too many risks when you're not sure you'll cover all the expenses. As a result, consider a loan to accomplish your objectives, but also evaluate the risks you bring onto yourself.
How Do Loans Work?
A loan is a commitment you (as a borrower) make for a lender: to repay the total taken amount plus the interest. There is one exemption, called an unsecured loan that is normally approved without collateral, so the lender takes an additional risk.
On the contrary, a student loan is an example of a "good debt" – if taking into account the correlation between a college degree and higher earnings throughout your career.
A good loan is what helps borrowers to build a long-time wealth. Let's say, you can't afford a mortgage for the house now, but throughout the lifespan, you increase your income and make enough money for such expenses.
Loans can help you to speed up your childhood dreams and make everything possible. Well, almost everything, since you still need to put every effort to deserve those dreams and repay their cost on time.
Types of Loans That Can Help You
A personal loan is a type of unsecured loan that doesn't require collateral from a borrower in case the debt is not repaid on time. Ledger simply can seize anything from you, but your credit score will decrease for sure, and the loan will go into default.
A personal loan is awarded once in a lump sum, and then you break your debt for monthly payments including the interest rate. You can use it for any purpose, and the application form is much easier.
A personal loan is very helpful to prevent you from bigger expenses: for example, in case of a medical emergency when you need money in a short period. Speedy cash loans are available online, and anyone regardless of job status can apply for them.
What is the difference between unsecured and secured loans in this case?
Secured loans require collateral from a borrower such as a home in the case of a mortgage or a car in the case of an auto loan. The idea behind a secured loan is a basic one. Lenders accept collateral against a secured loan to incentivize borrowers to repay the loan on time.
The most common examples of secured loans are:
● Mortgage loans – money borrowed to pay for your home. The monthly mortgage payments will consist of the principal and interest, plus taxes and insurance.
● Auto loans – and auto financing option you can obtain through a bank or a union.
● Home Equity Line of Credit (HELOC) – allows borrowing money indicating your home's equity as collateral.
● Recreational Vehicle Loan – is a loan to pay for a motor-home that may also cover a travel trailer.
● Boat loan – similar to an auto loan, this transaction involves a monthly payment and interest rate determined by different factors.
Getting to know the basics of financial operations is critical for your success. Personal and secured loans are one of the popular options to consider, but you need to know the rights and obligations you sign yourself for.
CNBC tells that the average American has over $90 thousand in debt. And almost 80% of American families have debt!!!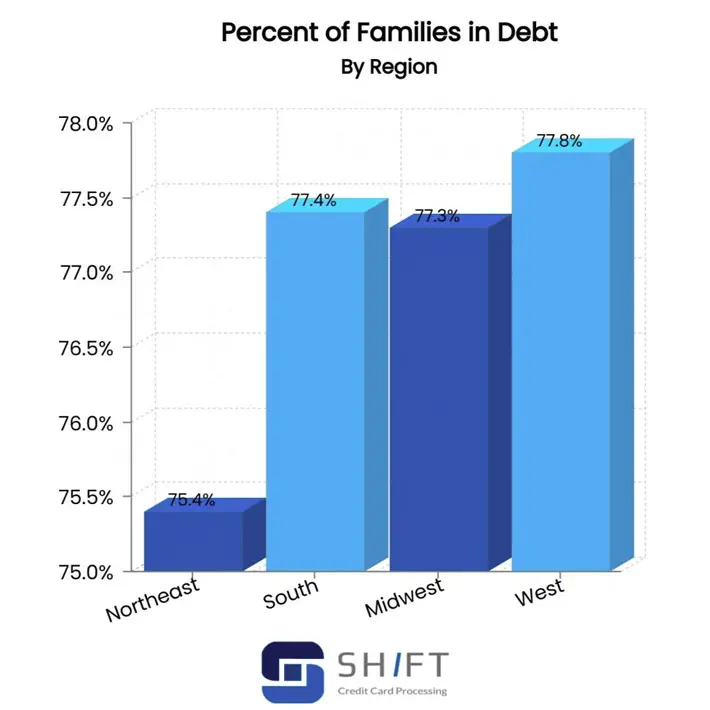 Why It Is Good to Take a Loan?
In some cases, you might want to try something else before requesting a personal loan. You might negotiate a lower price or choose another item. Nevertheless, here are the top reasons why a personal loan is better:
1. Debt consolidation – when you sign for a loan and use it to pay off multiple other loans, you combine all of the outstanding balances into one monthly payment. This is a solid advantage to taking a personal loan – you can repay the debts from your credit cards and have just one payment you need to cover.
2. Better than a payday loan – they may sound similar but one of them will cost you hundreds of dollars of interest charges. According to the Federal Reserve Bank of St. Louis, the average APR for a payday loan is 391 percent, while the maximum interest rate on a personal loan is typically 36 percent.
3. Emergency expenses – the medical or funeral bills can be enormously huge especially if you're not prepared well. Some of the doctors ask for a payment in full, and this is an opportunity to request a personal loan and get money shortly.
Personal loans are ideal for many life situations: mortgage, medical bills, student loans, vehicle financing, etc. The bottom line is that a personal loan can be used for almost anything — that's why it's categorized as "personal".
How a Loan Can Help You
Ideally, we want to have money right here and now for all of our needs. In reality, the banks and NBFCs use the gap between reality and aspirations as a good opportunity to increase income. Some promise low rates, others offer quick disbursals and easy processes.
A loan can help you to build the dream life you've always wanted. Taking money in advance is a winning idea if you plan the personal budget accordingly.
Some people don't like debts because they don't know how to cover them, or their salaries don't match the monthly payments. In this case, you simply need to weigh "pros" and "cons" before requesting a loan, so that the repayment amount will not be a surprise.
Summing Up
The only thing you need to take care of is that a loan should be repaid on time. A personal loan is a great way to consolidate your debts and make big purchases but remember to utilize the financial resource responsibly. Treat every debt as a personal responsibility nobody will cover for you.