4 ways to make your hair salon kid-friendly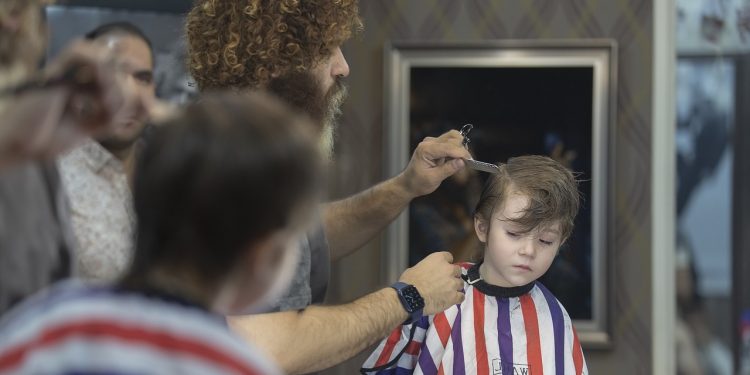 Hair salons can be intimidating for children, with unfamiliar equipment, loud noises, and the uncertainty of the overall experience. However, by implementing a few thoughtful changes, you can transform your salon into a kid-friendly space where children feel comfortable and even excited to get their hair cut.  
Here, we explore four areas to consider when making your hair salon more welcoming for little clients. 
Create designated areas for children
Creating designated areas within your salon can make a significant difference in how children perceive their salon experience. Consider incorporating the following: 
Waiting area –

Set up a dedicated waiting area specifically for kids. Arrange child-sized chairs, colourful cushions, and small tables with colouring books, puzzles, and toys to keep them engaged and entertained while they wait.

 
Kid-friendly stations –

Create hair-cutting stations that cater specifically to children. Use chairs with fun, colourful prints or shapes that appeal to kids. Consider equipping the stations with child-friendly mirrors, adjustable heights, and footrests to ensure their comfort.

 

Play corner –

Dedicate a corner of your salon as a play area. Install a small playpen or a colourful rug with toys and books to keep younger children occupied while their siblings or parents receive haircuts.

 
Use products that are suitable for sensitive skin
Many children naturally have more sensitive skin, which means they are more prone to allergic reactions and other adverse effects. Because of this, it's important that you stock products that are specifically formulated for children's hair.  
This should include child-friendly shampoos and conditioners that are gentle on their hair and scalp. If possible, look for products with appealing scents and packaging that appeals to kids. However, ensure that these products do not include any ingredients or chemicals that could cause an unpleasant reaction on sensitive skin. Opt for allergen-free and natural hair products where possible. 
It's also a good idea to keep detangling sprays on hand to ease the process of combing through knots and tangles, making the haircut experience more comfortable for children. 
It's important that, in the event that something does go wrong or a child does have an unpleasant reaction to a particular product, you're covered by robust insurance. Hairdressing insurers Salon Gold explain that "the range of tools and products you use as a hairdresser creates various risks, as they could potentially harm you or your clients". However, "if you're faced with a compensation claim, having the right insurance in place can protect the future of your business". 
Offer a specialised kids menu
Designing a specialized menu for children's haircuts can add an element of excitement to their salon visit. For instance, you could offer a selection of themed haircuts inspired by popular characters or interests. This could be anything from a super-hero inspired cut, a princess-style updo, or even a funky punk-rock look.  
Include hair accessories as part of the menu, offering colourful bows, clips, or temporary hair colours to provide children with an opportunity to express their creativity and personalise their look. 
You could even introduce child-friendly pampering services to give them a complete experience. Services such as mini scalp massages, gentle hair washing, or simple manicures for older children can make their time in the salon more enjoyable and memorable. 
Make the experience as fun as possible
Decorate your salon with bright, cheerful colours and playful themes that resonate with children. Consider wall murals, or themed artwork that adds a touch of whimsy. 
As mentioned earlier, you could place a variety of age-appropriate toys, games, and puzzles strategically around the salon. Another less-messy option is to install screens or small televisions playing child-friendly shows to keep kids entertained during their visit. If you do opt for this, consider supplying the children with headphones to minimise noise for other clients. 
Remember, the key is to strike a balance between functionality and fun. By addressing children's unique needs and preferences, you'll create a positive reputation and become a go-to salon for families in your community.