Summer to Autumn Glasses Trends For 2022
The world of eyewear is constantly changing and evolving so it's important to stay on top of these changes. The more fashion-conscious amongst you may already be aware of these changes, but for the rest of you, here are some helpful tips for a head start on coming trends.
Cat Eyes
Cat-eye frames have been a must-have for decades. Their unique retro frame makes them a welcomed change from the norm whilst still being accessible for first-time wearers. Cat-eye glasses are generally great for any face shape, but look particularly great on those with triangle face shapes
Look to celebs such as Elle Fanning and Rihanna for recent examples of how to style cat-eye frames. This is the year of the cat-eye and with an array of stylish patterns and colours, you'll find the perfect frames for you.
Pair cat-eye glasses with colours such as stylish blacks, eye-catching tortoiseshell and vibrant reds to make a statement.
Thick Rims
Gone are the days when thick glasses were synonymous with nerdy TV geeks. Thick frames have had a resurgence thanks to A-list celebs embracing the once 'scoffed-at' style. Big names such as Julia Roberts, Jeff Goldblum and even Ryan Reynolds are champions of the thick frames.
Thick frames with angular shapes are a great way to sharpen our profiles and facial features. Pairing these frames with subtle colours such as navy or black offers understated yet stylish looks. After something bolder? Choose a bright red or clear frame to ensure all eyes are on you.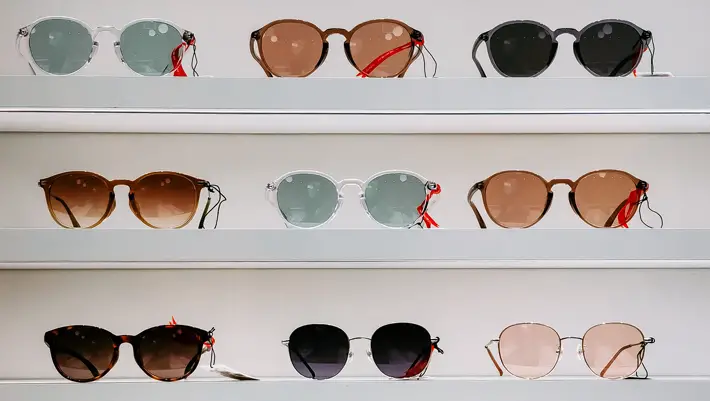 Thin Frames
On the other end of the spectrum to thick frames, thin-framed glasses are designed to blend in with your look, allowing your face's natural features to come through. This is particularly effective with round frames wrapped in lighter colours such as rose gold or silver.
Thin frames have quickly become a popular style in the world of eyewear. Recent months have seen several brands releasing new collections with their takes on thin round frames.
Keep in mind that thinner frames aren't the best choice for everyone. Those with a higher prescription may have to look elsewhere as thin frames may be unable to hold thicker lenses required for stronger prescriptions. If this applies to you, don't fret, as there are plenty of frame styles out there.
Bold Colourful Frames
Similar to thicker frames, colourful frames are designed to draw attention. These frames are great for anyone out there after a striking frame, regardless of age, gender or style. Look at Gigi Hadid and Prue Leith (Great British Bake Off) for two great examples of the versatility of these frames.
The great thing about hopping onto this trend is that they can be used with a multitude of different shapes and styles. Combine vibrant red and blue colours with your favourite frames. Whether it's retro cat-eye glasses or classic wayfarers, a splash of colour can take your look to the next level.
Classic Aviators
It may seem like we say the same thing every year but aviator glasses are always a must-have. They're the epitome of eyewear and are often what people think of first when they think of glasses. Their style never goes out of fashion and with a plethora of colours to choose from, they're perfect for any look or occasion.
This unisex design has been around for decades but that doesn't mean it's not changed. Aviator frames are constantly evolving. Looking to branch out from thinner metal frames? Try plastic or acetate frames. Plastic aviators are bigger and bolder and give you the chance to add a contemporary twist to a classic design. Ray-ban is the go-to for aviator sunglasses and glasses. For those looking for something different, look to brands such as Farah and Carrera who offer their own unique and stylish aviator collections.