The Cher Show – Review – Sheffield Lyceum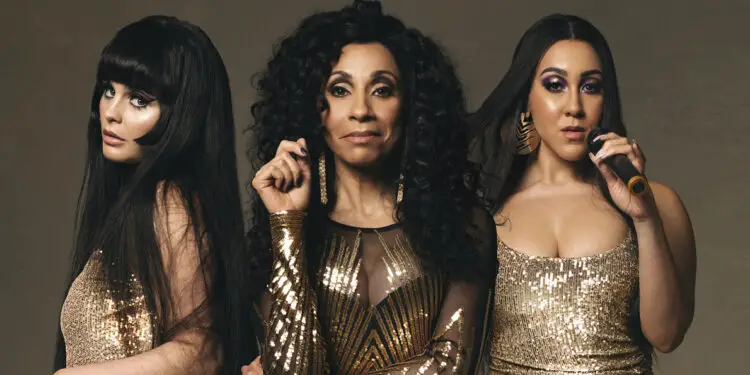 By Helen Johnston, May 2022
Do you believe in life after love? Cher certainly does and has the back story to prove it.
Hers is not so much a rags to riches story as a rollercoaster of poor to rich and back to poor again, running alongside the highs and lows in her marriages and relationships.
Three different versions of Cher take to the stage in this musical journey through her life, from the gauche teenager bullied at school for her black hair and olive skin (courtesy of her father's Armenian heritage), to the glittering queen of figure-revealing cutaway outfits, big hair and an even bigger voice.
Cher – born Cherilyn Sarkisian in 1946 – was only 16 when she moved to Los Angeles with the dream of becoming a famous singer. It was there she met Sonny Bono, an entertainer and singer, 12 years her senior and full of the confidence she lacked.
They got together both professionally and personally, marrying in 1964 when Cher was only 18, and then taking the pop world by storm a year later with their hit I Got You Babe which sold more than three million copies.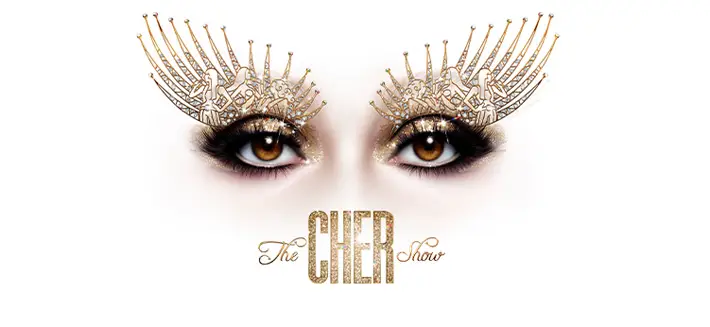 "Distinctive, powerful voice"
Young Cher, or Babe as she's referred to in the progamme, is played by Millie O'Connell who demonstrates all the gangly awkwardness of the teenager hiding behind her fringe and needing the security of having her husband by her side when on stage.
Lucas Rush is superb as Sonny, sounding exactly like him when both speaking and singing. And with the mop haircut, droopy moustache, crushed velvet bell-bottoms and platform boots, looking just like him too. It was Sonny who, when the hits dried up in the late '60s, changed the couple's direction into a comedy and singing act, resulting in The Sonny and Cher Comedy Hour which ran successfully on TV until 1974.
The main joke was the statuesque Cher poking fun at her husband's shorter height, even the platform shoes couldn't help him there, but behind the scenes he was the one in control. He owned her financially and made her work all hours to keep the money rolling in, to the point where she barely saw their young child.
This Cher, billed as Lady, is the one who gains the confidence to say no. Exhausted from work, upset at not having time to be a mother, and realising she has no money and no say over her career, she makes the decision to leave.
Lady is Danielle Steers, who of all the three versions seemed to me to steal the edge on perfecting that distinctive, powerful voice and adopting the impassive, slightly superior look that the real Cher has always done so well. The fringe had gone at this stage in her life and it was time for a solo career.
"Perfect synchronicity"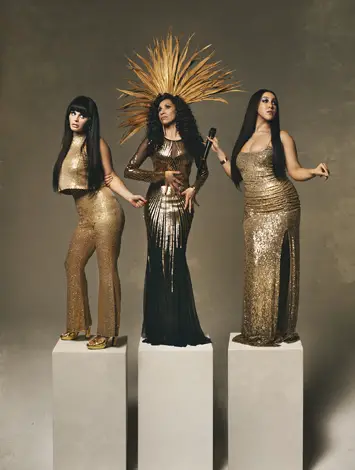 We see the years passing on stage as the numbers are carried on, helping us to follow the chronological order of events as Cher married again, to rock singer Greg Allmann, had another baby, got divorced again and then rebooted her career again by turning to acting. I'd forgotten that she won the Oscar for Best Actress for Moonstruck in 1988, a massive achievement because her dyslexia made it difficult for her to read scripts.
This Cher, billed as Star, is played by Debbie Kurup who gets to wear the big hair and also has an outstanding voice. Tori Scott as Cher's mum Georgia, a constant in her life, is also in fine voice as she supports her daughter through the dramas of her life.
The show is directed by the inestimable Arlene Phillips with choreography by Strictly's Oti Mabuse. The ensemble cast moves in perfect synchronicity and is dressed in the same black costumes throughout, all the better for putting the spotlight on Cher's bling.
We were asked at the start not to sing along during the show but to wait for our turn at the end, so it was no surprise when everyone stood up to join in with the final rendition of Believe when all three Chers dazzled and sparkled in silver. We believe in you, Cher.