Lord of the Dance – Review – Hull New Theatre
By Roger Crow, May 2022
Chances are we all know the story of Michael Flatley and Riverdance. The fleet-footed routine involving stunning Irish dancers was used as a filler for the Eurovision Song Contest, and went on to be one of the most talked about aspects in the contest's history. It became a show in its own right, helped turn Flatley into a star, then he went off on his own 25-plus years ago and created Lord of the Dance. (Always my favourite hymn at school, but then again, wasn't it everyone's?).
Since then, it has played around the world to millions of viewers. If you want to see where, get a copy of the lavish programme at Hull New Theatre, which is full of facts, figures and gorgeous photos of your man, Michael, who isn't* in this show as a warning to anyone hoping to see him.
(*Okay, he sort of is, and a routine at the finale is phenomenal, but let's just say he's more there in spirit than in person).
While waiting for the show to start, I read all about how it's 'the biggest grossing tour in the history of entertainment', and 'the most critically acclaimed dance show of all time'. Blimey. This should be good.
And what unfolds is certainly extraordinary. After an intro film reminding us that this is Michael's show, and how it's the greatest thing you'll ever see, or words to that effect, I settle in for one of those unforgettable nights.

"A sight to behold"
As I'm hard wired for a script-driven night at the theatre, it's refreshing to see something solely devoted to dance and fabulous costumes. Seriously, the main star wears a jacket so glittering, I'm suspecting the MS logo on the back means it wasn't a Marks and Spencer's job after all, but a reminder that this is lead actor Matt Smith's. Which is odd, because I'm sure the good guy fighting a small of army of foot-stomping antagonists would be called something else.
Regardless of such fourth wall-breaking confusion, the show is a fabulous mix of song, dance, fiddle-playing and video-based shenanigans which veers between fantastic and less so. Let's just say the Devil is in the detail, and he gets all the best visuals.
The audience loves every minute, and when cast members of both sexes lose some of their clothes, it feels like I'd wandered into the Playboy mansion – which was later invaded by a Magic Mike convention. Don't worry, it's all very tasteful done. Even up in the gods, the whole thing is a spectacular achievement. I never realised how much I needed to see a band of people performing jaw-dropping Irish dancing in unison. It's like their legs have been possessed. The tap-style routine is one thing, but some of the dancers pull off moves worthy of an Xbox game where you double press a button and they jump twice, while in mid air. It's a sight to behold all right. And there's so much of that, but it never gets dull or old. Just extraordinary, especially for those of us whose only chance of repeating such moves is while trying to avoid tripping over the cat.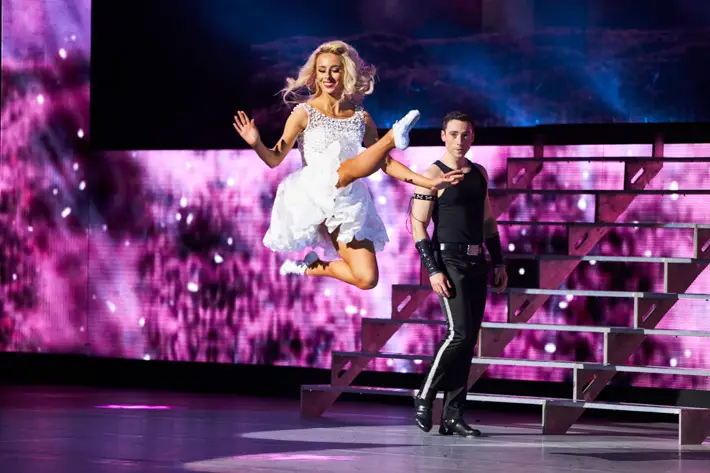 "Work their socks off"
The first half is over in 40-plus minutes, so there's little chance of your own legs getting numb. And the concluding act provides some welcome narrative reminiscent of a cross between John Travolta's Broadway show Satan's Alley in Staying Alive (a guilty pleasure) and Starlight Express. I'm also reminded of the conclusion of Guardians of the Galaxy, when Chris Pratt's Starlord challenges bad guy Ronan to a dance off. Who knows whether writer James Gunn was inspired by LOTD, but I'd like to think so.
I'm suspecting generations of fans have been coming to the show over the years, and there are plenty of standing ovations as that glossy programme promised. I'm pretty sure we didn't need so much hype plugging a show the masses had already paid to see. There's also a short film at the end reminding us of the genius of Mr Flatley, who to be fair has done a fabulous job of making this a show to remember. For me the only way LOTD could have been better is if Stavros Flatley had done a routine at the finale. That aside, it's well worth a look, and full marks to the cast, who absolutely work their socks off to bring us the best show possible.
Quite extraordinary.
Now if you'll excuse me, I'm off to M&S to buy one of those jackets.