Jersey Boys – Review – Leeds Grand Theatre
By Sandra Callard, July 2022
Jersey Boys is inspired by a talented group of young singers who were at their height of popularity in the 1950/60s. Hailing from the state of New Jersey they were lucky to have in their group the brilliant singing of Frankie Valli, with his special voice range – next to some fabulously memorable and timeless songs it was the key ingredient that made The Four Seasons one of the most popular singing groups of the time.
This updated tribute show is a wonderfully polished production, in pitch perfect period costumes the group revive songs such as 'Can't Take My Eyes off of You', 'Big Girls Don't Cry' and 'Walk like a Man', and with Michael Pickering excelling in the role of the magnificent Frankie Valli it makes for a brilliantly entertaining evening.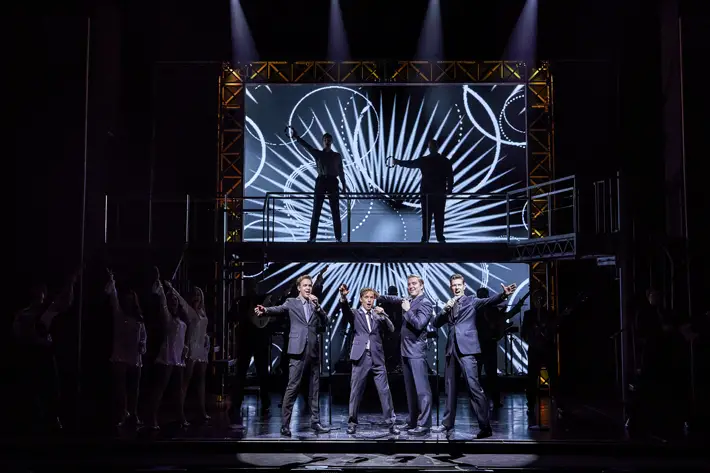 "Wonderful songs"
The storyline, such as it is, tells how the boys came from the tough end of town, with some of the group members on the brink of criminality. But their singing talent saves them from a life of crime and they are launched into another world completely. The darker side of their lives has been glossed over for this production, perhaps understandably, as the sprinkling of drama makes way for the real stars of the show – the wonderful songs and performances.
The other three Jersey Boys are all excellent. Dalton Wood as Tommy DeVito makes an impressive young leader of the pack, Blair Gibson plays sensitive Bob Gaudio with style and Lewis Griffiths is superb as Nick Massi. As a combination they are a tour de force.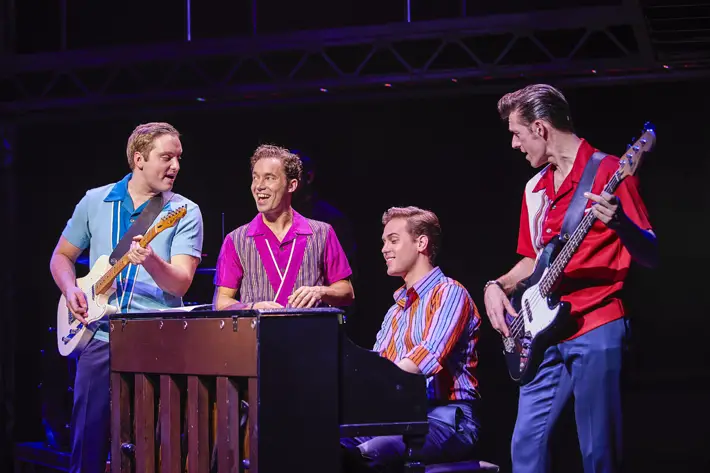 "Cracking"
The cast around them is numerous, with a talented array of singers and dancers to back up the leads and to ensure the attention of the audience never flags. I always find it telling to watch the movements of the people in front of me during a musical as they move in time to the music. Shoulders and heads will sway slightly and the better the performance the more this will happen. Indeed, there were plenty of swaying heads on this occasion – mine included – as the four singers stood and sang in a typical 50s manner, smartly dressed and moving in time to the music. The four of them looked superb and the years fell away as they sang.
There are many jukebox musicals doing the rounds of the theatres at the moment – and I am pleased that this is so, – but now and again one comes along that is head and shoulders above the rest. From the smallest part to the barnstorming leads Jersey Boys is a cracking show and it was good to see so many smiling faces as the patrons filed out of the theatre. Jersey Boys steps back in time with a truly modern piece of entertainment.