First Love – Review – Rowntree Park, York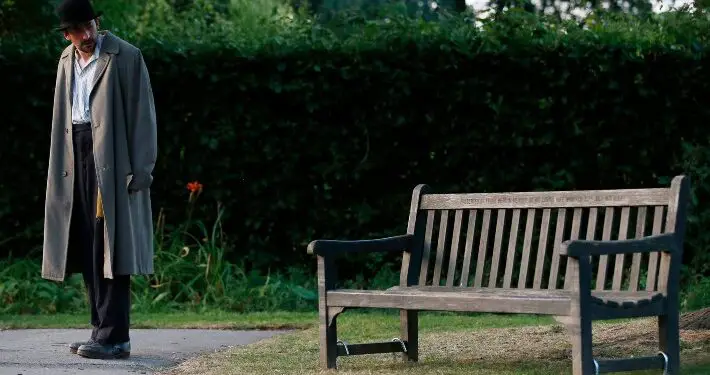 by Roger Crow, August 2020
If I'd done nothing else on my birthday, a good walk round Rowntree Park was a post-lockdown must. Remarkable considering I've lived in the region for almost 30 years and this was my first visit.
I wasn't just in York to stretch my legs, as welcome as that was. My partner and I had rocked up early to ensure we knew where we needed to be for the 7pm premiere of Park Bench Theatre's First Love. First step was find the car park, which wasn't too bad. Then it was a case of finding enough loose change for the parking on-site meter. None of that putting a code in your phone or using a credit card malarkey. Having hardly used notes let alone change for five months, this was a relatively alien concept. The fact we had just enough silver and pound coins was a blessing.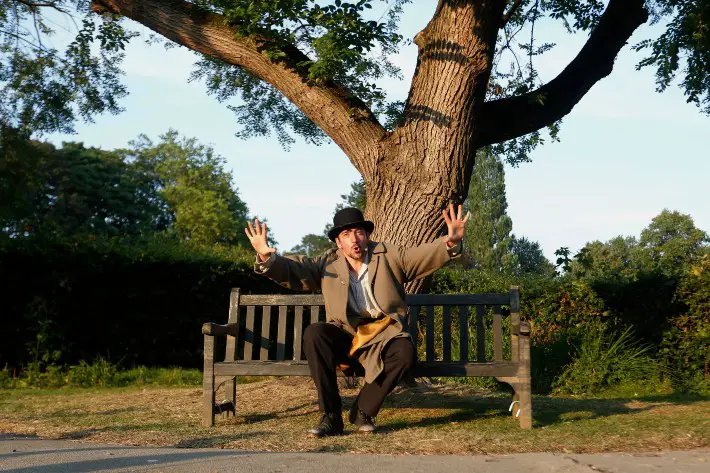 "Mesmerising"
By the time 7pm rolled around, we were in our socially distanced circle wishing we'd brought something comfortable to sit on, like the Millennium Falcon foldable rug I'd been given as a birthday present hours earlier. "Ah we won't need that," I thought stupidly. "There'll be chairs or something". Not so. In short, take a cushion, blanket or something comfortable to sit on.
We've been given headphones and devices to hear the one-man performance, and after half an hour of listening to versions of Dirty Old Town and Whisky in the Jar, the show begins.
A man in a bowler hat, and overcoat slowly enters the park, regards the bench in front of us and proceeds to tell his tale. It's a story of his life sleeping rough, the woman he meets, his reluctance at getting to know her, and then realising he's in love, and the madness that ensues. Like a young Hugh Jackman, the performer is mesmerising throughout. With such an intimate performance, he addresses the audience so cleverly we feel a part of his world. The setting is obviously ideal, as is the weather, which has been scorching all day has now settled to the perfect temperature.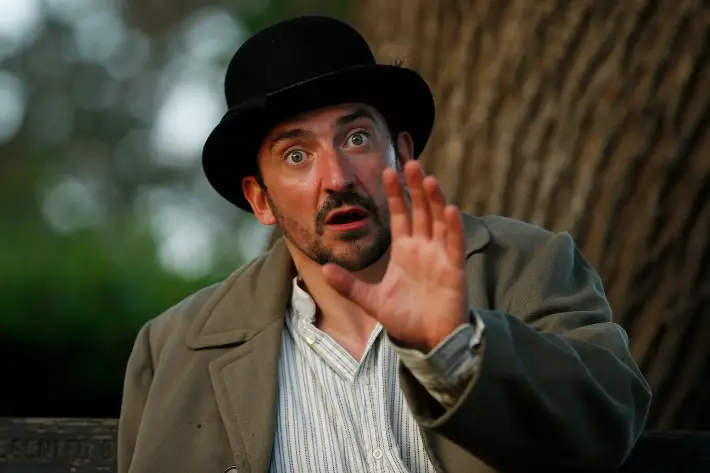 "Occasionally shocking and very adult"
A squirrel wanders in a couple of times to watch. Not part of the performance but a welcome addition to the drama. I can't help but feel Chris Hannon is using the squirrel's bench to tell his melancholy tale.
The language by Samuel Beckett is brilliant, occasionally shocking and very adult. To have memorised such a complex monologue is impressive, and every measured pause and silence is beautifully executed.
I've missed theatre so much during lockdown that this outdoor experience is a feast for a starving soul. The content rings true on a number of levels as the tale of the loved vagabond comes to terms with his destiny, it's hard not to be captivated.
I always love to do something different and unique on my birthday and this ticks so many boxes I'm glad we made the effort.
First Love runs at Rowntree Park, York until August 22nd.
Images: Northedge Photography