Dreamgirls – Review – Sheffield Lyceum
By Helen Johnston, March 2022
If one woman's voice could lift the roof of Sheffield's Lyceum Theatre it would have to be that of Nicole Raquel Dennis.
I don't think I've ever witnessed anything quite so powerful and passionate as her solo performance of 'And I'm Telling You I'm Not Going', earning her a standing ovation at the end of the first act of Dreamgirls.
Playing Effie White, she took centre stage to make her fervent declaration to lover-manager Curtis Taylor (Dom Hartley-Harris) after he ends their relationship. Her voice swelled to crescendo after crescendo, reaching the very rafters of the theatre as she punched out every last note, bringing appreciative claps from the audience even before she'd finished.
How she keeps up that level of performance night after night is remarkable given how much singing she does throughout the whole show. She proves her vocal range time and again, with the softer 'I Am Changing' and 'One Night Only' in the second act also sung beautifully.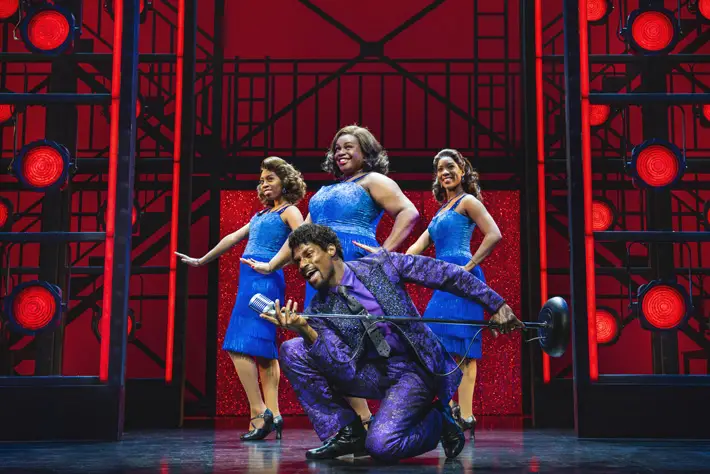 "Powerful"
Dreamgirls is based on such 1960s groups as The Supremes and echoes the real-life drama that saw Diana Ross and Mary Wilson fall out. Effie is part of a trio called The Dreams with friends Deena Jones (Natalie Kassanga) and Lorell Robinson (Paige Peddie).
They start out as backing singers for Jimmy Early, a successful James Brown-style figure played brilliantly by Brandon Lee Sears, who emulates all the cool moves and wild vocals of Brown. He lost his footing at one point and slipped but styled it out perfectly so it almost looked deliberate.
The girls move on to fame in their own right but although Effie has the most powerful voice, Curtis chooses Deena to take lead vocals based on her looks. Cue Effie's furious departure.
Kassanga and Peddie have the smooth voices so reminiscent of those '60s Motown groups who shimmied and sparkled their way to the top, with a multitude of costume and wig changes. But when Effie gains success in her solo career with a song written by her brother CC, played very sweetly by Shem Omari James, Curtis decides to undermine her.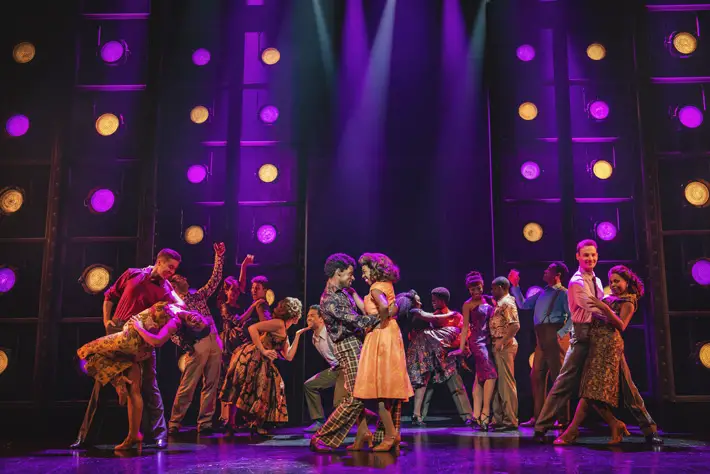 "Amazing orchestra"
She releases 'One Night Only' as a ballad, so he gets The Dreams (now with a new third member played by Brianna Ogunbawo) to record a disco version which overtakes Effie in the charts.
By this time Deena, now in an unhappy marriage to Curtis, sees the light and wants to go her own way, both personally and professionally. There is a reconciliation with Effie which makes for a happy ending which didn't happen in real life for Ross and Wilson, who never really resolved their differences.
Dreamgirls is a glitzy and glamorous trip back to those 1960s sounds, of afros and beehives, sharp-suited men and beautiful women. Special mention must go, of course, to the amazing orchestra, directed by Simona Budd. The standing ovation at the end of the night was as much for the excellent musicians as it was for the actors.