UB40 ft Ali and Astro – Live Review – Scarborough Open Air Theatre
By Laura Seaton
Today I got to see a band that I have been wanting to see since I was a small child. Back in the day when I was being driven around in my mum's Ford Fiesta listening to 'Cherry Oh Baby' on repeat, with their music taking me away to a more tropical enchanting place.
So, imagine my delight that British reggae legends UB40, featuring Ali Campbell and Astro were playing at my favourite seaside town in one of the finest music venues in the UK.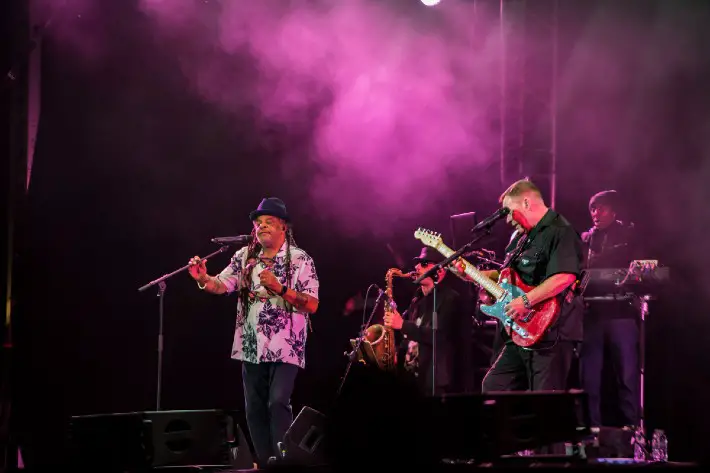 "Phenomenal"
It's not your average Saturday night in Scarborough. The red, red wine is flowing, and the sun is shining. And there's a real buzz about the town as I make the way to the venue. I am blown away by the sheer volume of people merrily making their way into the Open Air Theatre.
As I joined the queue all the bizarreness of the last 18 months was put to one side. It felt so good to get a little bit of normality back in my life. And I was so impressed by how diligent the venue staff were at checking the Covid tests and getting people in. We were quickly issued with our wristbands and made our way to the standing area. It was already buzzing with people here, eagerly awaiting to see the band.
The stage was looking phenomenal with a huge UB40 backdrop – and there was some of the most impressive stage lighting I've seen in a while (forgetting about the last 18 months, obviously!).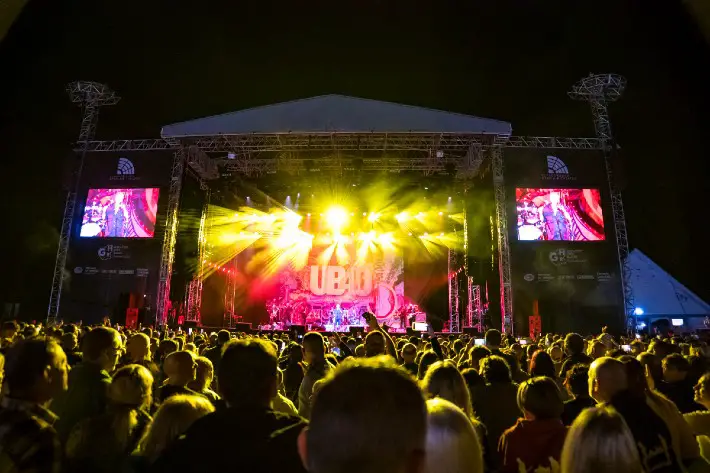 "The hits didn't stop"
Reuniting over six years ago, original UB40 members Ali and Astro were joined by a brilliant seven-piece reggae band. 
And as they took to the stage promptly at 8:30, they did so to rapturous applause. There was no support act, so we were indulged with hit after hit for the whole evening. Ali was dressed understatedly in a black shirt and trouser combo, and Astro was slightly more flamboyant. A tropical style shirt and his signature hat, if you please!
And they kicked off with an absolute classic in 'If It Happens Again, I'm Leaving'. The whole of the theatre was up on their feet dancing. And Astro was giving it some of his best reggae moves much to the crowd's delight. 
The hits didn't stop coming and the OAT was alive with the sounds of reggae music reverberating around the North Bay. Before we knew it we had been treated to 'Wear You To The Ball' and 'Here I Am Baby'. And I found myself being taken back to my childhood again as soon as I heard that opening bar of 'Cherry O Baby'.
I took a deep breath and turned around to take in the crowd. The Open Air Theatre was full and the twinkling of phone lights combined with the audience joining in. It made it such a special moment. Even Astro and Ali looked taken aback by the audience's participation of the "woooaaasss" and "yeeaahhs".
We were all vocal when 'Rat in Mi Kitchen' came in towards the end of the show. That was expected. Before they finished with a beautiful rendition of 'Many Rivers To Cross'.
"A brilliant night"
It was a shortish gig, which was a shame. And after around an hour, just like that, the time had come for the band to leave the stage. But they returned minutes later for one of the best encores I've ever encountered.
We were all waiting for that one song and you could feel the energy brewing from the crowd. Ali, who didn't say much between tunes, simply wandered over to the microphone picked up his guitar and got straight into 'Kingston Town'.
Saving the big two hits for last, the audience erupted as the music started for '(I Can't Help) Falling in Love With You'. They were so loud it was hard to hear the band, but it was such a euphoric moment. And then it came. Finally. The all-time favourite! 'Red, Red Wine' ended a great show with Ali taking to the front of the stage to soak up the atmosphere, and Astro throwing himself into the rapping. They were ably assisted by the entire Scarborough crowd, and I'm certain that every single person had their arms in the air. 
Safe to say this was a brilliant night. And UB40 featuring Ali Cambell & Astro can certainly still pull a crowd. This was such a good gig at a very special venue, and it will stay with me for a very long time.