Olly Murs – Live Review – Scarborough Open Air Theatre
By Steve Crabtree, August 2021
Across to North Yorkshire I go once again. Over to my favourite music venue. This time, the gates opening up to a capacity crowd at Scarborough Open Air Theatre, with Olly Murs the main attraction for their latest show.
We had pleasant weather, we had fast-flowing queues into the venue, and we had an 8:30pm start for the runner-up of X-Factor's 2009 series. Lots of smiling faces and happy people who were potentially at their first live event for who knows how long.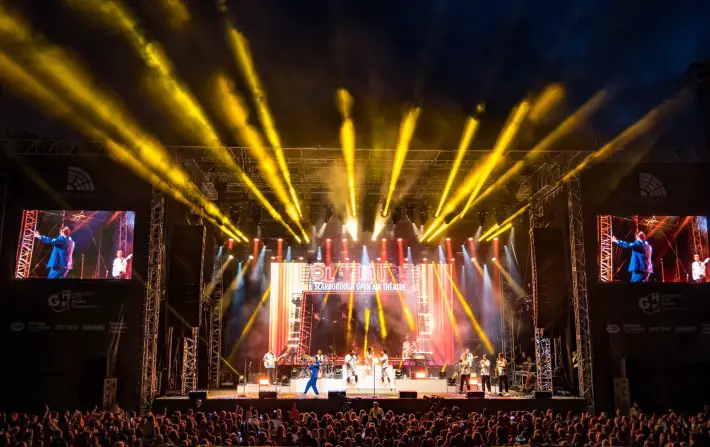 "Having the time of his life"
We got in fairly early. And The Feeling had nicely warmed the place up before the main event.  I think everyone knew a few of their songs, and they sounded good. So, when Olly Murs took to the stage in a smart blue suit and shirt of the funkiest kind and launched straight into 'Moves', Scarborough was in fine voice.
We were sat down for this one. It's been a while since I'd sat for a gig here but we had great seats. Central and halfway back – the view was brilliant. And this time around we had an eight-year-old 'Troublemaker' with us. An Olly Murs fan, her face lit up as brightly as the stage for the entire 90 minutes or so. And she sang along to every single word, and danced to every beat.
In fact, there were lots of families in Scarborough for Olly Murs, and that made for a lovely atmosphere. And Murs himself is just a lovely guy too.  Upbeat, cheery, completely lacking in attitude… having the time of his life would be an understatement. It rubbed off on everyone. He was so happy to be back in Scarborough, performing again and it showed. He even said Scarborough was his second home.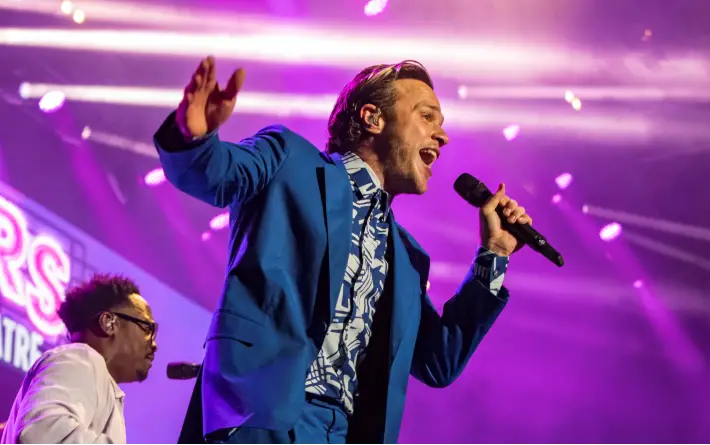 "Fast and fun performance"
In a fast and fun performance, we got hit after hit thrown at us. And the amount of dancing going on everywhere kind of proved that everyone was enjoying themselves. Crowd pleasers galore including 'Heart Skips A Beat', 'Dear Darlin' and a special rendition of 'Sweet Caroline' dedicated to the memory of Caroline Flack went down a storm with us all.
'You Don't Know Love' sounded great, as did 'Thinking Of Me'. But for me, the highlight was the Earth Wind and Fire medley that he brought into the set halfway through.  I'm a fan of disco, as anyone will testify to.  And backed by a superb light show I certainly couldn't help busting out a few moves to 'September', 'Boogie Wonderland' and 'Let's Groove' (not in an embarrassing way at all). Olly Murs performed these really well, and I can't think there was one person in the entire 8000 of us who wasn't enjoying the show he was putting on.
Careful to keep it family-friendly, the odd 'accidental' soft-swear word fell out of Olly Murs mouth. It made us laugh. But at the end, he definitely took things a step further – pleasing half the crowd when he whipped off his shirt to reveal a well-tuned torso, sending them into something of a flutter.  The rest of us? We just breathed in and re-assured ourselves that we're ALL like that under our coats!
"A nice guy, a great show"
And an earlier start meant a slightly earlier finish. What a great night we'd had – full of entertainment and fun. Another awesome evening at Scarborough Open Air Theatre, and perhaps the nicest atmosphere I've experienced here.  Being a contestant on one of those ITV conveyor belt shows may have tainted my views on Murs (and others) before tonight.  But he blew those thoughts far away with a great show tonight.
A nice guy, a fine show, and another memory made. Especially for the little lady who's sung Murs songs every waking hour since the show ended.