Culture Club – Live Review – Scarborough Open Air Theatre
By Steve Crabtree, August 2021
Not that I need an excuse to head over this way, but seeing a band that I have liked since watching Top Of The Pops as a young kid was a brilliant reason for my latest visit to Scarborough Open Air Theatre.
The band for me to check out this weekend is the iconic Culture Club. It was their turn to give North Yorkshire a night of music. And with three of the four original members, including Boy George, still in the group, we are here for the real thing. A worldwide phenomenon in their time, they've created timeless classics, courted controversy, and lived to tell the tale.  Needless to say, this was a gig that I was really excited for.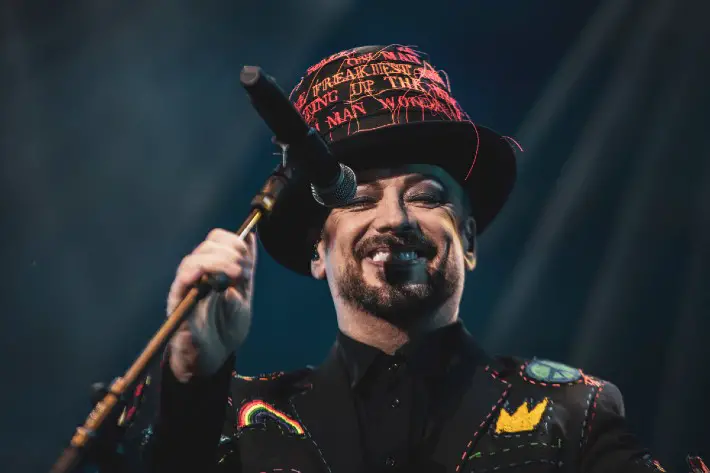 "Loving the music"
Culture Club took to the stage at 9pm: Boy George, Roy Hay and Mikey Craig – with only original drummer Jon Moss not part of the band at the moment. It's always more special when there's more of the original members of a group still performing together nearly 40 years on, and the excitement was plain to see in the crowd. And as the band geared up to play 'Planetary Karma' as their opener, showman Boy George emerged centre stage with a showbiz-style entrance which was pretty typical of a man with his persona.
It started on a fun high, and we were up there for the best part of two hours. A night of hits and not-so-well-known stuff, we were about to be really spoilt and spend the entire evening singing and dancing. Songs George belted out early doors included 'Church Of The Poisoned Mind' which followed 'Just Outside Of You' and 'Drop The Needle'.  
Stuff that you'd forgotten you'd forgot was in the set-list too: 'I Just Wanna Be Loved' and 'Everything I Own'. And it was nice to see people of all ages loving the music, some of them no doubt reliving their youth.
George was great between songs too. Lots of patter, and a lot of profound moments too. The one that perhaps went down the best was that he'd learned in lockdown that he and the band aren't virtual, they are very much a live band. That brought a lot of cheers. And for me, it was a further re-affirmation that live music was back.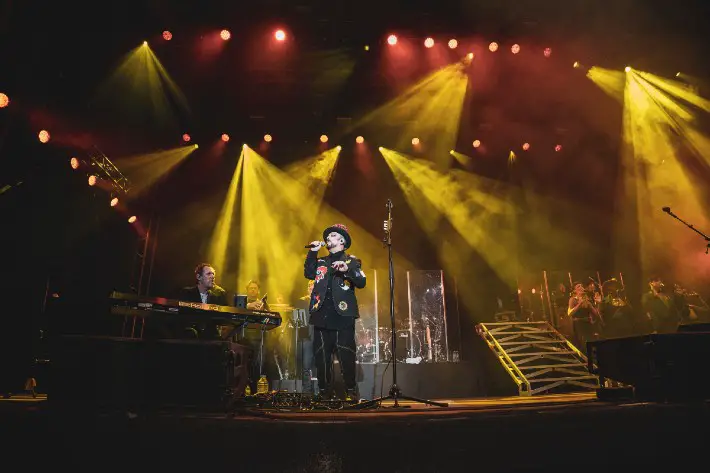 "Astonishingly good"
George has had his fair share of bad press over the years. Fall-outs, attitude, you name it. But tonight, he was great. Fully in form, enjoying himself with a stunning set of gnashers shining out at us, and enjoying Scarborough. And that rubbed off on everyone else who was there. He and the tunes were providing one of the most uplifting atmospheres I've ever witnessed at a music gig.
I need to throw out a special mention for Deco too. Playing their second support gig at the OAT (they supported Jesse Glynn a couple of years ago, to much acclaim), their growth on social media since lockdown has been impressive and they've turned a lot of people on to them.  Their set before Culture Club tonight was astonishingly good, and they went down very well with the crowd. It won't be long before they're headlining their own show here. Big respect for them in joining the thousands in the standing section afterwards too, and watching the main act with the rest of us right to the very end.
The hits came thick and fast in the second half of Culture Club's set. 'I'll Tumble 4 Ya' and 'It's A Miracle' were sung by thousands of us. 'Do You Really Want To Hurt Me' came out too, along with a story about Boy George thinking it wasn't the right song for them to release.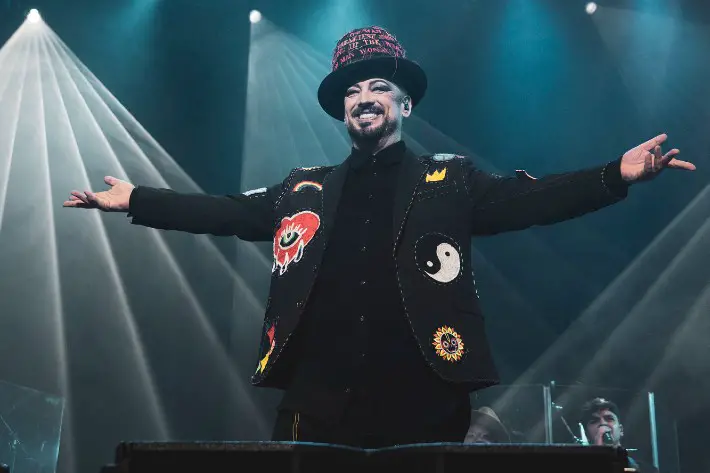 "Brilliant night and such a great show"
'Miss Me Blind' came at the end of the main-set, and for me was the show-stealing song of the night. Everyone seemed to be dancing for the majority of the night. And that tune gave us a final reason to keep our dancing shoes well and truly on.
'Karma Chameleon' came at the end of what was supposed to be a three-song encore. But Boy George was loving the night and loving the moment, and didn't want to leave. He launched into a final acapella version of the hit track.
I think it was fair to say everyone in the Scarborough Open Air Theatre had been given a brilliant night. It was such a great show from Culture Club, and a purely enjoyable Saturday night. 
It's a gig I'll certainly remember and talk about for a long time.
Images: Cuffe & Taylor