Rod Stewart – Live Review – York Racecourse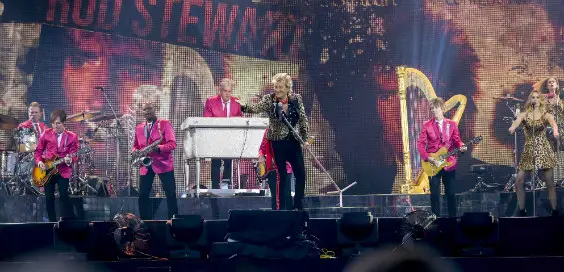 By @Steve Crabtree, June 2019
Without any of us knowing it, my mum and dad got me into Rod Stewart when I was very young. My mum especially so, being a big fan of his since the late 60s and regularly playing his records. Or singing his stuff, much to my youthful dismay!
But as I grew up, I loved his music. I've been to Germany, Leeds and Hull to see him – each time being overwhelmed his style, and the show gives an audience.  So when I heard he was coming to York, there was no way I was going to pass up on this one. And my mum was the only person who I wanted to take. To, what I found out on the way down the A64, was her first ever concert.
"Great spirits"
As we arrived at York Racecourse, thousands were descending on the venue in their droves.  It was carry-your-jacket kind of weather, and a nice early summer evening.   The levels of excitement and atmosphere in the bar and food areas were strong. And as we ventured to our seats, an imposing high stage greeted us.  Everyone was in great spirits, and eager for a bit of the Rodfather.
It got to 8:30pm and the main man came on stage to a rapturous ovation. He launched straight in to 'Infatuation' – and the audience leapt to their feet. And we didn't sit down again for the next two and a quarter hours. 'Young Turks' and 'You Wear It Well' followed and we knew we were going to be in for an evening of hit after hit.
You'll never believe Rod Stewart is 74 years old. After nearly 60 years in the business you could be forgiven if he came on stage, said hello to left and hello to the right, and churned out a few token songs to please a few people. But he wouldn't have stood the test of time if that was in his psyche. Instead he moves around the stage like he always has done and his voice is as good as it's ever been.  A world-class AV set up complements him, and in between songs he's got the anecdotes, the jokes and the patter to make his concerts stand above and beyond others. He continues to be one of the best showmen in show business.
"Sounded so good"
Tonight we've got lots of energy going on, and for years now Rod Stewart's had pretty much the same backing band. And you can see why he puts so much faith in them. There's a brilliant chemistry up on that stage, and the way they clearly enjoy themselves is infectious to everyone watching. 'Maggie May' came in to the set a third of the way through the 24 songs. It sounded so good, as did Rod, and everyone in the crowd joined him in wishing they'd never seen Maggie's face.
'The Killing Of Georgie (Part I and II)' was preceded with a profound introduction from Stewart. A tribute to a friend who was killed in the 70s, Rod highlighted the banning of the tune for using the word gay in the lyrics. How times have changed. But the irony of that against the subject of the song was, sadly, a sign of the times.
The tunes kept firing out though, and halfway through the concert Rod Stewart and his band took a seat, and gave us a selection of slower tunes. A stripped down five songs included 'Every Beat Of My Heart', 'The First Cut is the Deepest' and 'Have I told You Lately'.
I don't think there was one mouth not singing along to these. Or indeed for most of the show, and time was passing so quickly. There was a lovely dedication of 'Rhythm Of My Heart' to the 75th anniversary of the Normandy Landings too.
"Disco time"
We'd also been treated to one of the tunes off Rod Stewart's new album Blood Red Roses. It was my first listen to the fast-tempo 'There's A Hole In My Heart' and it went down well. A typical Stewart-esque later-life tune
But all of a sudden we'd got to 10:20pm, and we were in to the final leg of the setlist. It wouldn't be Rod Stewart gig without 'Sailing' and 'Do Ya Think I'm Sexy' playing out towards the end. The latter is my favourite Rod Stewart song. The live version is better than the recorded one and tonight's rendition is no different – and by this point we were well into nightfall. The light show had come into its own and it was disco time. We were all having a dance.
We were given a two-song encore, and Rod stuck with the disco flavour with 'Baby Jane'. Another tune you want him to play (and one that'll always make the setlist).  And to bring the show to a close, he covered Hambone Willie Newbern's 'Rollin' and Tumblin".
As he said goodnight, a stunning firework display lit up the York sky, and the 30,000 fans packed into the York Racecourse made their way home.
My mum's first gig had been a resounding success and Rod Stewart definitely delivered as he does without fail. There's no stopping the man anytime soon, he'll perform forever. I don't know how he does it at his age, but he does.
Another brilliant show from Rod Stewart, and if the rest of the tour is this good, hundreds of thousands of people are in for a treat.