Black Teeth and a Brilliant Smile – Review – The Ambassador, Bradford
By Richard Mansfield, May 2019
Performed for the first time and very appropriately so in Bradford, this play follows the all too brief life of talented local playwright Andrea Dunbar. To literature perhaps, as George Best was to football, Andrea was a shooting star whose skills, early success and the expectations that accompanied it, eventually overwhelmed her before she died young at twenty-nine.
Based on the award winning novel, written by Adelle Stripe, that gives its name to this production, the play provides a fictionalised, but what feels to be a very realistic account, of Andrea's history, background and the times through which she lived. Born in 1961, these were the so-called swinging sixties, but more especially her context was in the aftermath of changes wrought to conventional social mores and values by an emergent, rebellious and challenging younger generation as it grew through the subsequent decades.
For Andrea, this was on an impoverished and marginalised Bradford council estate during the 1970s and 1980s. Andrea's last decade coincides with the premiership of Margaret Thatcher and the influence of Milton Friedman's free market economics, when 'society' did not appear to be a priority, and traditional manufacturing industries, with the employment and incomes they provided, in decline so drastically in the 'North'.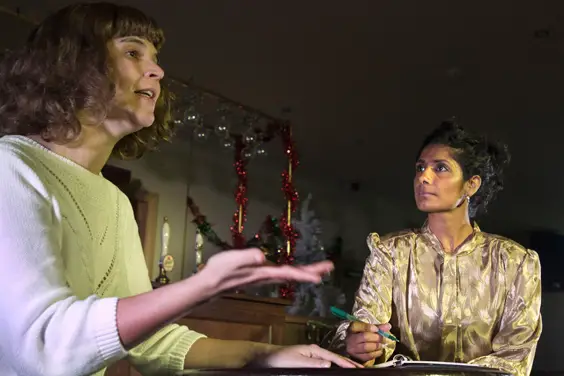 "Intimacy and inclusion"
So the setting is one of austerity, lack of real opportunities and the attendant social issues with which we have become and remain so familiar. A bleak backdrop then, but then there's a warmth of humanity, friendship and humour too and the portrayal of a talent that develops from what might otherwise be considered barren ground.
From the novel, playwright Lisa Holdsworth has crafted a taut, fast-paced script which has been given a dynamic interpretation by the director, Kash Arshad, and matched by confident and accomplished performances from the deliberately all female cast. (As Andrea is heard to observe, "Men are useless"). Men are referred and alluded to, as if in the background, reflecting that there were few positive male role models as her life panned out. But as a man in the audience, I never felt that, whilst written from a feminine perspective, this play was driven by any kind of aggressive feminism intended to make us feel especially uncomfortable. The perspective gained, whilst not entirely subtle, was not as bludgeoning as it might have become in other hands.
The venue for this performance was the function room above the bar of a Bradford pub not far from the city centre and before an eighty strong audience. Other performances, many of which are already said to be sold out, will be at venues elsewhere in northern England and most might not be associated with conventional 'theatre'. Yet it is the intimacy and inclusion gained from such a venue which lifts the play from pure presentation.
"Movement"
In a continuous performance running just shy of ninety minutes this audience remained attentive and locked-in on what they were witnessing and experiencing, with barely a shuffle in or a sneeze from a seat throughout its progress.
There always felt to be movement to watch for with characters frequently emerging and traversing left and right across the stage. The set basically represented the pub on the Buttershaw estate that Andrea frequented and in which she suffered the stroke that ultimately killed her. When dialogue and action occasionally paused you could have heard a pin drop from within the audience, only the rumble of passing traffic outside intruded.
Freedom Studios seemed to be at the top of their game in this production, with strong, confident performances from all the cast. Perhaps in the first few minutes voices were not projected sufficiently strongly to the back of the audience, but that felt to be corrected quickly. Costume changes that assisted in confirming the various characters being portrayed by the five strong cast were achieved quickly, almost seamlessly and helped to avoid confusions that might otherwise have arisen. It seems unfair to single any out any of the five, but Claire Marie, who plays the composite character of Eileen, among others surely deserves a gold star. Haven't we all met that 'devil may care', gobby and 'full of it' character in real life?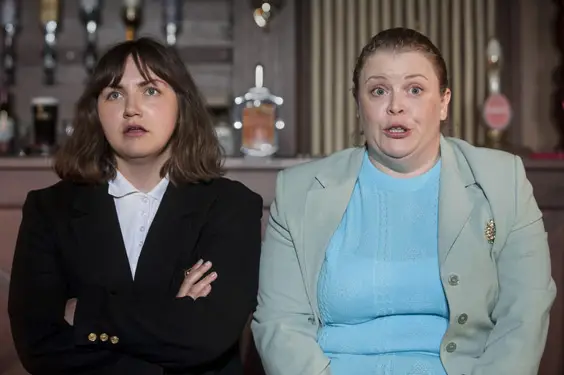 "Raw, entertaining and informative"
This performance gained very enthusiastic applause at its close and the smiles on the faces of the cast bore testament to the fact that they knew they had done a good job.
And after this sad, funny and poignant play the thoughts that are left are of a raw, entertaining and informative talent which was introduced to a more sophisticated world and needed to be nurtured and supported if it was not to flare and burn out, particularly when fame attended and writers' block set in. (Kay Mellor being the exception in attempting to rescue her from her creative difficulties as time went on.)
Also, some speculation upon how many talents we lose, as in war, through poverty, lack of opportunity and the fact that sometimes it is all too easy to miss the wood for the trees.
Decades ago BBC TV did a much praised series called 'Play for Today'. It ran from 1974 to 1980. Looking back Black Teeth and a Brilliant Smile would surely have been a worthy screening.
But, with luck this play may come to a pub near you!
images: Tim Smith