Primal Scream – Live Review – Halifax Piece Hall
By Steve Crabtree, July 2022
Live At The Piece Hall was in its third and final week, and throughout the season we'd not really had chance to sample some true, proper indie rock music.
So, for the penultimate gig, it was the turn of Primal Scream to give the Piece Hall a bit of Screamadelica. A Friday night, peforming the entire album of the same name in order. Plus a few hits. On, once again, a gorgeous warm summer's evening.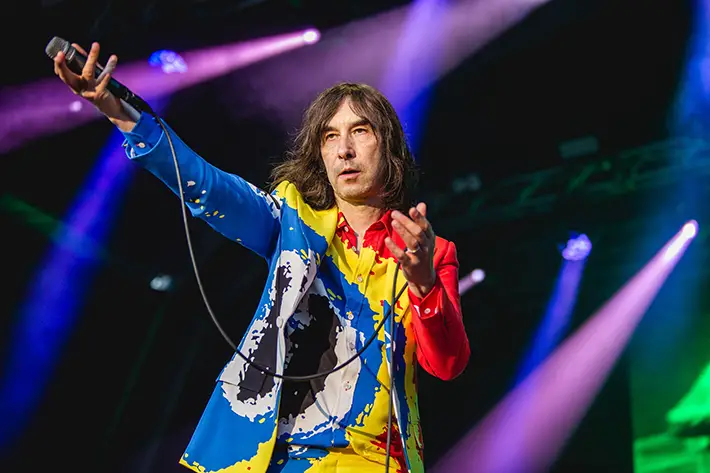 "Hardcore"
It was my first time seeing this lot live. And, although I came across them in my mid-teens a few years after this record, I know how important Screamadelica is to the indie music scene. There was a lot of people crammed in to the venue for this one too.  It hadn't sold out, but you'd never have guessed when you scanned over the Piece Hall forecourt.
Now, it's always a risk doing a gig when you're playing an album in full. Did the record have a sufficient quality to translate to the stage, or were there fillers that shouldn't see the light of day 30 years on?  Well, the vast majority of people in the Piece Hall were Primal Scream's hardcore fans, and they absolutely lapped the show up.  Performing this album was a masterstroke.
After a great set from Lonely Lady and Todmorden's Working Men's Club, on came the gospel choir, on came the band, and on strutted Bobby Gillespie. And boy did he stand out, in a suit that screamed Screamadelica, with the album cover emblazoned across his frontage.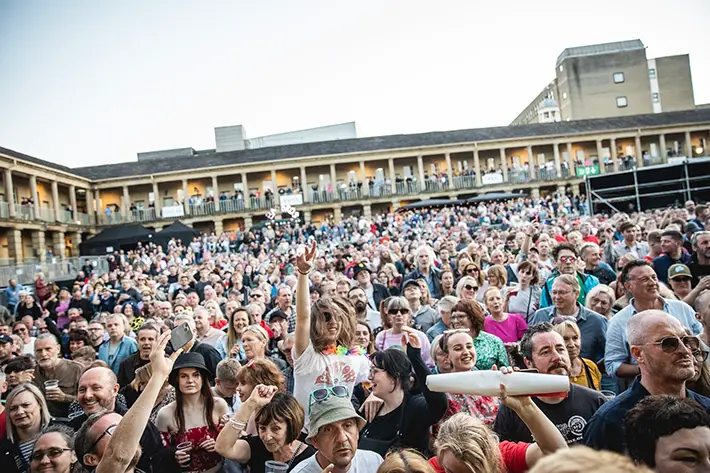 "Serious crowd pleasure"
We were straight in to 'Movin' On Up' as the show opener, and serious crowd pleasure ensued. Then we had a blast as they shot through the set list. 'Don't Fight It Feel It' sounded class. 'Come Together' and 'Higher Than The Sun' were epic. I really enjoyed their performance of 'Shine Like Stars' on this one.
It was an era defining album, from an era defining band. And Bobby Gillespie wouldn't quite be Bobby Gillespie if he didn't say something close to the bone. And the Scotsman announcing that Winston Churchill was a Nazi was, perhaps, tonight's controversial standout contribution.
No-one battered an eye-lid though, and the show carried on. There was also a nice touch where the band remembered producer Andrew Wetherall and a stunning version of title track 'Screamadelica' was dedicated to him.
People who were obviously there at the time were re-living their 1991 lives. The music. Their dance moves. The lot.  Old ravers, some had even brought their kids to let them experience Primal Scream and everything they'd ever said about nights like these.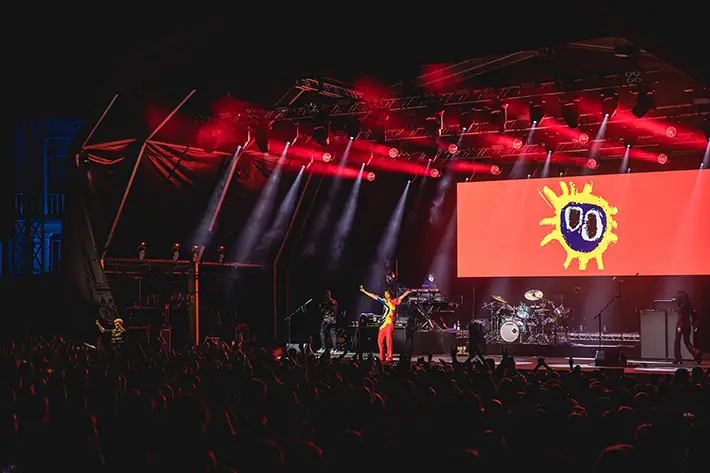 "A special gig by a special band"
It was fair to say that this gig isn't one for everybody.  You either have to be a fan of Primal Scream, or have an appreciation of all forms of music, and how that music is executed live.  If you bought a ticket purely on the back of liking 'Movin' On Up', you'd probably be disappointed after song one.  But there wasn't anyone that I clocked that weren't enjoying the night.
They ended the with an encore with a difference. 'Loaded' was taken from its position in the album set to kick off the encore. 'Swastika Eyes' was edgy, and seeing the BSL interpreter work on that one was an eye-opener.
Then the hits 'Jailbird', 'Country Girl' and 'Rocks' finished the night – the latter two tracks giving everyone the chance to singalong, move a little, and remember a special gig by a special band.
images: Cuffe & Taylor and the Piece Hall Trust