Giants Of Soul – Live Review – Halifax Victoria Theatre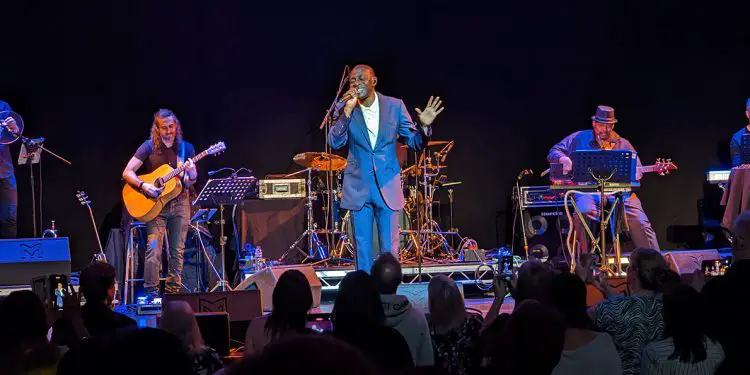 By Steve Crabtree, September 2022
I've always loved Soul and disco music.  But it's only been in the last ten years or so that I've realised just how much the genre has become a go-to for me.
My appreciation for artists like Nile Rodgers, Al Green and Luther Vandross has rocketed over the last decade, and my YouTube and Spotify searches are awash with groups and solo-artists who you'd class as Giants of Soul.
Being Halifax born and bred, having some of those giants come to my home town for a night meant I had to get myself to the Victoria Theatre be there to witness what turned out to be one epic evening.
The Giants of Soul is touring England with a line up of stars from the 70s to the present day, and it was opened by current star and Soul Grammy winner Candace Woodson. She got the night going with her song 'Midas Touch (Ooh Ooh)', before giving an amazing rendition of Phyllis Hymen's 'You Know How To Love Me'.  It was the first time I'd heard Ms Woodson, and it won't be the last. She was great, and really got Halifax in the mood for a very soulful evening.
"Vocally strong"
Woodson was also our compere for the evening, and it was her job to introduce the rest of the acts.  She did a fine job at both, and after her incredible start, she brought Janet Kay on to the stage. Kay was a solo-artist who thrived in the late 70s and had a number two hit with the reggae classic 'Silly Games'.
When she reminded us of performing that song on Top Of The Pops, there was a warm response from Halifax. People joined in with the song, before sitting back and admiring her version of 'Lovin' You' by Minnie Ripperton. She's still a vocally strong performer, and to look at her you wouldn't think she was old enough to have been performing in the 70s.
Behind the stars were a 10 piece band with two brilliant backing singers. And so far, the music sounded great and so did the artists.
"Funked up and on its feet"
One of my favourite singers from the 80s, Alexander O'Neal was the third act to bound on to the stage.  He got a pretty rapturous welcome to Yorkshire, and as soon as the music to 'Fake' started up, the whole of the Victoria Theatre was funked up and on its feet. The soul vibe really kicked in here, and the tone was set for the rest of the evening.
He gave us love songs 'If You Were Here Tonight' and the delicate 'Sunshine', before launching in to his biggest hit 'Criticize'. He knocked that one out of the park, and once again, he'd got us standing, singing and some of the women screaming. And, as he said, he likes the sound of women screaming!
It was Alexander O'Neal that I was looking forward to seeing most again, but it was Jaki Graham who stole the evening for me.
It wasn't just her songs that were upbeat, but she was too. Her smile beamed, she laughed lots and she was clearly enjoying herself. We were loving her too. 'Round and Round' was great, and 'Set Me Free' was stupendous. My favourite tune of the evening came when she sang 'Step Right Up'. I'll admit I bellowed every word of that chorus, and softly sang along to every verse. Her cover of Chaka Khan's 'Ain't Nobody' was pretty special too.  It was definitely the liveliest part of the evening, and proved why the show is called Giants Of Soul.
"Audible gasps"
We'd entered the second half of the show, and there was a more mature crowd in tonight. People, I guess, who enjoyed these artists the first time around.  But every age group had heard of 'Car Wash' which went down a storm when lead singer of Rose Royce's Gwen Dickey sang it.
Dickey was helped on to a seat for her set. After an accident at home in 2010, Dickey is now confined to a wheelchair. It was quite sad to see, but it doesn't stop her smiling, singing and enjoying herself. And wow, she can sing! She drew audible gasps with her vocals, and it was a privilege to be there to see her.
'Wishing On A Star' sounded absolutely beautiful and, for me, she could have carried on with that song all night. The Giants of Soul show was continuing to be every bit as fantastic as I'd hoped it'd be.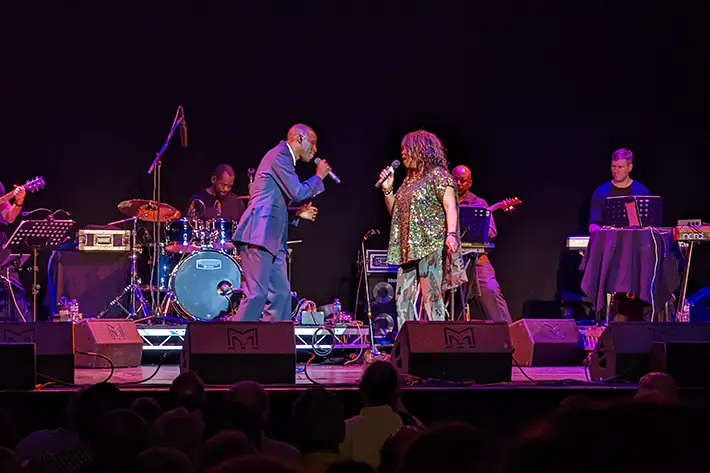 "Lively"
Our penultimate act was Deniece Williams. And what a chatty ball of energy she was.  Telling stories and anecdotes between songs like 'Let's Hear It For The Boy' and 'Free', she loved being on that Halifax stage. She was another one of the lively ones tonight, and was a hit with everybody. She was funny, and definitely likes to please a crowd.
And bringing the curtain down was the mellow tones of Lighthouse Family lead singer Tunde Baiyewu. He brings one very special voice with him, and 'Ocean Drive' and 'High' were perfect on the ears. So was his duet with Deniece Williams, covering Donny Hathaway's 'Too Much, Too Little, Too Late'.
It was a more laid back, chilled set than the others before him, and I do think Baiyewu's set would have been better placed earlier in the night. Jaki Graham and Deniece Williams certainly made the night a very lively affair, and I think I'd just have preferred the show to have ended in that kind of beat. Nevertheless, he proved his Giant Of Soul status with his set, and Halifax had been given an evening to remember.
We'd been given over three hours of soul, and I for one was so pleased to have been there.  The music this evening was timeless stuff.  Everyone of the acts are still performing for a reason. And it was the type of night you wished would have carried on for even longer.
Images: Craig Brown and Steve Crabtree